Developer: Nintendo
Publisher: Nintendo
Genre: Adventure, Simulation
Platform: Nintendo Switch
Rating: E for Everyone
Price: $59.99
Finally, after a long wait, Animal Crossing: New Horizons arrives at a perfect time while people are battling the CoVid-19 crisis. It is the perfect happy game for everyone who needs a little of peace and quiet for their souls. 
Content Guide
Positive Themes
Animal Crossing is absolutely family-friendly. It values patience, gratefulness, and gradual growth in every aspect. Whether for adults or children, these characteristics are valuable to learn and to practice in daily life. It delivers a message of appreciation of life and nature to all players.
Review 
As a veteran of Animal Crossing: New Leaf and Pocket Camp, I can definitely see the similarities and improvements in New Horizon. It is very friendly to both returners and newcomers, with fun activities, colorful graphics, relaxing music, and plenty to do with friends.
My husband had never played Animal Crossing before, but he fell in love with New Horizons immediately, and we have enjoyed every minute playing together so far. I absolutely believe we will continue playing it for the rest of 2020! 
Unlike other RPG games, Animal Crossing values patience and progress over time. Trees and flowers take time to grow, tools have a life span, buildings take days to finish, seasons, weather, creatures, and nature all change according to real time. It is a joy to experience life from a new perspective— so relaxing, creative, and detailed. 
You start as a new resident on a deserted island, with two random animal residents alongside you. You will learn to craft tools, catch bugs, smash rocks, cut trees, jump across rivers, fish, and plant flowers gradually throughout days of progress.
The game does a great job reminding you of every milestone and celebrates with you by giving miles as in-game credits. Even if you get stung by a wasp or fail to catch an item, you still get mile rewards. 
The island map is not huge, but you may start running around a lot in the beginning. But, like real life, running blindly may scare away insects or trample on flowers. Therefore, if you want to catch more creatures, be aware of where not to run. Walk, and smell the roses! 
With a normal pace of playing the game a couple of hours every day, you can establish your upgraded house and a fully functional town in about 2 weeks. In-game currency Bells and Miles will help you gather materials to build and decorate the environment.
You can sell everything and the game is very generous in giving you abundant resources in return. In order to maximize your financial gain, acquire your first house and miles as soon as possible. You can move your house and modify landscape later on in the game, so use your creativity to make your island dream come true. 
Exploration is the best part! New fish, bugs, fossils, shooting stars, flowers, amd recipes keep you coming back and searching for more every day. If you fish a rubber tire or a worn boot from the water instead of fish, don't worry. Even junk can turn into treasure, like a tire toy or a work boot under care. 
Spiders can be dangerous and poisonous too. If you get bitten by a tarantula, you pass out and wake up again in front of your house. Bees are not really friendly neither. If you are stung by wasps, you will need medicine to cure your swollen eyes. 
Museum is not only a great place to hang out with friends, but also a perfect place to learn something new. The museum provides an insectarium, aquarium, and a fossil exhibit, all beautifully arranged and designed. I can't wait to collect every single piece and make the whole collection complete.
Events are another exciting part of the Animal Crossing game. At the time of writing this, the Bunny Day is taking place—"Easter" in the New Horizons world. Bunny, cherry blossoms, various earth eggs, new seasonal creatures, and new crafting recipes arrived this morning! I already have had so much fun enjoying the beautiful landscape and scenery. 
New animal residents and vendors will visit your island sometimes, offering precious items to buy or quests to complete. Either way, you will encounter opportunities to expand your inventory of items or knowledge of crafting recipes. Keep an eye on their appearance—you don't want to miss them. 
I know there are plenty of cheat and tips out on the internet about Animal Crossing: New Horizons. Remember, the fun part of this game is discovering and exploring. Always treasure the joy of finding something new and encountering something by surprise. Never let the temptation of completion and the danger of comparison ruin the fun of your game.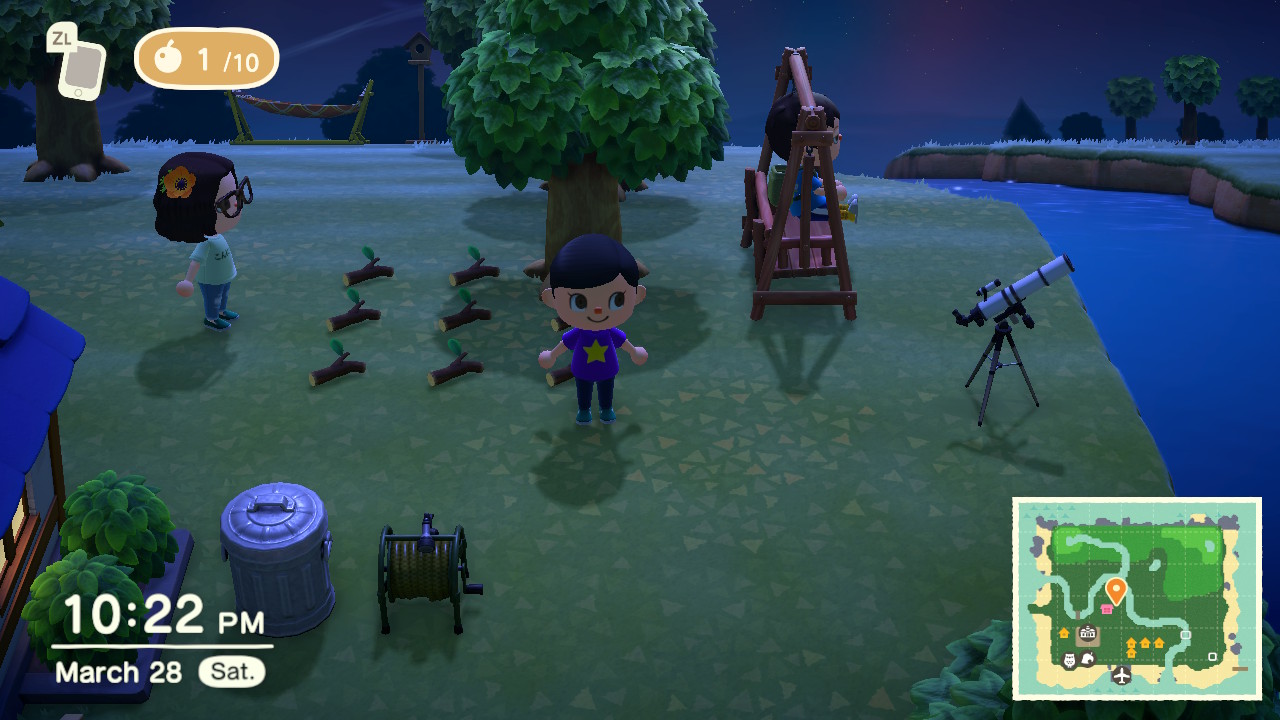 The only complaint I have about New Horizons is the lack of cloud saves and that there is only one island per copy. The best way to play with friends is through online play with different copies of games and consoles. You may need to spend extra money on more copies like me, if you have a spouse to play with. But at the end of the day, it was worth the fun we are having.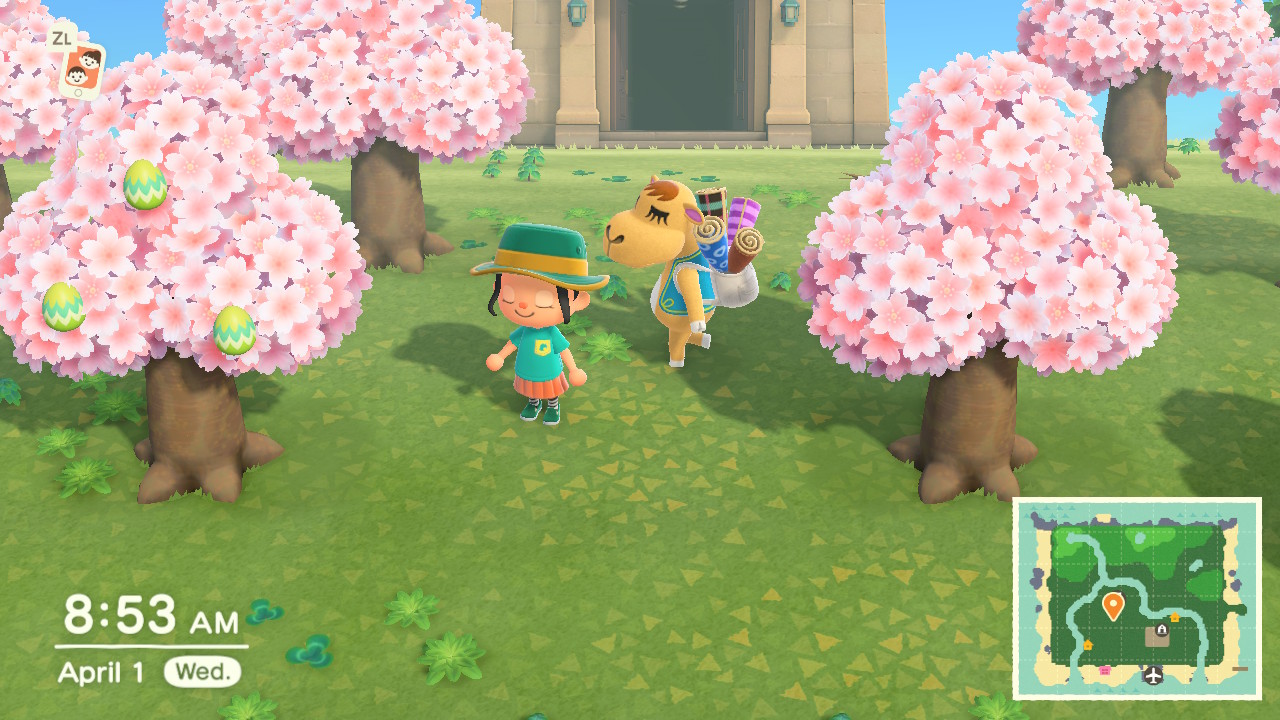 Bad camera angles can cause some frustration while attempting to see items or catch bugs, especially behind trees and buildings. There is no way to adjust it yet, but patience gets the job done. Keep calm and carry on. 
Through Animal Crossing: New Horizons, we express our creativity, embrace each other's ideas, treasure our friendships, and appreciate daily life, every creature, and all opportunities of interacting with each other. Thank you very much for touching our hearts with light and love during this time. It is much needed!
The Bottom Line
If you are looking for a chill, happy game to play during your stay-at-home time during the CoVid-19 global crisis, this is the perfect choice.