With Christmas and the New Year just around the corner, your GUG book reviewers have compiled a list of great reads to finish off 2018. Each contributor has narrowed the extremely lengthy list down to the three books or series they most enjoyed reading over the past year. With a mix of old and new stories, you can be assured that these books are some of the best. It's not too late to add a few of these to your Christmas list or begin your stockpile for next year!
David Fernau
I'll admit it, I'm a little contrary in nature. I tend to avoid highly hyped books and series (Harry Potter, Hunger Games, Game of Thrones) and seek out the little-known and little-hyped books. With that in mind, here's my Christmas Hidden Gems:
The Thorn of Dentonhill
Marshall Ryan Maresca
If I was to sum it up in a sentence, I'd say this is a magical version of Spider-Man. It's the first published in Maresca's Maradaine books, named for the city they take place in. The main character, the "Thorn," is a student at the magical academy and uses his magic to fight the city's crime lord, along with his henchmen. There's not a lot of deep philosophy here, just a fun romp, but there's a place in my library for those! Maresca also seems to be a fairly prolific author; he's got at least four different series all set in Maradaine, so this could be the start of a lot of reading.
Fool's Errand
David G. Johnson
A one-sentence summary would be: A Christian version of Dungeons and Dragons. Johnson opens with an explanation that this is an openly Christian book, but it's still some fun reading. It's fairly obvious that this is his first book, as it's not quite as polished as something from, say, Terry Brooks. Still, he finds a very intriguing way to set up a world with magic that uses Christian concepts (including a version of baptism they call "the washing"), and the banter between the members of the party is quite entertaining. There's also a story of a character coming to faith in the One God because of the actions of his party-mates.
Running with the Demon
Terry Brooks
Speaking of Terry Brooks, my third pick is one of his Shannara novels. I know, he's fairly well known, but I just had to include the first book of his Word and Void series, Running with the Demon. This is the very first of his Shannara prequel books, set in the world we know, but it offers the opening of his long-running war between the Word and the Void. The Word uses Knights of the Word as its agents, and the Void uses demons. It's not Christianity, as the Word doesn't exactly fit with the Bible, but there's many concepts in it that Christians will find familiar. This book is a great place to start reading (or re-reading) Shannara. 
Cadi Murphy

I think I've read more books in the past six months than I have in the last three years. (There are many reasons for this, but none are relevant for this list.) So, for the first time in quite a while, I had a hefty amount of books to choose from — and it was so hard because they were all my favorite! These three made it to the list because they have memorable stories, impacted my thinking, and are unique in certain aspects.
The Graveyard Book
Neil Gaiman
This was the first book I've read by Gaiman (and the only one, so far — though I have another of his on my Christmas list). His writing voice drew me in from the very first line, so if you are thinking about picking up this book, I suggest you read a sample. The story is a twisted version of Rudyard Kipling's The Jungle Book, set in a graveyard instead of the jungle. Nobody Owens arrives at the graveyard as a toddler and is quickly adopted by the spirits who live there. As he grows, the boy chafes under the watchful eye of his guardian and tends to get himself into trouble. His exploits become increasingly dangerous when it is made clear that Nobody is being hunted by the man who murdered his family.
I loved this retake on the classic story and really enjoyed trying to guess which characters and plot points coincided. While some may be uncomfortable with a book about ghosts, I appreciated how it shone a new light on the idea that part of growing up is embracing the opportunities that life offers.
On Writing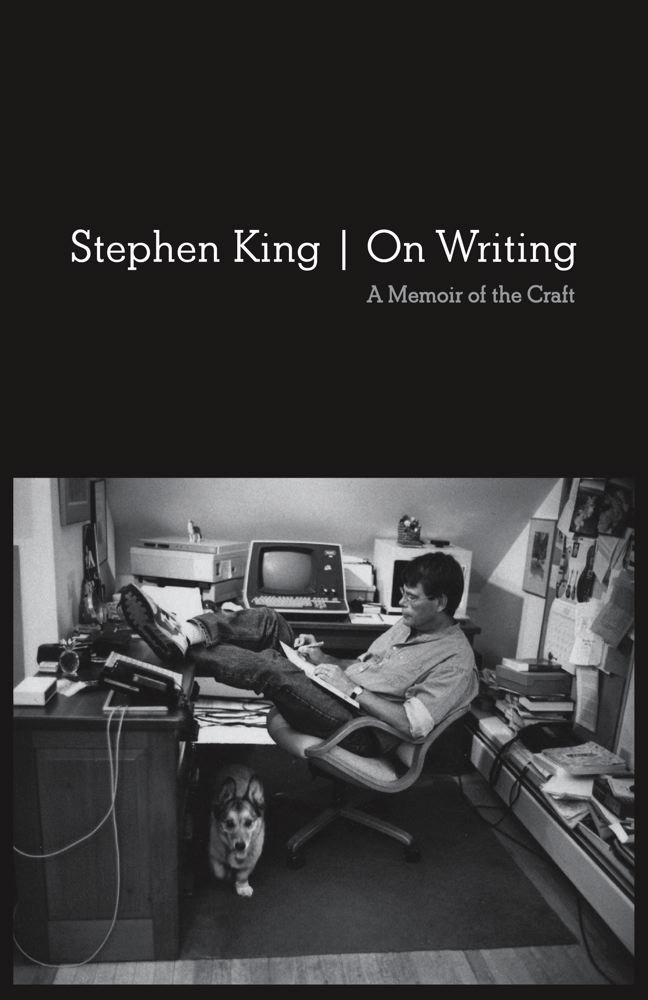 Stephen King
In this book, King blends his backstory with practical tips and inspiration for writers. You might think that would make for a dry read, but his skill is revealed in this genuine and thought-provoking book. I would recommend this to writers, of course, but also to anyone who is a fan of King or who just enjoys a good memoir. His story is amazing, even aside from the insights it offers. The life of his man has been full of highs and lows, just like all of us. As a Christian looking in, it is clear to see how God is reaching for King, although the author himself did not write the book with that intention.
Fawkes
Nadine Brandes
In 1605, Guy Fawkes was part of a plot to assassinate the king of England, but this historical-fantasy finds certain elements of magic also at work. Anyone who is anyone wears a mask which allows them to control objects of specific colors. When young Thomas Fawkes is denied a mask, he goes in search of his father, who is the only one able to give Thomas his mask. For Thomas, access to color power is a matter of life and death because he believes it will cure him of the plague that is taking over his body. 
I love the way this story made me second-guess myself a million times. Like any good assassination story, it is rife with betrayal and mystery. Thomas often has to choose who he is going to trust, but it's not easy to discern the truth. The blending of fantasy and history is seamless and allows for a deeper look into the Gunpowder Plot, especially along themes of loyalty and deciding what to believe. Christians will pick up on certain elements in the story, but this book cannot be exclusively labeled for believers. I think it would make a great gift for anyone, including yourself!
Mike Henry
2018 was a fantastic reading year for me. I read a book that solidified a series as my all-time favorite (and it's not even complete yet!), one that was a treat to my inner-gamer, and one that helped inspire me to become a more bold Christian geek. Some might be familiar to you and some might not, but if you haven't read these books, I would put them on your reading list or your gift list!
The Stormlight Archive
Brandon Sanderson
While I certainly didn't start this series in 2018, I did finish the third book, Oathbringer, this year. After I finished the first two books, The Way of Kings and Words of Radiance, I knew I liked this series, but it wasn't until after I read Oathbringer that I decided that this series was indeed my all-time favorite. The best part is, it isn't even close to wrapping up. The Stormlight Archive is an epic ten-part book series set in the fictional world built by Brandon Sanderson. If you are thinking of a gift book-series this holiday season, the first three-books will keep your gift receiver plenty busy as each book is over 1,000 pages!
The series brings together a multitude of incredible characters who are thrust into a fantasy world where the stakes are high. They must work together by overcoming a medieval caste system, while confronting their own past demons. One thing that I think Sanderson does really well is that each book picks a different character to focus on by mixing in flashback chapters that show how that particular character became who they are. You will see characters overcome prejudices, hurts, addictions, and challenges to become refined into some of the most well-crafted heroes and heroines I have ever read.
I would recommend this series to anyone, not just for its extremely well-developed world and set of characters, but also because it is fairly clean and doesn't contain too much offensive content, while also being very well written. An easy gift or recommendation for any avid reader.
Ready Player One 
Ernest Cline
Ready Player One by Ernest Cline was a treat for me to read. I picked this book up right before a long train ride up the east coast and just devoured it on that trip. I was sucked into a story that is a true tribute to gamers everywhere. Was the book perfect? No, but it was fun, enjoyable, and exciting, which is all we can ask for, right? The author hit on so many different video game references, but the story also had a strong message for gamers and the dangers of video game addiction.
Ready Player One follows the main protagonist, Wade Watts, who is an avid gamer and finds himself in the middle of a competition with the end prize being the OASIS, which will also mean saving it as well. What is the OASIS, you ask? It is a virtual world where players tap in to play games, and in many ways, live a second life. It is what every gamer dreams of having one day and Cline has created that world in spades in this thrilling adventure. Wade is a character that most gamers will find something to identify with, as he is competitive, brash, and likes to win.
Ready Player One has some adult language and Cline is pretty clear he is no fan of organized religion, or religion at all. So you may be asking, "Mike, why are you recommending this book?" Well, Ready Player One offers some really cool themes that I believe us Christians can use to witness to the geek community. The book hits on issues of escapism and isolation, and I believe us Christian geeks can speak into these issues and this book offers us an avenue to have some great gospel-centric conversations.
Bonhoeffer: Pastor, Martyr, Prophet, Spy
Eric Metaxas
This book on Dietrich Bonhoeffer chronicles the life and journey of the famous theologian. I had been eyeing this book for some time and then I finally purchased it. Bonhoeffer is famous for writing the well-known book, The Cost of Discipleship. I won't lie, I have to muscle through most biographies because they can have their dry moments. However, this book kept me engaged all throughout. The writing was fantastic and Bonhoeffer was and incredible person in history to read about. Bonhoeffer was a geek, just like us, in every way. He wasn't playing video games or reading comics, but he loved to learn and read up on famous characters throughout history.
Bonhoeffer's story is an incredible one to read. He grew up in an affluent German (but only nominally Christian) home during the WWI and WWII period. His parents were loving and involved in his life, as well as the lives of his brothers and sisters, but only his mother showed him the Gospel. After deciding to become a theologian, Bonhoeffer's journey to faith can be seen as something real and personal. Bonhoeffer speaks out against overly academic Christianity that rejects God's power and more importantly, the evils of the Nazi regime. The book follows how Bonhoeffer started a new church to counter the German church that strayed from the gospel and Bonhoeffer's martyrdom for the faith. It is a fantastic read for anyone who wants to learn about someone who decided to lay it all down for the Gospel.
The book has some tough content as it works through some hard times in world history, such as WWII and the holocaust, but keeps it appropriate. I think this book will be a fantastic gift for any reader who loves biographies of famous martyrs and theologians. The book encouraged me to be more bold and upfront in my faith, while also reminding me that Christian geeks were standing strong for Gospel long before the 21st century.
[amazon text=Buy it from Amazon&template=carousel&asin=0756410266,0345422589,0060530944,1439156816,0785217142,1250297141,0765365278,0765365286,0307887448,1595552464]