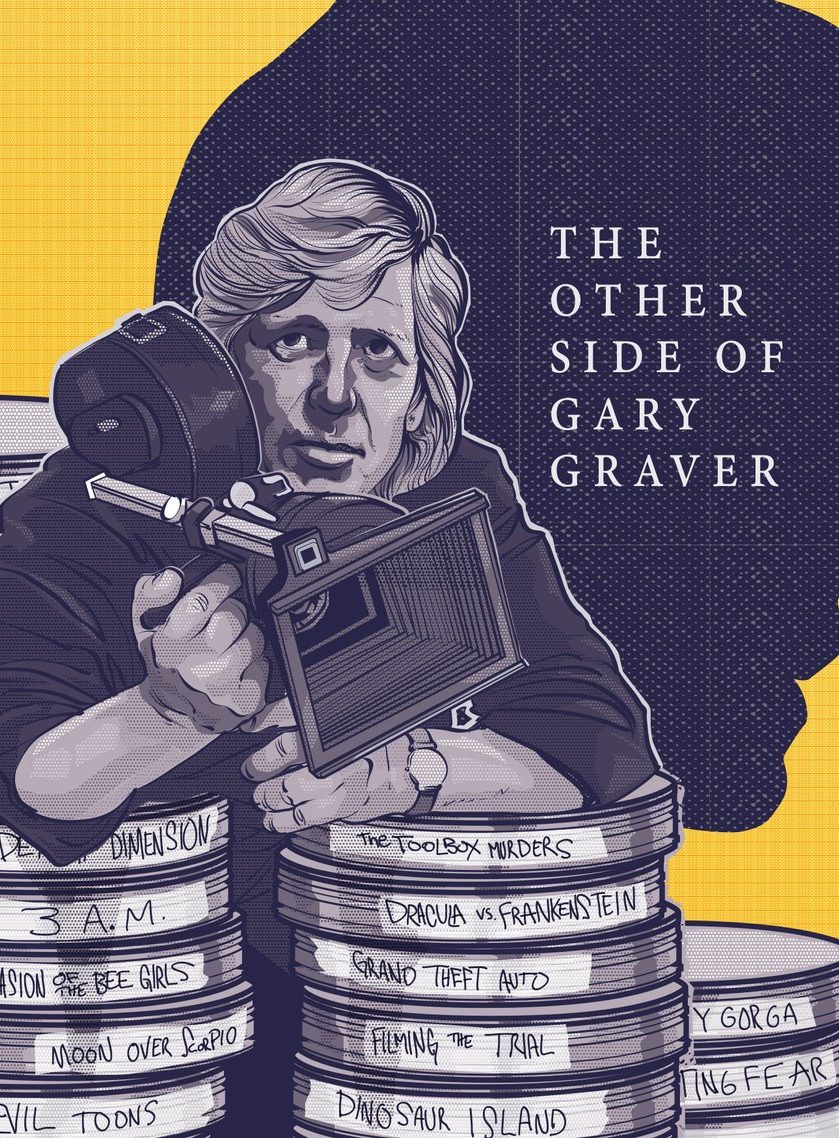 | | |
| --- | --- |
| Synopsis | In this box set, the works of Gary Graver are given a spotlight and explained in detail. |
| | |
| --- | --- |
| Length | 360+ minutes of content |
| | |
| --- | --- |
| Release Date | February 2021 |
| | |
| --- | --- |
| Distribution | Golden Ninja Video |
| | |
| --- | --- |
| Directing | Various – Collection of works |
| | |
| --- | --- |
| Writing | Presented by Will Sloan and Justin Decloux |
| | |
| --- | --- |
| Composition | Various – Collection of works |
| | |
| --- | --- |
| Starring | Various – Collection of works |
Gary Graver isn't a name most people remember. He was a no-name filmmaker in the 1970s working on B-Movies, shooting various films and directing a handful of projects.
He's mostly known though as the creative partner for Orson Welles from 1970-1985. His work as a cinematographer on most of Welles' late-career films is legendary in cinephile circles.
Now with this new box set from Golden Ninja Video, a handful of his most obscure films are being released to the public for the first time (for better or worse)!
Content Guide
Violence/Scary Images: Some unsettling horror imagery and some violence depicted in the documentary.
Language/Crude Humor: Frequent and severe language throughout including f***, c*** and s***.
Drug/Alcohol References: Some references of drinking and drugs. Several scenes of casual drinking depicted.
Sexual Content: Frequent nudity and some overtly pornographic sexual content, especially in one film where gratuitous and graphic sex is depicted frequently.
Spiritual Content: None.
Other Negative Content: Themes of alienation, failure and incompetence.
Positive Content: There are some redeeming factors in the package as well as a deep love of filmmaking and storytelling.
Review
Gary Graver is an interesting filmmaker in so far as his legacy is entirely tied to the legacy of Orson Welles. He worked for the exiled legend for over a decade as his cinematographer on films like The Other Side of the Wind, F for Fake, Filming Othello and the pilot for The Orson Welles Show.
As Josh Karp writes in his excellent book Orson Welles's Last Movie, he called Orson Welles one day on a whim while he was staying at the Beverly Hills Hotel in July of 1970. Welles took it as a positive sign and called him back to hire him.
"As the Gravers arrived home, Gary heard the phone ringing, ran inside, and picked up the receiver. It was Orson, who said, "Get over to the Beverly Hills Hotel immediately! I've got to talk to you right away! Inviting him in, Welles offered Graver coffee and they chatted for a bit. Then Orson cut to the chase. "You are the second cameraman to ever call me up and say you wanted to work with me. First, there was Gregg Toland, who shot Citizen Kane. So it seems like pretty good luck." (Page 40)
While he did have the opportunity to work alongside some major filmmakers like Ron Howard, John Cassavetes, Roger Cormen, Al Adamson, Ed Wood and even Steven Spielberg, his most notable accomplishment in Hollywood was that he directed 135 softcore "adult films" under the pseudonym Robert McCallum. The only one of these films he did keep his real name on was 3am because Orson Welles helped him edit it so he could get back to work on one of his projects. He took a lot of pride in working with Orson.
Gary Graver doesn't have the best reputation in the film industry, if only because his original work was cheap, disposable and disreputable. Still, he is a vital aspect of the history of one of cinema's greatest voices.
It was for that reason that a small Canadian distributor decided to release a limited edition Blu-ray that collected some of his notable films into one place for the first time. Gold Ninja Video only produced 500 copies of the collection called The Other Side of Gary Graver and released them in February. The story was initially distributed by Wellesnet who helped earn the release some attention among die-hard Orson Welles fans.
A Gary Graver Movie (2004)
The first of the films I watched was one I thought might serve as an interesting primer for the rest of Graver's work. As it turns out, the film was mostly a novelty. A Gary Graver Movie is his autobiographical documentary about his work and career and it's entirely comprised of individual scenes from a handful of his B-movies like The Attic, The Boys and Trick or Treat.
There's not much to the film outside of archival purposes. Graver himself introduces each of the film's clips and tells brief stories about his brief time as a Navy cameraman, the opportunities working as a cinematographer offered him, what it was like to work with actors such as Cameron Mitchell, doing lectures alongside Hollywood legends like Elia Kazan, and how the financing came together on some of the projects. These details are interesting but they aren't the point of the film.
At times, the film feels like Graver merely wants to use the movie to correct the record. Several times throughout, he shares the cuts of films he worked on in contrast with the cuts of the released version. He complains about losing the final cut of the films like Orson did on movies like Touch of Evil.
Considering I'm not familiar with any of these B-movies, it's hard to get too worked up about just how much of a tragedy Graver's lost artistic vision was.
Admittedly though, it is fun to watch a montage of Orson Welles' whiskey commercials!
Filming The Trial (Shot in 1981, Incomplete)
For Welles fans, this is easily the most exciting film on the Blu-ray! Filming Othello was Orson Welles' last completed film before his death in 1985. He released it in 1979 as a documentary for German television as a discussion regarding his work on his 1951 adaptation of Shakespeare's Othello. Before he died, he started work on a second documentary called Filming The Trial about his 1962 adaptation of Franz Kafka's famous novel. Graver shot an interview and Q and A session with Welles prior to his death but the whole documentary was never completed.
Despite being the most notable film on the box set, there's not much to the film as presented. Sadly, the video file is a low-resolution version of the film ripped from YouTube where you can watch it for free. There's no real reason to rush out and buy the Blu-ray specifically if you're a Welles completionist who wants a cleaner digitized version of this movie.
The Embracers (1963)
Moving on to Graver's original films, we start with is "breakout" movie in the 1960s. Embracers was one of Graver's earliest films and it's an interesting work of amateur cinema. As a film of the 1960s, it was an hour-long feature clearly influenced by arthouse and European films of the time by filmmakers like Cassavettes, Bergman, Godard and Truffaut.

I watched the film with the Blu-ray's commentary track and I'm glad I did. The producers of the Blu-ray — Will Sloan and Justin Decloux — directly mention the film is only interesting as a career artifact. It's very slow…

Graver directed and starred in the movie as a very young man interested in breaking into the film industry. There's a lot of passion and experimentation on display. It's a competently filmed movie. Thankfully the transfer is pretty good!
This film was pitched as one of the selling points of the box set because the producers reached out to Gary Graver's son Sean Graver, and he gifted them a higher definition video file.

The movie is a drama about a boy and a girl living on the outskirts of Hollywood and trying to make their way in the entertainment industry. It echoes many of the life circumstances of Graver's own life as a young man working small jobs in the film industry looking for an opening.
And When She Was Bad (1973)
During the commentary, the producers, Will and Justin, make an offhanded remark that they think Graver's best work isn't found in his original theatrical releases but rather in his porn. Sad to say it but they might be right…
And When She Was Bad is literally just a softcore porn film thrown onto the disc. Ironically, the non-porn parts of the film might've actually been some of the best stuff I've seen of Graver's work. The movie has a proto-Lynchian surrealist vibe to its "story" that comes close to finding something to say in between its moments of gratuitous nudity. Nominally, it's a story about a young adult woman struggling with jealousy of her stepdad's relationship with his new girlfriend.
There are some visually arresting images and haunting cinematography but it's all buried in between shots of gross writhing and bear breasts. There's not enough MOVIE here to justify watching it, especially from a moral standpoint (and I say that as someone who's defended Game of Thrones).
Special Features and Video Resolution
I didn't dive too deeply into these special features but I suspect a lot of the most useful stuff on the Blu-ray can be found here. The Blu-ray is packed with interviews from Graver's biographers and collaborators like Dave Wain, Matty Budrewicz, Jewel Shepard and Andrew Rausch. The set even comes with a small packet of written interviews with Graver's surviving sons, Sean and Geoff. Anyone approaching the film from a biographical perspective would likely want to spend a few hours with these interviews.
Unfortunately, we do need to talk about the big elephant in the room with the Blu-ray: it looks AWFUL…
I don't normally discuss video resolution as a factor when I review movies because most films are distributed as high-definition Blu-rays or video streams. Unless you're just watching a movie that's been ripped to YouTube at 720p or 360p, it's unlikely that you'll ever have to deal with low video resolution.
Unfortunately, the fact that I have to talk about it should speak to the quality of the video on display. All of the films presented as digital scans of DVD transfers. The audio tracks are suffering generational loss and the visual fidelity is deeply corroded.
That's not to say I was sold a false bill of goods. Gold Ninja Video clearly notes on their website that the films "are not new transfers and have not been remastered". All of the features are in standard definition. I've talked with a few people that have accused them of lying but I haven't seen evidence of this. The distributors are movie fans who merely wish to share their schlocky guilty pleasure flicks on Blu-ray, like Kung Fu Zombie, Fury of Achilles, Ninja Vortex and Blood of the Dragon.
I'm not faulting these guys for not doing better but this isn't exactly a Criterion Collection release…
Conclusion
As much as I respect the distributors for going out of their way to try and give Gary Graver some respect, the limitations of being able to find good video transfers kneecapped the release deeply and compound upon the fact that the movies themselves aren't great.
Like I said, Graver never really articulated the same kind of skill that his creative partner Orson Welles had. He was a B-movie director and a pornographer. Many of the films and scenes presented on the Blu-ray are intermittently fascinating but they're also cheap and poorly acted.
The producers themselves lament that Graver never truly had his masterpiece. There was never a perfect film he made that can be shown to win people over to the fandom. His most important film credit was shooting The Other Side of the Wind and spending the rest of his life trying to complete it, unsuccessfully. He tragically passed away from Leukemia in 2006. The film would only be completed in November of 2018 when Netflix bought it.
I don't think there's anything here I'd recommend to casual film-goers. The entire project is, at best, a novelty for Orson Welles fans and archivists and even members of that community are disappointed by it. I'm glad I have a copy of this Blu-ray set as a curiosity but I'm definitely in the minority opinion regarding that topic.
+ Some good interviews with GG scholars/family
+ A few notable inclusions on the disc of rare films
- Terrible video resolution
- Mostly forgettable content
- Limited original content or commentary
The Bottom Line
The Other Side of Gary Graver is an honorable misfire. It lacks enough original content to make itself more than a novelty but it's only $15. Fans of Orson Welles or schlock movies ought to know what they're getting into before they jump on this.