Overview
Item Reviewed
Doctor Who Christmas Special,
Synopsis
The Doctor and Santa team up to save the day from brain-sucking aliens and make sure Whovians everywhere have a merry Christmas.
Full Review
For Whovians everywhere, the Doctor Who Christmas special is an integral part of Christmas day. The presents have been opened, the food has been eaten, and family time has been survived… I mean, enjoyed. Now for the moment we've all been waiting the past two months for: getting ridiculously excited about an hour-and-a-half of new doctor fun! With its usual snarky wit and complete lack of concern over whether something is absurd or impossible, this year's Christmas special definitely lives up to expectations.
In the past, we've been treated to animatronic santas, attacking Christmas trees, airborne sharks, and evil snowmen as the perfect way to wrap up Christmas day. This year's special gives us a real Santa Claus and face-hugging aliens who are just looking for a Christmas Eve snack. Unfortunately, what they want to eat is humans, and they alter their victims' perception of reality through dreams in order to enjoy their meal.
Beginning with Clara being awakened by Santa and his elves arguing on her rooftop, you can't help but smile as reindeer run amok in the sky while the elves try to decide if people are offended by being called humans. Then the Doctor arrives, and when he says, "I know what this is, I know what's happening, and I know what's at stake" there is one thing we know for sure: now the fun really starts!
The next stop is the North Pole where a team of four scientists are dealing with an invasion of face-hugging aliens. All seems to be going well, and it looks like strategic dancing could save the day, until the Doctor and Clara arrive unannounced. The Doctor figures out the situation pretty quickly, but it's apparent that Clara's math skills could use some work. Just as things really get bad, Santa shows up again and saves the day with tangerines and robots.
Throughout the entire episode, there are ups and downs and, I must warn you, some pretty major spoilers if you haven't been keeping up with the previous season. Since the face-hugging aliens are trying to keep their food calm and content, it turns out that most of the episode is taking place inside of a dream. In some cases, it's a dream within a dream within a dream within… you get the picture. As the Doctor says, "You know what the big problem is in telling fantasy and reality apart? They're both ridiculous."  Of course, when you find yourself in danger at Christmas, who better to save you than Santa?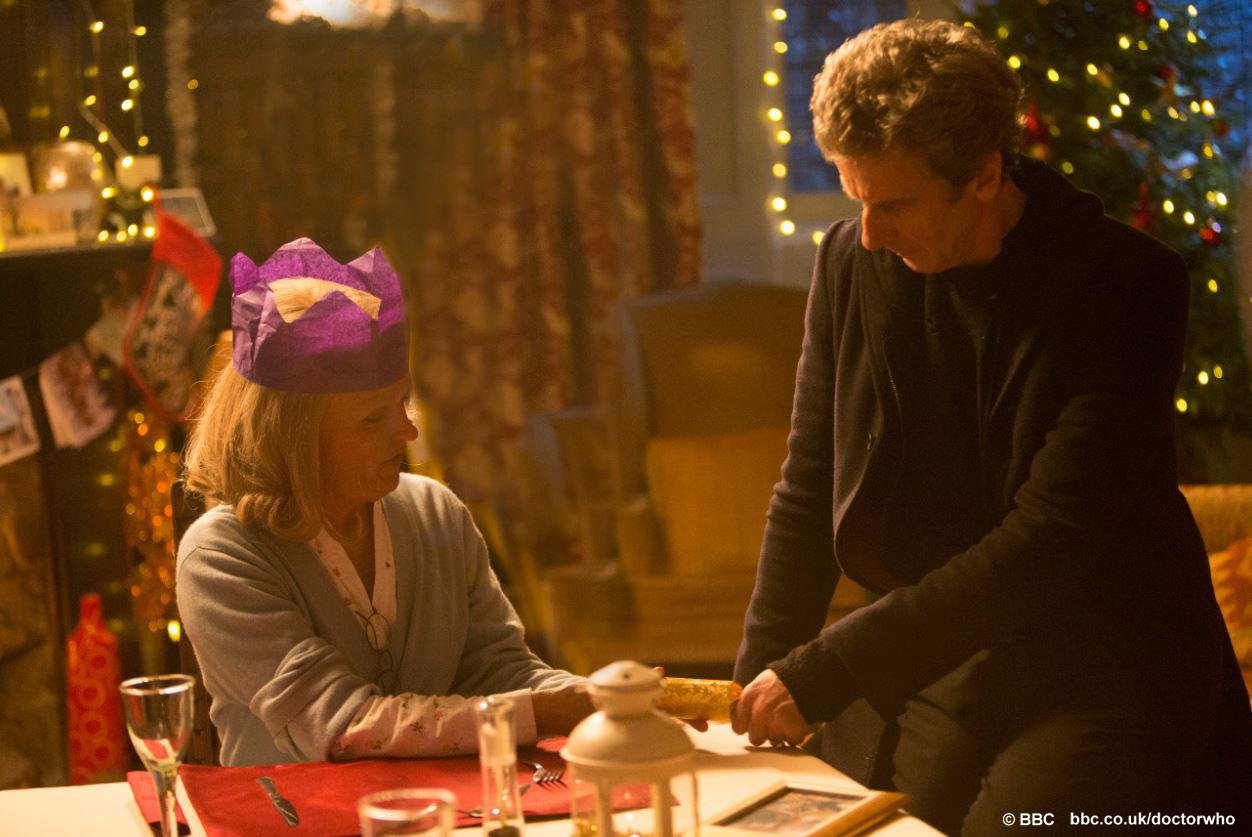 Each of the characters has found themselves in what is undeniably a dangerous situation, but it's also giving them something they long for in their real lives. Shona has some pretty sweet dance moves and a group of people to spend Christmas with instead of spending the holidays alone. Bellows can't seem to figure out what she's getting from her dream until she wakes up to find herself in a wheelchair. One of Clara's dreams takes her back to a time when Danny was alive, and in several others the Doctor has come back for her. The Doctor faces what it will mean if he continues on his present path and has to make a decision about whether or not to return for Clara.
Doctor Who has always been about embracing life and learning how to live through your mistakes. Fortunately, the writers also make sure to add a liberal dose of fun and intelligence to the show so that viewers will almost never get bored. As usual, this year's Christmas special is full of Christmas-related fun and puns, as well as some serious moments that ensure viewers will have a lot to think about long after it's over.
Content Warning
Language – One or two occurrences (bloody, h***)
Violence – Aliens wrapped around people's heads may be disturbing for younger viewers.
Positives
+ Rudolph's nose is a security system!
+ Santa's bag is bigger on the inside
Negatives
- We have to wait 8 months for new episodes!
- I don't know whether to be happy or sad that Clara is back
Partnered with amazing writing, excellent directing, and stand out performances, Ozark looks to be a major player in the streaming landscape.
Devs is a complex, quiet, and understated science fiction mini-series with a lot on its mind.
Star Trek: Picard is proving to be quite controversial among fans of Star Trek, and it's not hard to see why.