Review – Dimension: The Brain Game To Go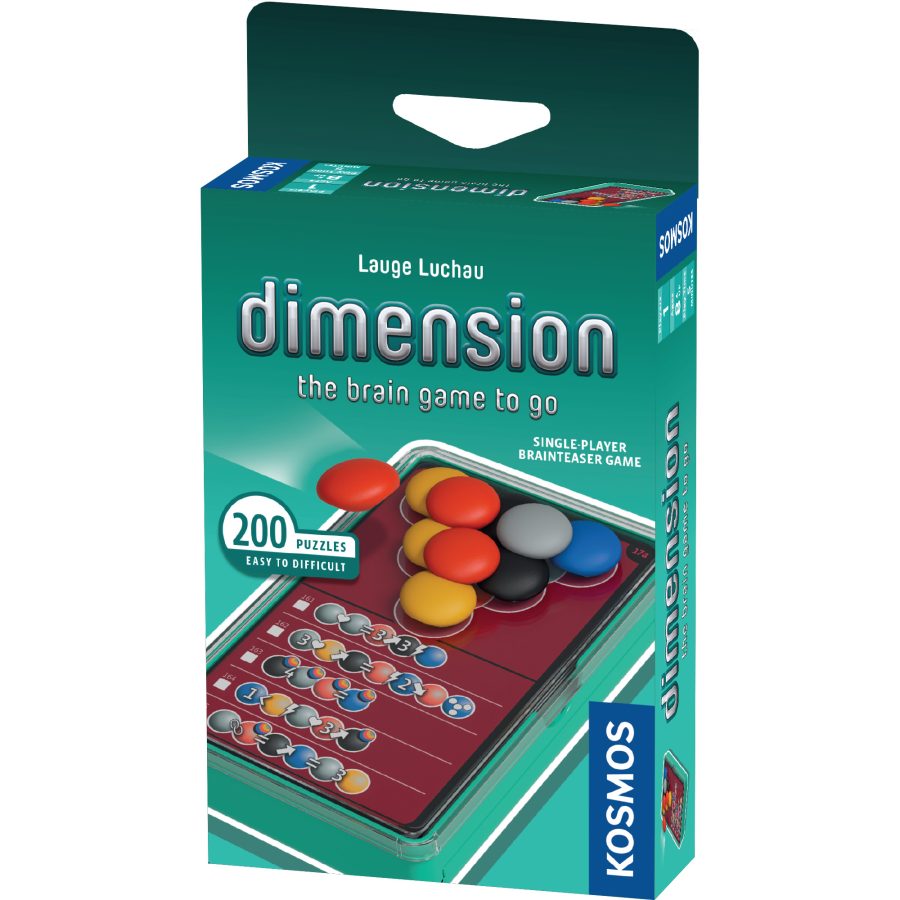 | | |
| --- | --- |
| Category | Solitaire Puzzle |
Dimension: The Brain Game To Go is a pocket-sized, solitaire version of the excellent game Dimension. This miniaturized version lets you take marble stacking anywhere! Let's check it out.
Review
My copy of the travel version of Ubongo—the first game in KOSMOS' To Go series—is incredibly well-traveled. It has accompanied me on numerous trips, both domestic and international. Anytime I'm packing to go somewhere, that little plastic case gets tossed into my bag.
Dimension is the second game to get the To Go treatment. The basic premise is the same as travel Ubongo: choose a card, select a challenge on it, and complete the puzzle by placing pieces on top of the case.
The puzzles, of course, are Dimension-style marble stacking. Thankfully, the pieces are spheroidal rather than spherical, and they have little notches on the bottom that help them stay in place. Just like the first To Go game, this one can withstand mild jostling, such as turbulence on a plane.
The challenges will be largely familiar to Dimension players, things like "more x marbles than y marbles," "x must be above y," etc. Some new challenges are introduced as well, such as "x must touch a piece of every other color in play" and "x, y, and z must be in a straight line." Having played the original Dimension dozens of times, these new challenges were a treat to explore.
Each of the 20 double-sided cards has 10 challenges on it, so there is quite a lot of puzzle content in this $15 package.
As much as I enjoy the Ubongo series, I like Dimension even more, so it's no surprise that I prefer the travel version of Dimension as well. This is a fantastic miniaturization of a larger game, one that remains true to the original, but adapts it for portable solitaire play. Gone is the hectic stress of real-time puzzle solving, and in its place is a whole slew of brain teasers to play freely and casually. (As a side note, the pyramid in this version is in a slightly different configuration, which subtly changes the puzzle.)
The production quality of this game is high. It comes in a hard plastic case like the first To Go game, including a drawer to hold pieces. The package is very compact, which helps keep it travel-friendly, and the rules and symbology are all clear.
These To Go games are great for travelers. I hardly ever play them at home—there I play the full games instead—but any time I'm 30,000 feet in the air with a tray table in front of me, you'd better believe these games will be on it. If you are a frequent traveler, I highly recommend making Dimension your travel companion.
A review copy was provided by KOSMOS.
The Bottom Line
This "To Go" version of Dimension is a great miniaturization of the full Dimension game. Highly recommended for folks who travel frequently.