Review – Viscounts of the West Kingdom: Keeper of Keys and Gates of Gold
| | |
| --- | --- |
| Designer | S J Maconald, Shem Phillips |
| | |
| --- | --- |
| Artist | Mihajlo Dimitrievski |
| | |
| --- | --- |
| Publisher | Renegade Game Studios |
| | |
| --- | --- |
| Category | Strategy Game, Eurogame |
While Garphill Games first became well-known for Raiders of the North Sea, it's the West Kingdom trilogy that has seen the most success. While the trilogy "concluded" with Viscounts of the West Kingdom, the series is clearly not over, since we are now getting two expansions for Viscounts concurrently. Which should you get, if either? Let's look!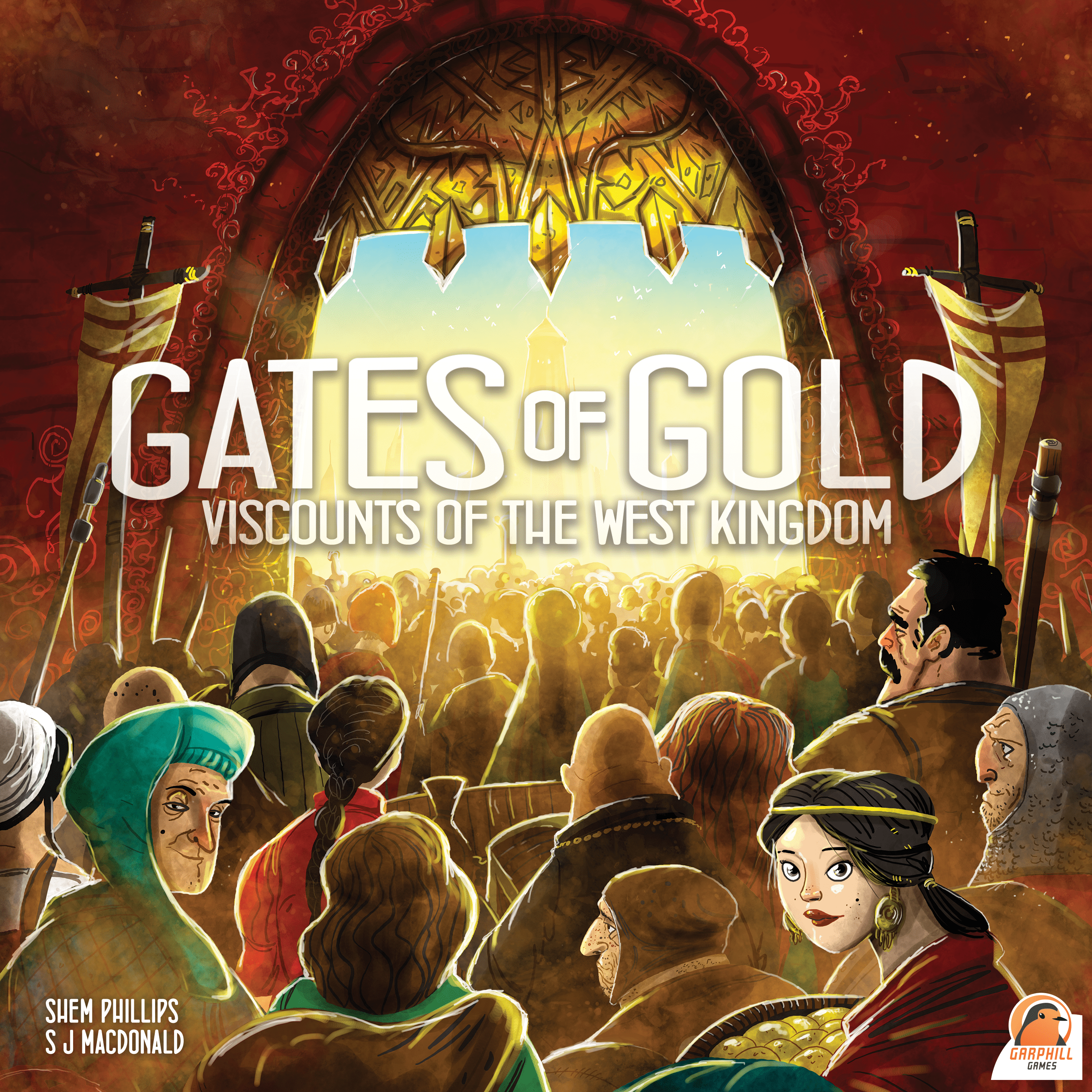 Since these expansions were released simultaneously, I am combining them into one article, but I will cover them separately here. But first, I'll say, in my mind Viscounts is not a game that needs expansions, as if it's enough of a brain-burn, and long enough, as it is. I did have some complaints in my review — and they're addressed! — but I wish the expansions were actually smaller and/or more modular. Unless you're a Viscounts addict, you don't really need this. That being said, let's see what they accomplish.
Keeper of Keys
Overall I'm happier with Keeper of Keys for philosophical reasons than for, well, fun reasons. There are chances to recruit new Heroes, new Public Buildings, and new Treasure Chest tiles. All of this integrates very naturally to the base game, because a lot of effort was expended to make that happen. There are new starting cards that replace the originals for each player, and these allow you to recruit the new Heroes (which were already part of the start of the original game). Likewise, new (thick, recessed!) player boards make the Treasure Chest tiles feel like they were there all along. The Public Buildings also feel fairly natural, give another source of player interaction, and I like the fact that there are only three. Of course, there are also new Townsfok and Manuscripts, and the new Heroes can be used at the start of the game.
On the other hand, while I find Keeper of Keys fun, the lack of truly "new" stuff may feel underwhelming to some. For me personally, I already find Viscounts at the edge of the complexity I normally tolerate, so I deeply appreciate that this is primarily more of the same. The Chest Tiles provide another tiny version of engine-building, though I find the iconography on them pretty poor. Overall, it's not a necessary expansion, but I vastly prefer it to Gates of Gold. Oops, spoilers…
Gates of Gold
I am very torn on this expansion, and honestly wish it was split into pieces. The Manuscript board is fantastic. It organizes your Manuscripts but also attain bonuses for having them (one of my main complaints about the original game was how uninteresting the Manuscript strategy was). I also don't mind the Building Bonus cards, but it feels like they're connected to the special Buildings in Keeper of Keys and all of that stuff shoulld be together.
But the main module of Gates of Gold is neither of those things, and it kinda sucks. Players can recruit "Outsiders" (adding yet another deck of cards) that don't do much in your deck, but provide endgame victory points. They can only be gained by first choosing to recruit a "King's Order" card instead of a standard Townsfolk, letting that mediocre card cycle through your deck, and then recruiting an Outsider when it drops off. You can only "dismiss" an Outsider by somehow trashing a King's Order from your hand while you have it. I hate pretty much everything about this.
First, it's just unnecessarily many steps. Proof is right there in Keeper of the Keys, which gives a very natural way to gain the new Heroes. Second, the Outsiders are often not worth very many points, or the ones available do not help you, and there is no way to refresh the card row. (They're also very hard to dismiss). Third, it's way too many steps, too much "do this, to do this, to do this" without any of the payoff, of, well, fun that you expect from an engine-builder or even a typical Eurogame. You do a lot of steps just to end up with a card that doesn't do anything but clog your deck and give a mediocre amount of points. 
I really like the Manuscript board and the associated bonuses, but I wish it had been in Keeper of Keys and that they just hadn't made Gates of Gold. Of course, I think you could easily include this and not include the Outsiders (you might have to remove a few Manuscripts that reference them). 
Conclusion
As I said in the beginning, Viscounts has enough going on that you don't need either of these expansions. And while my favorite module is actually the Manuscript board from Gates of Gold, overall Keeper of Keys is a much better expansion (but still not essential).
The Bottom Line
Keeper of Keys is a decent expansion, but Gates of Gold is hard to recommend.