Review – Arkham Horror The Card Game: The Scarlet Keys Campaign
| | |
| --- | --- |
| Publisher | Fantasy Flight Games |
| | |
| --- | --- |
| Category | Campaign Expansion |
The Scarlet Keys is another product in the line of Arkham Horror: The Card Game that pits 1-4 investigators against cultists, monsters, and other unspeakable horrors from the HP Lovecraft-inspired game. In The Scarlet Keys, players start by looking into disappearances only to find themselves swept up in a globe-trotting adventure to find magical items known as keys that may have the power to undo reality or change the very fabric of the world! So is it a tabletop trip worth taking, or better left on the shelf? Read on for the review!
Content Guide
Players face many of the same enemies and problems as with other Arkham Horror products; cards may feature enemy agents, monsters, anomalies, blood and gore, and creatures with too many limbs and or tentacles. However, from what I noticed, there did seem to be less blood than with past products. 
Review
The first mission in The Scarlet Keys campaign has a nice hook: people, animals, and even things have been mysteriously disappearing around town. And then everyone forgets about them, or claims to have never seen them or met them. Everyone but you. Your investigation introduces you to a man, Inspector Li Flint, who asks you to join him in London to continue the search for answers. The first mission, "Riddles and Rain," introduces the enemy you'll be facing, the Red Coterie, as well as some of the new game mechanics such as decoys, concealed mini-cards, and the shadows. Enemies can lurk in the shadows, just out of reach of the players, while decoy cards can keep them guessing and even end up doing damage depending on when and where they are revealed. Concealed cards could be decoys, or Red Coterie agents lying in wait for you.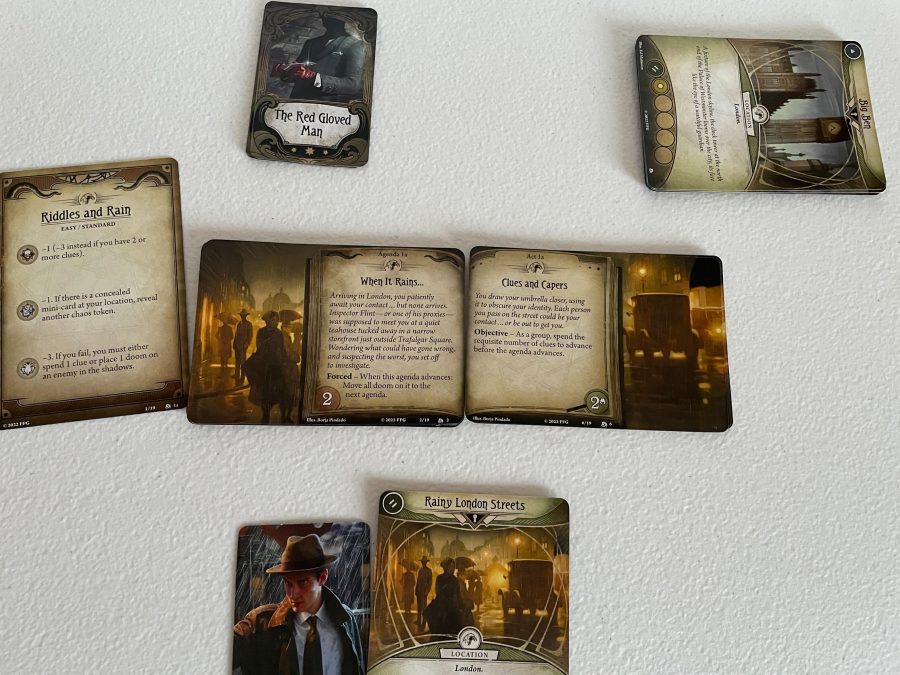 Also new to this campaign is the map, which allows the players to explore any mission they choose after the first mission. However, players will be spending time each time they go to a new location on the map. Some of the locations are secrets, and some are "side-missions" that can only be accessed if one has a corresponding Arkham Horror product. The locations that are included in Scarlet Keys can be full-on new missions, or just a quick stop to pick up a new Key or new bit of information to help later on in the campaign. As with other Arkham Horror games, keeping a clear record of everything the game tells you to write down will be paramount to your success. 
I really like the amount of player agency the map gives you, and it reminds me of other globe-trotting Arkham Horror games like Eldritch Horror, in a good way. Letting players pour over maps and notes and deciding what route to take only adds to the immersion, and I'm here for it. 
Something I didn't expect to complain about is the cards themselves – usually FFG products are high quality, but the cards are all warped in the copy I received. And not just a little bit, enough that they make an audible pop going from one warped side to the other. Hopefully this is a fluke, because like I said usually FFG and Arkham Horror games are known for quality components.
In the end, I would definitely suggest this campaign expansion to anyone looking to add some world-saving flavor to their Arkham Horror games. While the card-warping is disappointing, it's by no means a game-breaking problem. If you are a fan of the series, or globe-trotting adventures, you should check out The Scarlet Keys. 
A review copy was provided by the publisher.
The Bottom Line
If you are a fan of the series, or globe-trotting adventures, you should check out The Scarlet Keys.