Artist: Nathaniel Rateliff
Label: Stax Records, Distributed by Concor
Genre: Americana folk, soulful blues, acoustic
I use Spotify basically all day, every day to listen to music. I love starting "radios" under my favorite genres so I can hear artists I would likely never be introduced to otherwise. Around a year or so ago, I started a radio called Americana Folk for a trip to New Orleans with my husband. We both love folk music so I knew this would be a hit. I had no idea what a goldmine I had found! Right away, the first song was Nathaniel Rateliff and his band the Night Sweats playing their big hit "S.O.B." (content warning: adult language and discussion of alcohol addiction and recovery). The foot-stomping rhythm and gruff voice had us hooked, and I've been listening to everything he records ever since.
Nathaniel Rateliff began playing drums for his family's gospel band at just seven years old. He picked up the guitar at age 13 after his father passed away. His first album release was in 2007 with his band Born In The Flood. Nathaniel may be best known for his more recent work with the Night Sweats, his soulful, blues-rock band. Where the music they make is typically more energetic, the music Nathaniel makes on his own is closer to vintage, "Americana" folk music. His lyrics are heartfelt and emotional, often exploring life troubles, how he manages to get by, and the joyfulness of love.
Nathaniel Rateliff released the title track of his upcoming album, And It's Still Alright, as a single on January 8th and the full album is set to release on Feb 14th, 2020. Rateliff made a short, yet powerful statement regarding this upcoming release:  "I think this album is a reminder that we all go through hardship, but regardless of the hardship, everything ends up where it's supposed to. I still continue to live, and I still continue to find joy. I think that's the theme of the record."
The album's focus will be on grief, unraveling tragedy, coping with loss, and still maintaining one's optimism. Not only has Nathaniel recently had to walk the difficult road of divorce, but in July 2018, Rateliff's longtime friend and producer for his work with the Night Sweats, Richard Swift, passed away after complications from a long battle with alcohol addition. "And It's Still Alright" was written specifically about his loss of Swift, his bitter divorce, and finding hope in the dark.
Content Guide
Spiritual Content: One could say the mentions of grief and hope are spiritual, but nothing outright spiritual is conveyed. The music video has what appears to be an altar, but no portrayals of worship, in particular, show up.
Language: One mention of the word d*mn – "I'll be d*mned"
Sexual content: None
Drug/alcohol use: None
Other negative themes: General sadness of grief and entertaining the idea of "giving up."
Positive Content: Overall message of not giving up hope in dark times no matter what.
Review
The song begins with an acoustic guitar and a twangy electric overlaid with heavy reverb. Already the feeling of sorrow and heartache permeates the air before Nathaniel utters a word. The strings and a steel guitar fill the background while the acoustic provides the rhythm and percussion throughout the song. The melody is major, but the pacing and somber tone of the lyrics provide a somewhat melancholy feeling. The song is soft, gently building, and deeply impactful. 
Rateliff's roots are gospel and blues and it shows. His voice is gruff and occasionally his words are slightly indecipherable, but the feeling behind it is undeniable. The way he is able to convey emotion in his voice is uncanny. He has incredible control over his vocals; he knows when to keep it soft and harmonize or when to push harder and add gravel. He's a natural singer-songwriter. "And It's Still Alright" is a beautifully haunting song and a perfect addition to his already stunning discography.
The lyrics are deep and emotional. "It ain't right, the hardness of the soul / Now close your eyes and spin around / Say, hard times, you could find / That it ain't the way that you want / But it's still alright" He's singing about when life gets hard. We don't want to deal with pain or heartache, but it's just a part of living. Even in the bible, Jesus promised "in this world we will have trouble," so we should just expect it, right? That may be true, but it doesn't mean we won't still be shocked or surprised when the tough times come.
"They say you learn a lot out there / How to scorch and burn / Gonna have to bury your friends / And then you'll find it gets worse / Standing out on the ledge / With no way to get down / Start praying for wings to grow / Oh, baby, just let it go." Sometimes life can get incredibly painful and dark. We bury loved ones, we lose jobs, dear friends betray us, we fight with each other, and worse: Our hearts can become calloused and our souls harden, but that's exactly what Nathaniel Rateliff is warning against. Life gets tough, sure, but it's still alright. There's always hope and the good times will come again.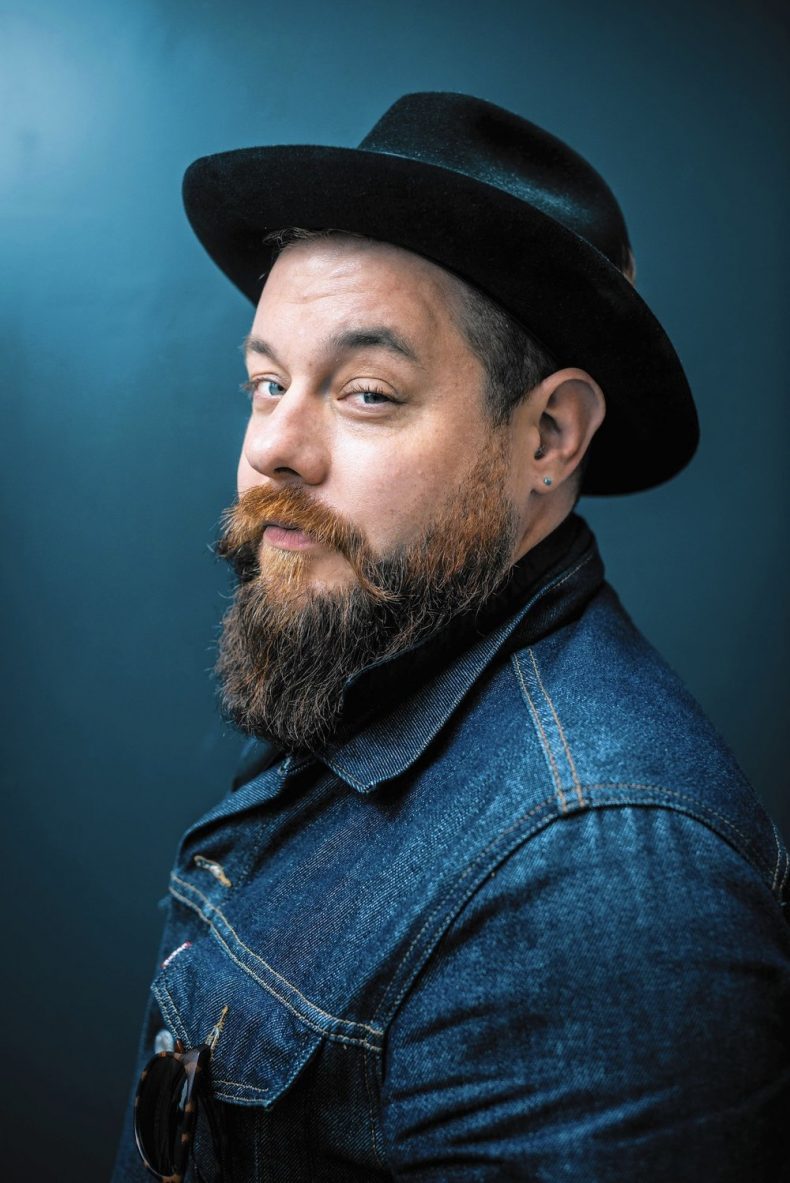 In Rolling Stone this month, Nathaniel had this to say about this song: "It ties the record together. It's a struggle to grow and you end up stranded on the ledge and burying people you care about. But when you really look at it, I'm still alive, everything's still good in my life regardless of hardship and what's been happening. So that's what I want the theme to be, not 'all or nothing.' I want there to be hope."
Rett Rogers directed the music video for this song and it's breathtaking. It's simple, yet elegant, filmed in black and white with the occasional blue or red streak across the shot. There are clips of Nathaniel singing and playing his guitar and clips of him looking off in the distance, deep in thought. There's a woman dancing in a long, sheer dress with long sleeves. She almost looks like an angel with wings. There are short clips of flowers growing and dying and what looks like a shrine or altar of some sort. It's hard to interpret the exact meaning behind the video, but it definitely reflects the feeling of loss and the mystery of grief. 
The release of "And It's Still Alright" has me very excited for the album release next month. Nathaniel Rateliff is a uniquely talented singer-songwriter both as a solo artist and with his band, the Night Sweats. His music does contain a bit of adult language, but overall, his lyrics are about life and living it to the best of one's ability. If you like Americana folk music and soulful vocals, I highly recommend checking his music out. Be sure to come back next month for a full review of his new album!