| | |
| --- | --- |
| Synopsis | A misanthropic history teacher and an unruly student find themselves locked alone together in a New England boarding school over Christmas vacation. |
| | |
| --- | --- |
| Length | 2 hours, 13 minutes |
| | |
| --- | --- |
| Release Date | October 27, 2023 |
| | |
| --- | --- |
| Distribution | Focus Features |
| | |
| --- | --- |
| Directing | Alexander Payne |
| | |
| --- | --- |
| Starring | Paul Giamatti, Da'Vine Joy Randolph, Dominic Sessa |
The holiday season is here and with it comes a cavalcade of prestige dramas and holiday films, although they are rarely the same movie. But this year has brought us the curiosity of a new film that is both! The Holdovers has snuck up on many cinephiles this holiday season and become a modest favorite among filmgoers as one of the best films of the year, giving us a brilliant performance by Paul Giamatti, and also proving to be a wonderful and heartwarming story about the challenges of the Christmas season.
Content Guide
Violence/Scary Images: A man dislocates his shoulder and has to have it fixed at the hospital. It's an intense and uncomfortable scene.
Language/Crude Humor: Severe language throughout including f***.
Drug/Alcohol References: Regular heavy smoking and alcohol consumption.
Sexual Content: Several characters discuss porn and masturbation, with porn magazines cutouts shown in the background of several scenes.
Spiritual Content: The film is set at a religious boarding school, but none of the characters are explicitly religious. One character is an overt atheist who describes Stoic philosophy books as "The Bible, the Koran, and the Bhagavadgita" without the necessity of a pesky God.
Other Negative Content: Some snide remarks about religion and themes of non-traditional surrogate families.
Positive Content: Themes of fatherhood, integrity, loyalty, honor, and growth.
Review
Christmas is said to be the most wonderful time of the year. But for many people, it is also one of the most stressful and lonely. Anyone who has ever spent the holidays alone or who doesn't have a reliable family can attest that there is no more torturous time of the year to stay home alone. Being alone on Christmas feels worse than being alone at any other time of the year because you have an acute sense of how warm and happy other people are.
The Holdovers is a wonderful and touching dramatization of this reality. Coming from Nebraska director Alexander Payne, the movie is a relatively low-stakes comedy that explores the challenges of being young and alone for the holidays. The movie has already become a modest sleeper hit and one of the best surprises of 2023.
The story is set in a boy's boarding school in New England in 1970. Angus Tully is the son of wealthy parents attending a prestigious private school known for its ability to craft Ivy League students, but mostly serves to guide entitled rich kids along a preordained path to success laid out by parents who want nothing to do with their children's lives. Paul Hunham is a brilliant and stern antiquities professor who refuses to simply engage in the system and give passing grades to rich students and requires demandingly high standards of practice from his history classes, drawing groans from students who bore easily of having to study Marcus Aurelius and Thucydides in earnest.
When Hunham is asked to handle the school's "holdovers," or children whose parents are unable to let them return home for the holidays, Tully ends up the only student required to remain under the supervision of Hunham's by-the-books approach to winter vacation. As the two butt heads, they slowly begin to open up to one another and come to a mutual respect and understanding as they grapple with their mutual pasts and loneliness.
Paul Giamatti's role as Paul Hunham is arguably one of his strongest performances since John Adams; although that may not be saying much. Giamatti's 34-year acting career has given dozens of splendid performances in many great films. He's already an actor with a deep well of pathos and an ability to craft complex characters. Hunham simply happens to be one of his best, being a brilliant and thoughtful cynic, a lover of history, a man resentful of religion yet quietly respectful of others, and profoundly isolated by poor relationships and career failures.
He's the kind of man loving enough to give you a copy of his favorite book but foolish enough to think normal people desperately want philosophy textbooks as Christmas presents. He is genuine enough to see the goodness and virtues in others and wants to foster it as a teacher, but doesn't necessarily know or want to connect with others in a way that would make him vulnerable or threaten his beloved job.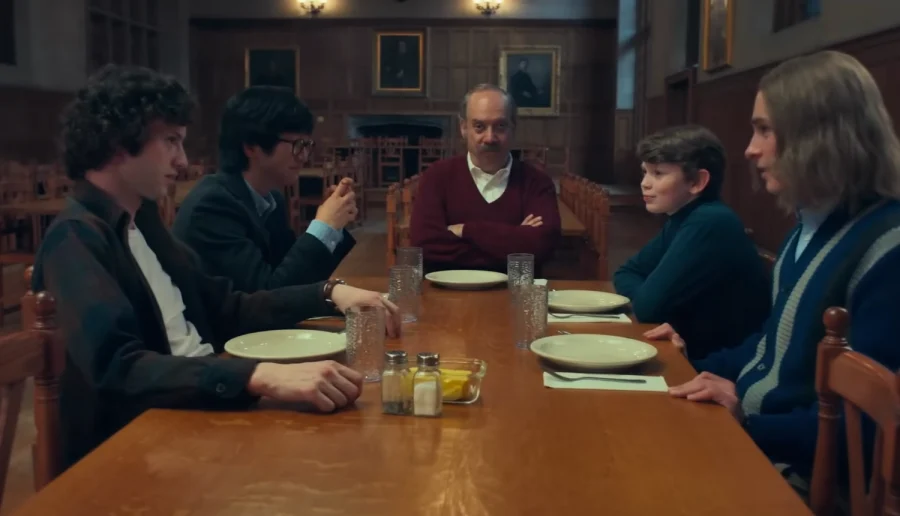 Dominic Sessa does a serviceable job with the character of Angus Tully, serving as the plot's driving character and a figure of complex motivations and faults. He's an intelligent young man but he is also prone to acts of disobedience and lashing out at authority figures. He's already been kicked out of three boarding schools and his parents have threatened to ship him off to military school where he won't cause any more problems.
Hunham's militaristic approach to schooling makes him a natural foil for Tully, but it quickly becomes clear that the young man is driven by serious grief and a lack of a strong father figure. Being abandoned during the holiday, so that his mother can enjoy a honeymoon with her second husband, is the icing on the cake of his life and pushes him to make more erratic and dangerous decisions. These two characters only learn to appreciate each other in hard-earned struggle and moments of vulnerability, which neither of them is eager to facilitate.
And yet, The Holdovers is hardly a serious drama. It is a very cozy feeling holiday movie that isn't afraid to be funny and touching in equal measure. These are sad characters who have all experienced loss and pain, and yet the movie isn't afraid to let us laugh with them as their ridiculous faults turn the mundane act of staying home for the holidays into hospital visits and field trips across the state of Massachusetts. It captures the sadness of sitting home watching reality TV on Christmas Eve and the warmth that comes from challenging yourself to connect with other lonely people in the midst of it.
+ Excellent Paul Giamatti performance
+ Beautiful production design and cinematography
+ Heartwarming and emotional script
- Some shallow supporting performances
The Bottom Line
The Holdovers is one of the best comedies of 2023, one of the best holiday films in recent years, and a wonderful cozy story about the most challenging aspects of the Christmas holiday in America.