| | |
| --- | --- |
| Synopsis | Set against post-war America, the lives of several people living in rural Virginia clash as they struggle with poverty, abuse, death and personal tragedy. |
| | |
| --- | --- |
| Length | 2 hours 18 minutes |
| | |
| --- | --- |
| Release Date | September 11, 2020 |
| | |
| --- | --- |
| Writing | Antonio Campos, Paulo Campos |
| | |
| --- | --- |
| Composition | Danny Bensi, Saunder Jurriaans |
| | |
| --- | --- |
| Starring | Tom Holland, Bill Skarsgård, Riley Keough, Jason Clarke, Sebastian Stan, Haley Bennett, Eliza Scanlen, Mia Wasikowska, Robert Pattinson |
A trailer for Devil All The Time dropped just a month or so back and caught a lot of attention. I wasn't quite sure why outside of its casting. Tom Holland and Robert Pattinson are huge stars right now with their upcoming films (Spiderman 3, The Batman) getting a lot of headlines. Having seen the film, I'm prepared to call it one of 2020's most pleasant surprises and one of the year's most interesting films alongside I'm Thinking of Ending Things, Mr. Jones, The Vast of the Night and Blood Quantum!
Content Guide
Violence/Scary Images: Repeated graphic violence, sexuality and dark content.
Language/Crude Humor: Extreme language and infrequent racial slurs throughout including f***, s***, d***, b****, g**d***, b******* and j*p.
Drug/Alcohol References: Drinking and smoking throughout the film.
Sexual Content: Some full-frontal nudity, references to sex, adultery, sexual abuse and pedophilia, a few non-graphic depictions of characters having sex.
Spiritual Content: A man is depicted skinned alive and covered in blood. Multiple characters are shot with large amounts of blood shown. Characters brawl and brutally punch one another.
Other Negative Content: Themes of vengeance, vigilante justice, brutality and abuse.
Positive Content: Themes of justice, dignity and the tragedy of the forgotten man.
Review
Anyone who's ever sat with their family members and talked about the family lineages can tell you that history is a dark place. That's especially true in America. I don't just mean that we're a country with a dark past of cattle slavery and brutal wars with the Native Americans. I mean that we're a country where most people who have been here long enough can tell you stories of entire families being sent off to war and dying, or where they knew dozens of people who casually died in horrific ways (murder, suicide, industrial accidents, disease, etc). If you ever sit down to talk with your elders they'll casually talk about their friends dying in wars, dying in industrial accidents or finding themselves in insane and painful situations.
The best way I've ever heard it described is that much of America feels like a country that's haunted by some unseen spirit. There's a sense of foreboding to life in rural America caught in the contrast between pastoral farms and extreme poverty. It's as though this is the place the American Dream came to die. There's something to be said then for stories that explore the tragic nature of casual American life. Traditionally this genre has been known as "Southern Gothic" but stories in the late 20th century have become more forthcoming with criticizing American society; the tenor of discussion moved away from the tragic dimension of a southern gothic novel to the rage and calls for justice in the modern story of American life. That doesn't mean Southern Gothic is dead of course. Recent films and shows like No Country for Old Men, True Detective, Winter's Bone and Killer Joe have done a good job capturing the melancholy and grotesque among the American South. Netflix's newest exclusive is similarly a good example of the genre!
As one would expect, The Devil All the Time is a movie with a lot on its mind. Even the title is loaded. It refers to a character early in the film referencing the fact he lives in constant fear of falling into the influence of the devil and thus prays at a makeshift shrine outside of his house every day with his son. It's a post-war drama about an extended family's troubles in the American Bible Belt and it doesn't shy away from its dark subject matter. The movie is a kind of contrast. It captures the pastoral images of lush rural Americans with the cruel, naive and painful lives of a group of relatively decent people seemingly abandoned by God in the backwoods of America.
Anyone familiar with the 1950s will catch some of its subtle notes from the austerity of its peoples to the way all of the adult men (war veterans) keep a bottle of alcohol next to them at dinner. The 1950s was a time of conformity for a generation of traumatized war veterans who just wanted to come home to their families and keep things quiet. Problems didn't seem to get aired well on this time, and usually when they did, it comes in the form of church gossip. The movie tells us upfront that the Knockemstiff, Ohio is the kind of tiny backwater town where everyone knows each other and where only a few hundred people live. It's a close-knit community and that comes with problems.
The movie's two and a half hour runtime is dedicated to following several ongoing storylines at once that capture different elements of southern corruption and pain. The film starts with a romantic story of a World War II veteran returning home and marrying a waitress before descending into a tragic story about failing health, suicide, loss and superstition. By the end of the first act, all that comes out of this subplot is the film's nominal lead character, Arvin Russell.
Arvin is taught as a young boy that a man needs to be willing to maintain his integrity through acts of violence and retribution. Now as an adolescent, he makes it his mission to seek acts of vigilante retribution in the town with his father's World War II-era Luger. At the same time this is happening, events converge as stories following a Pastor's numerous under-age sexual affairs, a corrupt police officer's dealings, a teenage "suicide" and a pair of violent criminals who run around killing hitchhikers. Some of these subplots work better than one another but they all end up slowly tying into one another by the film's endpoint.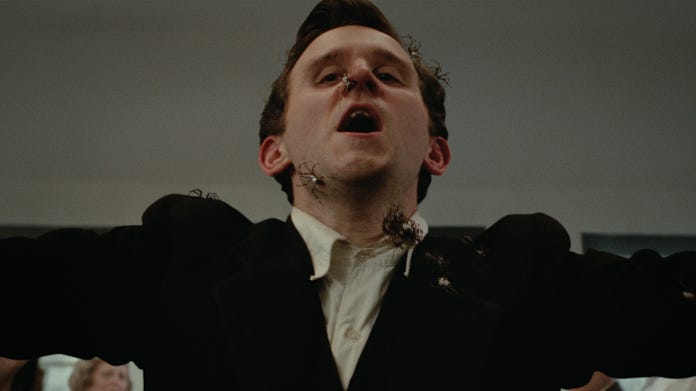 The relationship of these people to God is one of the film's most pertinent themes. The people of this small town are all varying degrees of deeply to radically religious and the devotion of these characters can sparsely be called into question. Their sensibilities certainly sure can be. One character—a radical pastor—is shown as a man who expresses his devotion to God through radical acts of bravery and trust that usually backfire and get him or others hurt. Early in the film he pours a box of venomous spiders on his head and gets bitten. His failure drives him only further into acts of more radical devotion. The way the narrator describes the results of moments like the pastor's moral failures really captures the tragic nature of the story. The rural south is a place where poor people struggle, suffer from their own hands, and then have to live with the consequences. The dead-eyed trauma of these characters unable to come to terms with the failures of those around them really capture the sadness of their lives.
Alienation from the church is another major theme in the movie. The characters are in a space where none of them are necessarily capable of disbelieving in God but they constantly bump up against the ugly realities of living in the world. Pastors turn out to be cruel or stupid. Their fellow Christians harm them or abuse them. Kids are pressured into faith by their abusive parents. The characters that doubt the existence of God only do so because they can't reconcile the tragedy of the things life has done with them with the idea of ultimate goodness. One character recalls seeing a fellow soldier in the Pacific theater of WWII with his skin cut off and his arms nailed to a cross. The sight is so traumatizing that he's not able to look at another cross or even pray for years.
I would imagine the film skews too atheistic for some, and at times the film goes miles out of its way to villainize its pastors as sexual degenerates and imbeciles too extremely to make its depiction of religion feel anything but scathing. I wasn't terribly offended by its portrayal personally. It reminded me a great deal of Charles Laughton's portrayal of another pastor in his Southern Gothic masterpiece, Night of the Hunter, which also portrayed a southern pastor as a "wolf in sheep's clothing". Like that film, The Devil All The Time feels more interested in the tragedy of being victimized by the totality of life than a story just designed to take pot-shots at religion. The film is more sympathetic than anything else in so far as it portrays its cast as unwitting victims of a system they can't control.
In a lot of ways, I respect the film more than it probably earns its results. The movie has largely garnered mixed reviews among other critics who love the performances but lament the way Donald Ray Pollock's semi-autobiographical novel was boiled down to function as a film. The performances are excellent of course with Tom Holland giving some of his career's best work! That said, I was quite enraptured by the atmosphere and tragedy of the piece. Even more than the story, the tangible feel of the film was engrossing. I wouldn't go so far as to call the film enriching because the movie never fully drags the characters out of the slump of darkness and destruction it plunges them into. At the same time though, I think there's something honest it manages to capture about Southern life just in how cooly it depicts these tragic events. Eventually, all of life's tragedies get boiled down to an emotionless monotonal line in someone else's scrapbook. That doesn't mean that real people still don't have to endure undo trauma.
+ Excellent performances by Holland and Pattinson
+ Pungent and oppressive tone
+ Emotional themes of tragedy, trauma and faith
- Some weak side stories
- Some underdeveloped characters and stories
- Underdeveloped themes of vengeance and vigilante justice
The Bottom Line
Netflix's newest Southern Gothic thriller captures the grotesque and depressing realities of life in the post-war American South! It's haunting, painful and engrossing!