| | |
| --- | --- |
| Synopsis | When Mile Morales' universe expands, he learns of a fate that must be avoided, even if it puts into question his existence as Spider-Man. |
| | |
| --- | --- |
| Length | 2 hours, 20 minutes |
| | |
| --- | --- |
| Release Date | June 2, 2023 |
| | |
| --- | --- |
| Distribution | Columbia Pictures |
| | |
| --- | --- |
| Directing | Joaquim Dos Santos, Kemp Powers, Justin K. Thompson |
| | |
| --- | --- |
| Writing | Phil Lord, Christopher Miller, Dave Callaham |
| | |
| --- | --- |
| Composition | Daniel Pemberton |
| | |
| --- | --- |
| Starring | Shameik Moore, Hailee Steinfeld, Oscar Isaac, Jason Schwartzman |
Before Spider-Man: Into the Spider-Verse released in 2018, there was intrigue but not a whole lot of excitement about the project. The previous year had treated audiences with a third reboot of Peter Parker, this time part of the MCU, and while the character was still immensely popular, there were fears the story was starting to outstay its welcome.
The main difference with Into the Spider-Verse was that it focused on the alternate version of the iconic character, Miles Morales. It was a slight risk as audiences weren't as familiar with this rendition of the Spider-Man tale. Yet with strong storytelling, brilliant animation, and a whole lot of heart, the film won viewers over. It claimed Best Animated Picture at the Academy Awards and was a huge success for Sony. The film performed above and beyond expectations, revolutionizing both American animation and the art form itself.
Now people are ravenously keen for the follow up movie, Spider-Man: Across the Spider-Verse, but those nerves are starting to return. The first film was such a smash hit, it's natural to doubt whether a sequel can live up to that reputation. Can lightning be bottled twice?
Content Guide
Violence/Scary Images: Animated violence—explosions, melee battles with superheroes, assault, close calls, people in peril from falling or debris. No blood. The plot revolves around the death of people's loved ones. Close ups on a spider biting a person. Talk of murder and various threats.
Language/Crude Humor: Light swears, such as "h*ll", "cr*p", and "*ss". More acceptable words are used in place of swears, such as freakin, dang, and shoot.
Drug/Alcohol References: Adults responsibly drink wine—it's not the focus of the scene.
Sexual Content: None. There's romantic tension between the two leads. The relationships between several established/married couples are shown (embracing, discussion of child rearing, etc). One character is technically naked, although their body is mutated and no genitalia is seen.
Spiritual Content: Indian customs are briefly depicted.
Other Negative Content: Attempted theft. One character seeks revenge. Multiple characters do not trust others and refrain from telling the truth. A central part of the plot involves remaining idle when others face death.
Positive Content: The film prioritizes the importance of family, open communication, and reconciliation, whilst also grappling with heavier topics such as the impact of grief and how sometimes the worst moments of our lives are the ones that shape it the most. Every life is important and sacred.
Review
Spider-Man: Into the Spider-Verse wasn't just a great Spider-Man or superhero movie, but was a magnificent piece of filmmaking in general. It took the origin story, which had already worn thin by that stage, and found ways to make it feel fresh, different and interesting. It introduced Mile Morales to the world and made this alternate version seem just as special and unique as the original character he was copied and pasted from. The film was even self-aware of the repetitive nature of comic book narratives and editions, comedically parodying some of the lack of originality through its punchy script and endearing art style. It resulted in a film that embraced all of the flaws we've seen through this genre with such a loving touch that it ended up being a euphoric celebration of Spider-Man and the core essence of that character.
Sequels are meant to build upon the previous story. That's a tall order in this case. At minimum it needed to expand the universe, present a deeper analysis of the main protagonists, feature a great villain, raise the stakes, and tell a grander tale. It would also be good if it found some way to once again revolutionize the art form itself.
Spider-Man: Across the Spider-Verse does all of these things.
It's a difficult film to write about as there's not much to critique. Its weakest aspect is the fact that it's the middle movie of a trilogy, meaning it ends abruptly. The film has an epic build up, psyching the audience up for an impressive third act, yet it never comes. That's going to be held over till the next edition. It's difficult to see how there's enough story left over to justify another entire feature length entry, but obviously there's going to be more than enough to unpack; the creators have clearly built up enough goodwill now for the audience to trust they know what they're doing.
Yet for a film without a traditional third act, there's a lot it achieves. This time there's more focus on Gwen's character and her arc, and it's lovely to see how her story intertwines with some of Miles' internal struggles. There are rumours that she's trans, with Across the Spider-Verse featuring subtle LGBTQI+ blink-and-you-miss-them moments… I must have blinked because I didn't notice anything of the sort.
Meanwhile, Miles is dealing with numerous issues which tap into a juicy amount of themes. There's that relatable element where he's a teen trying to honour and yet breakaway from his family in order to find his own identity. Fans, however, will love the film's exploration into Spider-Man himself; what really makes this character the endearing superhero that we all know and love.
The story doesn't shy away from some of the harder questions of life, and those ponderings will also find some crossover with many people's walk of faith. Many Christians at some point will have come across the teeth-grating platitude of "everything happens for a reason"; a frustrating simplification, as while it's meant to serve as a reminder that God is in control, with the saying containing an element of truth to it, there's also that gut-churning mental follow-through where someone's hardship or passing is another's life lesson. It cheapens the gravity of the situation and adds an unusually cruel and unjust slant on the fragility of life. While the film doesn't directly reference this saying or explore anything religious, it does its best to wrestle with that contradiction in life where we wish to prevent hardship and suffering, and yet those moments are what shape and define the person we are today.
If the first film was about how Miles was similar to his alternate universe counterparts, then this sequel focusses on how he is different. It takes its time to really dig deeper into his character, fleshing him out as a fully realised being. Miles Morales is no longer simply "Black Spider-Man"—he's not the token hand-me-down role, like many other comic book variations where iconic characters undergo race or gender swaps as a lazy means to achieve diversity. He's a fascinating character unto himself, and these wonderful films so far have demonstrated that he's able to stand on his own.
In fact, Spider-Man: Across the Spider-Verse features diversity done right. There's a gimmicky element to it all, where audiences get to enjoy seeing different Spider-Men in various forms, from a cat version to a T-Rex, to any race or gender one can imagine. There are a lot of Easter Eggs and gags, where if it wasn't handled correctly, then the tone of the film might shift into empty fan service or worse, tokenism. But every character is given their time to shine, the plot justifies their existence, and there's a sincere exploration of every figure that takes prominence on screen. They aren't just merely "Punk Rock Spider-Man" or "Indian Spider-Man", but cool characters that add to the vibrancy of the movie and contribute heavily to the finer mechanics of the story.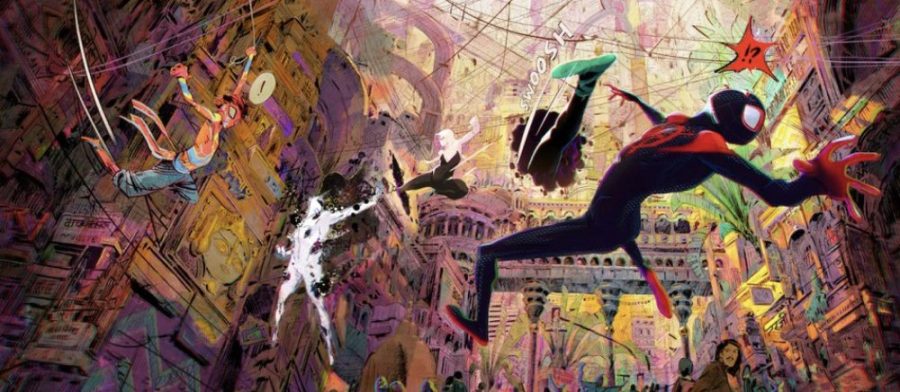 If there is a weak link in terms of characterization, then it's with our standard Peter Parker that was a prominent supporting character in the previous outing. He's very one-note and rather goofy in this adventure, forming one part of a comedic duo with his unruly, superpowered baby. He feels out of place compared to the others in the cast, though eventually his character is reigned in and viewers are finally treated to a more nuanced performance.
The villain of the story undergoes a similar journey, though it is intentional and therefore magnificent. Starting as a gag and slowly becoming more of a threat, it's a real delight to see a villain also undergo a character arc. There's a subtle mirroring of Miles' main struggle, where the antagonist also undergoes a moment of intense suffering, but instead of learning and growing from the experience, they become bitter and stuck, obsessing over the wrongs of the past. It's easy to see how Miles could travel down a similar mental trajectory in future narratives.
In terms of animation, it's mind-blowing. Each universe has its own style, and it's glorious seeing all these different versions bleed together. The film is a piece of art. I'm no animator, nor do I have much of an idea of what's required behind it, but I can tell there has been a lot of work put into this production. It's painfully obvious to everyone there was great care taken when it came to bringing this story to life, and the amount of creative energy, fanciful experimentation, and pure enjoyment of the task at hand effortlessly oozes through every frame. It's top tier for its genre, and easily one of the best animated American movies of all time. An epic film with a runtime to match, for that reason it's not suitable for smaller children. It's a fairly heavy movie that requires a long attention span (although that said, in my session there was a child under seven that managed to sit through the film without complaint, so kudos to those parenting skills). The sound mix also seemed off—despite seeing it in a cinema, the dialogue levels sounded soft. It's difficult to determine whether this is the case for the movie as a whole or if it was just a problem for my cinematic outlet. Yet these issues are minor, and no doubt Spider-Man: Across the Spider-Verse will feature on many people's Best Films of 2023 lists at the end of the year.
+ Animation
+ Characters
+ Diversity
+ Plot
+ Love letter to the characters
+ Easter eggs
+ Everything
- Soft audio
- Peter Parker a bit silly
- Runtime too long for kiddies
- Ends abruptly
The Bottom Line
Spider-Man: Across the Spider-Verse is the Top Gun: Maverick of 2023; a sequel worthy of following in the footsteps of its grand predecessor.