Distributor: Faithlife Films
Director: Tyler Smith
Writer: Tyler Smith
Composer: Amsi Hernandez
Starring: Tyler Smith, Mike Siegel, Aaron Neuwirth
Genre: Documentary
Christian film critic, Tyler Smith, brings his knowledge of film history to this solid documentary for Faithlife TV that discusses the relationship between the Christian faith and cinema. 
Content Guide
Violence/Scary Images: Depictions of horror scenes in various movies which may be startling to some viewers.
Language/Crude Humor: Minimal to none.
Drug/Alcohol References: References to drinking in other movies.
Sexual Content: References to sexuality in other movies.
Spiritual Content: Consistent discussion of religious themes and individuals and the role they play in cinema.
Other Negative Content: None.
Positive Content: Open minded and nuanced consideration of films and themes that are often disregarded in Christian culture.
Review
Disclaimer: This reviewer has had contact with the documentary's producer and received a screener copy to review. 
The relationship of Christianity and Hollywood has been a long, complicated and mutually abusive one. Film is a young medium, having only been invented less than a century and a half ago. Though it didn't take long for it to become a legitimate force in the world of art. Since the 1920s, it's been one of the most popular art forms all around the world. In the United States, the form's unique ability to depict truth at 24 frames per second made it a priority for religious groups to pressure as it brought depictions of violence and sexuality to the eyes of the youth. Because of that, many Christians sought to censor the movies. The filmmakers, mostly secular and desiring artistic freedom, fought back in the decades since. Many slandered religion and mocked the masses who claimed to follow it. As a result, film has become the source of much contention in the great American culture wars. 
This is only a basic description of a long history that's explored in director Tyler Smith's new documentary, Reel Redemption. Tyler Smith is an excellent film critic and film professor who has written for websites such as Battleship Pretension and More than One Lesson. I had the opportunity to speak with him recently on an episode of The GroupThink Podcast where we discussed the nature of religious beliefs in mainstream films and how they're executed. Tyler approaches film with an air of seriousness and an openness that I very much appreciate given how stodgy Christian film critics are often depicted. This new documentary, directed for the streaming platform Faithlife TV, offers a really solid perspective on the nature of the medium from a faith based perspective.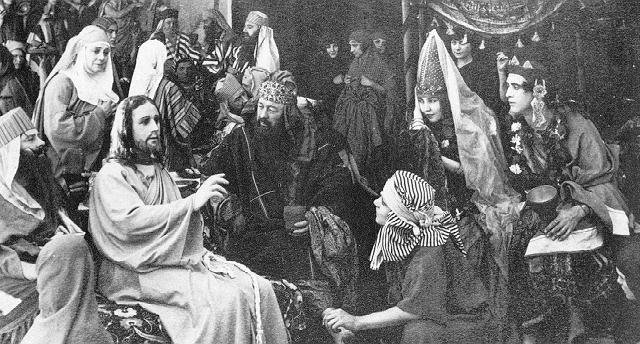 Reel Redemption covers a great deal of history in its 90 minutes. The movie starts out on a basic history lesson regarding the history of the silent era and golden age of Hollywood while weaving in the relationship of then contemporary religious concerns into the plot. From there on out it explores the foundation of the Catholic Legion of Decency, the rise of the counter culture in the New Hollywood of the 1970s, the accumulated antipathy towards Hollywood among religious Americans in the 1980s, the controversial releases of religious films like The Last Temptation of Christ and The Passion of the Christ, and the rise of independent Christian film as a genre.
The movie serves as a more than passible basic history of the film industry which helps set up the contentious relationship. Anyone who already has a greater knowledge of George Melies, D.W. Griffith, Sergei Eisenstein and Fatty Arbuckle will already understand most of the greater history and context behind these events, but this is a solid introduction to the rise of film as an art form and points viewers in the direction of great movies that any budding film historian desperately needs to seek out. 
Tyler's perspective on all of these historical events is quite even handed. He covers the broad arguments being made by both Christian and secular audiences and filmmakers throughout the history of the genre and doesn't hold back from depicting Christians in a frustrated light when it's necessary to do so. He takes the concerns of non-religious film audiences seriously while still making it clear that many of these people were genuinely antagonistic and harsh to Christians and their values. 
As the documentary approaches modern day, it shifts focus from a discussion on the history of the medium to a discussion of contemporary Christian films, following the success of independently successful "Christian social dramas" like Facing the Giants, Fireproof, God's NOT Dead and War Room. Tyler's ideas surrounding Christian films are quite unique to these ears. Speaking for myself as a Christian and a cinephile, I hate more "Christian films" for their terrible production values and preachy messages. Tyler takes a more nuanced view on them. He all but proposes the idea that Christian films as a genre are momentarily misunderstood in the way most low budget Hollywood genre fair usually is at its conception (IE: horror films, westerns, etc.) and that the genre is going to start gaining some retroactive critical reappraisal as the medium continues to evolve. 
He even goes as far as to break down how these films function beyond mere ministry tools. His most interesting idea is the concept of the "emblem". As described by More Than One Lesson essayist, Esther O'Reilly, "One of the salient features of a particular kind of film marketed explicitly to evangelical Christians is the use of what Tyler Smith calls "the emblem"… The form of the emblem varies from movie to movie, but consistently, there's some monument or object that represents the characters' commitment to family and faith. In Fireproof, the main character is given a marriage manual that he begins to follow religiously and comes to see as a symbol of his desire to reconnect with his wife." 
Put simply, Christian films help their viewers create processes to take away from the films which they can apply to their own life. It's an interesting trope and Tyler points out it appears across the entire genre as a theme and ministry tool alike. Tyler evidently wrote about "Christian Social Dramas" in his masters thesis and has given a great deal more thought to the genre than most film critics. 
The movie even controversially ends on a hopeful note. The movie's final stretch goes as far as to explore a recent bump in the quality of nuanced religious themes amongst mainstream Hollywood films. As we see with the depiction of Christianity in major Hollywood prestige films like Spotlight, Calvary, Silence and Bad Times at the El Royale, Hollywood seems to be taking a less harsh stance on religion and religious characters. 
There's a lot of history and film theory covered in this documentary and I very much enjoyed getting to sift through it. The documentary is clearly being stitched together by relatively amateur hands with limited access to high resolution video files of some of the films in question, but his knowledge of film and his ability to thematically grasp more nuanced ideas in films allows him to string the divergent threads of history into a hopeful narrative that celebrates the medium and his faith at once.