Distributor: Netflix
Director: Noah Baumbach
Writer: Noah Baumbach
Composer: Randy Newman
Starring: Scarlett Johansson, Adam Driver, Laura Dern, Alan Alda, Ray Liotta, Julie Hagerty, Merritt Wever
Genre: Comedy, Drama, Romance
Noah Baumbach, acclaimed director of The Squid and the Whale and Frances Ha, has returned with a new independent drama for your awards season consideration! In this performance driven film starring Adam Driver and Scarlett Johansson, we get a glimpse into the lives of two immensely intelligent and creative people as they undergo the horrific process of a divorce. 
Content Guide
Violence/Scary Images: A character cuts his arm—the bleeding wound is shown, two characters have a heated verbal argument.  
Language/Crude Humor: Severe language throughout, consistent use of heavy swear words including f*** and c***s*****.
Drug/Alcohol References: A character smokes a cigarette. Characters are seen drinking socially, and there's a discussion about drinking too much. Drug use is mentioned. 
Sexual Content: Some sexual themes and discussion of sex. A character in the plot has an offscreen extra-martial affair. 
Spiritual Content: None. 
Other Negative Content: Themes of resentment, vitriol, infidelity and depiction of divorce.
Positive Content: Themes of family.
Review
The conceit of Noah Baumbach's newest drama, Marriage Story, is quite simple: neither of the two characters are the bad guy. They're not even bad people, relatively speaking. They're both incredibly intelligent, kindhearted and family-focused people who both have promising interconnected careers in the entertainment industry. As we see in the film's prologue, Charlie Barber (Adam Driver) and Nicole Barber (Scarlett Johansson) are quite a lovely and romantic couple. That doesn't mean their divorce can't get very ugly. 
Divorce is one of the most life crushing events that can happen in a person's life. There's a reason why Christianity frowns upon divorce as deeply as it does. As a millennial, I've seen all too many divorces in my life. I was a child of the divorce epidemic generation and I can tell you that it does a lot of damage to everyone it touches. Because of that, people can get quite touchy about how it's portrayed. Even a film that castigates the notion of divorce won't go without criticism. There's been a lot of cultural dialogue over this film since it premiered on Netflix in December about its rather complicated depiction of the topic. Some people take one of the character's sides and criticize the other. Others use it to castigate real world inequities regarding legal rights for men in divorce. I've even seen Christians online label the film as inappropriate for depicting the act of divorce as though the act of portraying it was in some way glamorizing it. That's simply untrue. Marriage Story is a film about how horrific divorce is. The movie has obviously struck a cultural nerve for how powerful it is.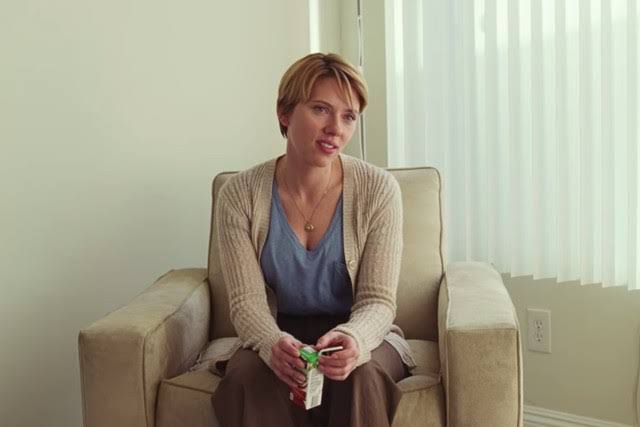 I'm going to discuss broad-strokes of the plot in detail, but rest assured I'm not ruining the experience of seeing Marriage Story. This isn't the kind of film I can ruin with spoilers. This is, first and foremost, a performance movie that puts its two lead actors on display and lets them give career-defining performances. That's nothing to scoff at. Adam Driver has been on a career tear ever since his breakout role in The Force Awakens. His last four years of acting between Star Wars sequels has given us Paterson, Silence, Logan Lucky, BlacKkKlansman, The Man Who Killed Don Quixote, The Dead Don't Die, and the upcoming French musical, Annette. Johansson's career has been longer and much more influential, with masterclass performances in movies like Lost in Translation, Match Point, The Prestige, Under the Skin, and at least half a dozen Marvel films. That Marriage Story is a highlight in both careers is nothing to scoff at. 
From the outset of Marriage Story, Charlie and Nicole agree to a simple divorce without lawyers in an effort to keep things amicable. Both are extremely talented individuals working in entertainment and they both have impressive careers. Charlie is a critically acclaimed stage director and is a certified genius while Nicole has a blossoming career as an actress. When Nicole is convinced to see a horrific parasitical lawyer (Laura Dern) in Los Angeles—across the country from her husband in New York City—she's convinced to ramp up the divorce and start making demands. 
We find out that Charlie had an affair with a member of the crew from a stage-play he was working on in the final months of their marriage. He feels guilty about this but defends the action as a result of their failing relationship. This just ends up being one more thing in the list of actions that Nicole's lawyer uses against him to try and cease his claims to child custody. He nearly violates California law by accident when Nicole's lawyers lie to him and tell him he doesn't need to respond to them. Charlie is forced to put his career on hold to spend an enormous amount of time and money in California to defend his rights as a parent in the face of potentially massive repercussions. 
The film is a spiral of underhandedness, deceit and casual cruelty as these two characters unleash the years of unstated resentment they'd built up and left unsaid. The movie builds up to a now-famous confrontation between the two characters late in the film, where they brutally decimate each other verbally. The scene has been spread around the internet and it has accrued some laughter for how over the top the moment looks out of context. In context however, it's horrific. By the end, the two characters apologize to each other for just how badly thing progressed when they realize just what they're saying and doing. 
As horrific as they both act, the movie never pulls back your empathy from them enough to make you hate them. It wants you to like and respect both of them as it watches their relationship disintegrate and intensify in real time. The movie castigates the divorce lawyers much more than it does the couple. While most of these characters are guilty of deep transgressions and breaches of trust, the system is designed to foster intense hatred and confrontation. That's the thing about toxic relationships though: they take two people. Charlie is guilty of infidelity. Nicole is guilty of breaking their arrangement. Both were guilty of letting their relationship slip into decline without repairing it as it was falling apart.
Marriage Story obviously isn't going to be everybody's cup of tea and that's fine. Divorce is likely a much sharper pain for some people as opposed to others and this movie is extremely forthcoming about the nature of that pain. Noah Baumbach doesn't want to hold back on making us feel something and he manages to channel some immensely complicated ideas and emotions into what's otherwise a very plain and simple looking drama. Driver and Johansson completely take the ball and run with it and give us two of the best performances of any movie you'll see in the next year. Two of the six Oscar nominations this film has received are specifically for their performances. If you haven't seen it yet, Marriage Story has been available for streaming on Netflix since December. It's well worth the viewing if you can handle the subject matter.