| | |
| --- | --- |
| Synopsis | The Guardians must undertake a series of heists to find a cure for Rocket, after he is mortally wounded by a new adversary. |
| | |
| --- | --- |
| Distribution | Walt Disney Studios Motion Pictures |
| | |
| --- | --- |
| Starring | Chris Pratt, Zoe Saldaña, Dave Bautista, Karen Gillan, Pom Klementieff, Vin Diesel, Bradley Cooper, Sean Gunn, Chukwudi Iwuji, Will Poulter, Elizabeth Debicki, Maria Bakalova, Sylvester Stallone |
There is a lot of talk nowadays about the decline of the Marvel Cinematic Universe—and it is not hard to see why. With the notable popular exception of Spider-Man: No Way Home, the recent MCU films have felt like half measures, compromises, or underdeveloped ideas. Black Widow, The Eternals, Thor: Love and Thunder, and Ant-Man and the Wasp: Quantumania were all met negatively, and with Chadwick Boseman sadly passing, Black Panther: Wakanda Forever felt tragically kneecapped.
I enjoyed Shang-Chi and the Legend of the Ten Rings and Doctor Strange in the Multiverse of Madness, but it hasn't been enough to keep the enthusiasm going. With the lead actor of Avengers: The Kang Dynasty currently facing alleged domestic violence charges, the entire future of the MCU feels like it is one more major failure away from totally derailing.
Guardians of the Galaxy Vol. 3 is coming at an important moment, serving as a film that could make or break audience enthusiasm for the franchise by bringing back five of the most popular characters in the franchise under the helm of one of the most talented directors to ever work with Disney. Unfortunately, the 2018 cancellation of director James Gunn set the franchise back three years and chased him to Warner Brothers where he is now the lead creative director for the DC Universe—a possibly negative omen.
Content Guide
Violence/Scary Images: PG-13 action violence, but handled in a more gruesome tone than usual. Blood is frequently depicted. A character spends time on a ventilator. Characters are shot, stabbed, and brutally killed, and there is a surprising amount of gruesome violence against animals. A character is depicted with the skin on his face torn off.
Language/Crude Humor: One use of F*** and severe language throughout the film.
Drug/Alcohol References: A character gets drunk in one scene.
Sexual Content: Crude offhand references to sexuality, but nothing is depicted or described.
Spiritual Content: The villain of the film proclaims himself as an atheist with a desire to perfect the universe in his image. Characters muse about the meaninglessness and cruelty of life.
Other Negative Content: The film is darker and more gruesome than most MCU films, with significant violence against animals.
Positive Content: Themes of family, friendship, and protecting life.
Review
I didn't particularly love Guardians of the Galaxy Vol. 3. I didn't dislike it, but it feels like an obvious step down from the previous two films that successfully turned a group of Z-List comic book superheroes into one of the most successful blockbuster film franchises of all time. And they are movies I loved, even as my taste for the MCU has diminished over time. I'm writing this piece sitting under my Volume 2 poster next to my work desk at the time of writing.
Granted, the problems with Volume 3 are not bombastic or terribly interesting. There's nothing mind-numbingly awful or offensive about it, nor even particularly topical in a way that might aggress partisan rage. Its problems just come down to banal screenwriting problems. The film hinges on several major character arcs, reveals, and payoffs that aren't terribly well set up and payoff somewhat abruptly. New characters are introduced without much character development and don't get much payoff by the finale.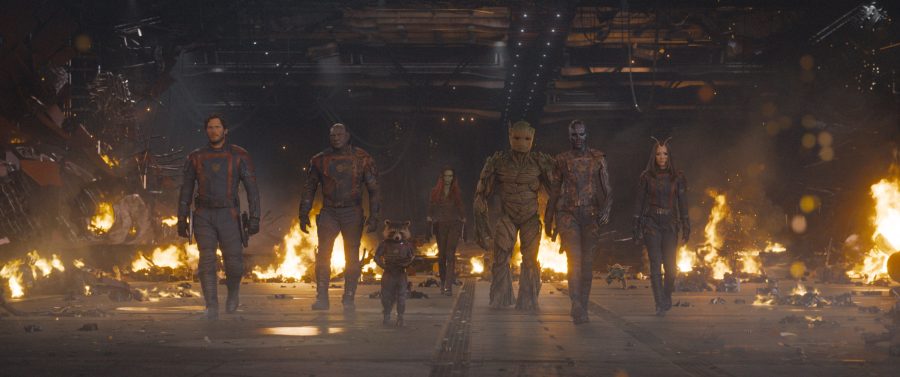 All of the features that make the original film great are present here—great music, great performances, beautiful/expensive-looking special effects, quirky humor, etc. The problem is just the mix. Like a poorly mixed drink, the ratios are off in strange ways and it leaves the production with an unusual bittersweet taste. Whereas the previous films could rely on consistent comedy or witty character drama to smooth over weak spots in the writing, the problems feel more apparent in this film with its darker tone.
The film follows up with the Guardians in the years following the events of Avengers: Endgame and the The Guardians of the Galaxy Holiday Special. The team has set about to rebuild the Knowhere settlement into a thriving colony, while Peter Quill continues to mourn the loss of Gamora with less and less dignity. When a mysterious being named Adam Warlock arrives and mortally injures Rocket, the team is forced to pull off a series of misguided and poorly planned heists to retrieve Rocket's intellectual property license, in order to properly heal him.
As this is happening, Rocket has a series of flashbacks to his traumatic infancy in the hands of the High Evolutionary, a corporate scientist turned wannabe God who has aspirations to make the universe perfect by populating it with his own perfect creations—Frankensteined animals given cybernetic components and sentience.
Despite being a series that hasn't generally been shy about depicting death or violence on screen, Volume 3 is probably one of the darkest and bleakest films in the MCU, depicting characters who are put through some of the most emotionally harrowing scenes and challenges thus far in the MCU. The characters are more astutely meditative about death, existential angst, and their fear that life is meaningless than in most of these movies. Blood is more frequently in focus and the sheer amount of casual violence inflicted on cute animals is somewhat unsettling to watch.
It doesn't help also that the marketing campaign is pushing the film as something of a last hurrah for these characters. It has been clear for a while that James Gunn and several of the cast members aren't coming back to do additional MCU films going forward, so the film is very much something of a parting for the cast of the original film. I'm glad the film didn't end up leaning into the ultra-dark ending that the trailers were implying because I like these characters, but the ending feels a bit like a shrug even as it finds novel ways to send off these characters.
I can already sense that this movie is going to be quite polarizing if not poorly received by general audiences—although the film has a relatively high audience score on Rotten Tomatoes at the time of writing, so I could be wrong. I won't go too far and say that I think the film failed, just that it's a moderate disappointment after six years of waiting for a sequel. I might even cool off a bit on this film after a rewatch and further consideration, but upon my first viewing, I can't shake the bitter flavor in my mouth.
+ Great soundtrack
+ Beautiful special effects
+ Great comedic moments and emotional moments
- Weak character development
- Bleak and bittersweet tone
- Overall mixed bag
The Bottom Line
The third Guardians of the Galaxy film feels like more of a mixed bag than one might expect, with the film hitting several very high moments amid a strange tone and extremely dark content by MCU standards.