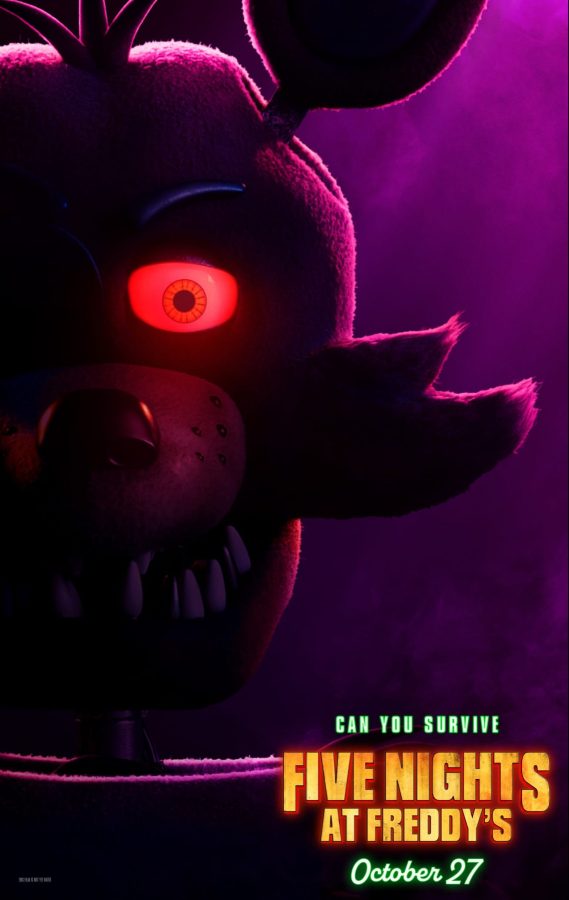 | | |
| --- | --- |
| Synopsis | A mall security guard seeks a job at Freddy Fazbear's Pizza in order to afford to take care of his sister, but accidently discovers a secret that could lead to the truth about his long-lost little brother. |
| | |
| --- | --- |
| Length | 1 hour, 50 minutes |
| | |
| --- | --- |
| Release Date | October 27, 2023 |
| | |
| --- | --- |
| Distribution | Universal Pictures, Peacock |
| | |
| --- | --- |
| Writing | Scott Cawthon, Seth Cuddeback, Emma Tammi |
| | |
| --- | --- |
| Composition | The Newton Brothers |
| | |
| --- | --- |
| Starring | Josh Hutcherson, Elizabeth Lail, Piper Rubio, Mary Stuart Masterson, Matthew Lillard |
The Five Nights at Freddy's series has a special place in the hearts of many Geeks Under Grace writers. Series creator Scott Cawthon, being a practicing Christian, actually gave one of the first interviews he has ever done to our publication in 2014, discussing the role his faith has provided in his life and career and how he became inspired to create the first game in the franchise.
In the time since, Five Nights at Freddy's has expanded from a handful of flash games into a multi-media empire, with dozens of book adaptations, toylines, and merchandise sales. It has become one of the largest gaming franchises of the 2010s and spurred a massive fanbase of decoders who spent years attempting to unlock the secret stories and lore buried under the surface of things. Now the franchise has broken into theaters with a film adaptation that has been nearly a decade in the making.
In that time, ripoff films like Willy's Wonderland and The Banana Splits have been released in theaters. The franchise's golden age is behind it, and recent games in the series like FNAF VR and Security Breach have generally tried to push the story in new directions less tied to the overbearing continuity of the original seven games. This leaves the film in a curious position. Would it add to the already convoluted pile of lore or retell the events of the series in a more cohesive way? And more importantly, how would non-fans react to it?
Content Guide
Violence/Scary Images: PG-13 rated violence and gore, with several scenes of blood and offscreen violence; a woman's silhouette is cut in half, a bunch of dead bodies are seen lined up against a wall at one point, characters are repeatedly stabbed, and the story explores murder.
Language/Crude Humor: Limited to none.
Drug/Alcohol References: Limited to none.
Sexual Content: None.
Spiritual Content: The movie presupposes the existence of ghosts and hauntings, while another character talks about how he used to say Grace before meals.
Other Negative Content: None.
Positive Content: Themes of family, truth, and protecting innocents.
Review
The current iteration of the Five Nights at Freddy's movie is not the original one. The film was originally announced eight years ago in 2015 by Warner Bros. and has gone through multiple rewrites and directors, being delayed, and eventually moved to Blumhouse Productions. Directors Chris Columbus (Home Alone, Harry Potter), and Gil Kenan (Monster House) were originally attached to direct it, before those duties fell to Emma Tammi (The Wind) to finally film the project in 2021, with an original script by series creator Cawthorn. After all that, the film has finally escaped into theaters with a simultaneous release on Peacock.
Five Nights at Freddy's is clearly a work of many hands, bearing many of the scars that come from repeated delays and challenges behind the scenes. Sadly the end result of all these iterations hasn't amounted to much. The final product is, charitably speaking, not good. It's a horror movie without much horror, a comedy without much comedy, a series of lore dumps that mostly engage in fan service and excessive exposition, which results in a movie that is too lukewarm to stand on its own strengths.
The film follows a somewhat aimless young man named Mike Schmidt, a former mall security guard struggling to provide a home for his younger sister after they were left abandoned by their father. When a job opportunity opens up at an abandoned children's entertainment restaurant, Mike discovers that his new place of work may be tied to the kidnapping and disappearance of his brother from when he was still a child.
The movie is mostly operating in a space of memetic self-reference—repeating severely abridged events that made up the lore of the first few games as the film exposits some of the more difficult themes and ideas that were implicit in the franchise. It all comes off as highly disjointed. New characters show up without much development and established characters appear without motivation, assuming the viewer is familiar enough with the characters to fill in the blanks.
The movie is absolutely drowning in fanservice moments and cameos, giving popular YouTubers brief moments to show up for an applause moment before disappearing. It's symptomatic of the movie's overall goals—attempting to create something that will placate die-hard fans of the games even if casual audiences are left cold by the experience.
The movie also introduces tons of story elements that just don't pay off in any serious way. Mike is introduced in the movie reading a book called "Dream Theory" which he believes he can use to essentially lucid dream and manifest his way into solving his brother's murder. But in the end, this entire subplot just serves as the stage for dreamscape interactions and fever dream nonsense that doesn't pay off in the end. It is either fodder that is meant to pay off in some potential sequel or a story element the film didn't see fit to bother addressing. This proves to be a problem for multiple characters with inconsistent motivations and knowledge of the situations happening.
If the movie does get anything right, it is the animatronics themselves. Blumhouse brought in the Jim Henson creature shop and built several full-sized costumes for the five main costumes. And they look amazing on screen. They have real presence and physicality and it becomes clear through their puppeteering performances that there is a lot of personality and humanity behind these plastic eyes. Sadly, the rest of the film lacks the artistic strength and effort that went into the creatures. Even a handful of costumes from late in the movie feel cheap in comparison.
The best thing about the original Five Nights at Freddy's story was just how opaque it was. The first four games, released over the course of a year, told a complicated story in a convoluted manner, but the version decoders eventually managed to pull together was a surprisingly harrowing story about loss, trauma, grief, and forgiveness told mostly in the form of 8-bit flash games and background phone conversations. The accomplishment of creating a relatively realistic version of the events in fanfiction form was enough to feel rewarding and did so by letting viewers assemble all the pieces in their own heads in a way that felt most satisfying.
The Five Nights at Freddy's movie doesn't have this benefit to fall back on. It is a movie and it needs to be coherent, focused, and cohesive, which are not words I normally associate with the better parts of the games. It is a movie that simultaneously feels packed to the gills with ideas, rushed, and dull while lacking a core story that uses the established franchise in a smart way.
+ Excellent animatronic puppeteering
+ Serviceable performances and set design
+ A handful of fun Easter eggs
- Very poor story and script
- Some intense fan service moments and cameos
- Rushed final act
The Bottom Line
Five Nights at Freddy's is a disappointment. After eight years of delays and multiple creative teams working through the material to see this film getting to theaters, it's one of the low watermarks of the franchise.