| | |
| --- | --- |
| Synopsis | Charlie is a young girl with strange superpowers that she struggles to supress and control. When her similarly superpowered parents are caught by the government, she's forced to go on the run and eventually find a way to save her dad. |
| | |
| --- | --- |
| Release Date | May 13th, 2022 |
| | |
| --- | --- |
| Distribution | Universal Pictures (theatrical), Peacock (VOD) |
| | |
| --- | --- |
| Writing | Scott Teems. Based on the novel by Stephen King. |
| | |
| --- | --- |
| Composition | John Carpenter, Cody Carpenter, Daniel A. Davies |
| | |
| --- | --- |
| Starring | Zac Efron, Ryan Kiera Armstrong, Sydney Lemmon, Kurtwood Smith, John Beasley, Michael Greyeyes, Gloria Reuben |
If nothing else, I can take solace that the worst movie I'm likely to see in 2022 has already passed. That might sound harsh. Firestarter certainly isn't as mind-numbing and excruciatingly awful as the greats of modern bad filmmaking — X-Men Origins: Wolverine, Pirates of the Caribbean: Dead Men Tell No Tales, Fantastic Beasts: The Crimes of Grindelwald, Morbius, etc. What it is though is a critic's worst nightmare: vapid, bland, and superficially clean.
Content Guide
Violence/Scary Images: In some scenes of gruesome death and killing, several characters and a cat are severely burnt and shown to be injured and dying. A cat whimpers after it is injured.
Language/Crude Humor: Severe language throughout including f***.
Sexual Content: No sexual content. A partial breast can be seen during breastfeeding.
Drug/Alcohol Use: None.
Spiritual Content: None.
Other Negative Themes: Themes of violence, hatred and murder.
Positive Content: Themes of life, family, acceptance and responsibility.
Review
There is an old line I once heard that said there are two types of movies: movies that kill the dog and movies that don't kill the dog. That can tell you a lot about a movie—what kind of instinct is making it, whether it's a grindhouse movie or a serious prestige film (Old Yeller and Marley and Me might be notable exceptions). That Firestarter reminded me of that theorem should be a warning, although it is novel enough that instead of killing a dog it forced me to watch a cat be vaporized after dying an excruciatingly painful death. This is most certainly a movie that "Kills the Dog". Sadly it doesn't earn anything by doing it.
This might sound like a misnomer but critics actually enjoy hilariously bad blockbusters. We spill a lot of ink talking about films that represent bad trends or that draw out our hatred and contempt. Hatred requires passion and for most reviewers the worst film-going experiences as the ones where the film slips passed you and leaves nothing behind it; no emotional impact one way or the other.
Firestarter is based on the 1980 Stephen King novel of the same name, which was adapted into a not particularly well regarded 1984 film. Now it's being adapted again by Blumhouse; a usually dependable and intelligent studio that generally succeeds at telling small-scale low budget horror stories like Get Out, The Purge, and The Invisible Man.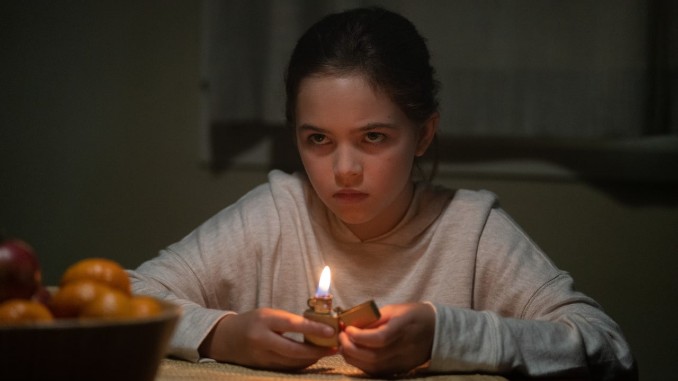 I don't know what alchemy is lost in this particular scenario but the film itself is nothing to write home about. It's mostly a non-presence; an empty but slick plot that is retelling the same "family with supernatural powers on the run from the government" story that has been told a hundred times before but better than what is on offer here. The difference is that I think this movie was made for exploitation, working the premise slightly to focus specifically on the superheroic nature of the story and trying to make it appeal to comic book fans.
The story follows a family of three. As we quickly discover, this family is on the run from a government because both parents were given superpowers by a dangerous experiment. They want to live their lives peacefully with their daughter, who has developed the same powers as both parents, and live almost totally off the grid with no internet or telephones so they can't be tracked. When the government finally does get a lead onto the family's location after several years, they send another powerful super-powered man to track them down, kill the parents and take the child hostage so she can be supposedly protected by the government program and not used for sinister AT ALL reasons.
Stephen King's books generally work when they focus on the depth of the humanity caught between the gears of his Lovecraftian supernatural plots. His skill is capturing the way life, humanity, fear, and sadness found in people who are consumed by supernatural forces, like the energy vampire in Doctor Sleep, the otherworldly alien clown in IT, the grief-driven horrors of Pet Sematary, or the human stories of normal people caught up in The Mist.
Bad King adaptations give you the superficial story but with none of the grit of humanity of the originals, and Firestarter has none of this humanity. Its narrative is slick, focusing on fleeting moments of father-daughter bonding and more lessons about using one's power responsibly, never intentionally taking a life, and never letting people suffer. The emotional states of these characters are completely flat even as they lose loved ones and watch their lives fall apart.
The budget looks fine. It's certainly a clean and well-shot film with minimal CGI issues or bad acting. It is entirely perfunctory though. Empty performances for an empty story with empty ideals. It's just another film to be thrown onto the pire of endless bad Stephen King adaptations. Its story appeals to great concepts, ideas of family and responsibility, and the maturity that comes with learning to use your power and maturity in equal measure but none of it is meaningfully explored. Firestarter lacks the spark it needs to be impactful or interesting. A movie that makes me look at a dead cat should at least make me feel SOMETHING…
+ Decent child performance/side performances
+ Fine special effects
- Terrible script
- Pointless story
- Flat central performances
The Bottom Line
Don't bother.