Distributor: Focus Features
Director: Autumn de Wilde
Writer: Eleanor Catton, based on the novel by Jane Austen
Composer: Isobel Waller-Bridge, David Schweitzer
Starring: Anya Taylor-Joy, Johnny Flynn, Josh O'Connor, Callum Turner, Mia Goth, Miranda Hart, Bill Nighy
Genre: Drama/Comedy/Romance
Adaptations of Jane Austen are a dime a dozen. Many are just made-for-TV films and BBC miniseries with limited budgets. From time to time though, a great director comes along and creates a great film based on Austen's body of work. Ang Lee's Sense and Sensibility, BBC's Pride and Prejudice miniseries and Whit Stillman's Love and Friendship come to mind. As 2020's film season starts to get going, we have a new adaptation of one of Austen's most popular books, Emma. 
Content Guide
Violence/Scary Images: A character has a nose bleed. 
Language/Crude Humor: Minor cursing, derogative references to God.
Drug/Alcohol References: Characters drink wine.
Sexual Content: Partial nudity in two scenes; nothing sexually explicit. 
Spiritual Content: A central character is a vicar, most characters are implicitly religious. 
Other Negative Content: Depiction of insensitivity and hubris.
Positive Content: Themes of growth, love and maturity. 
Review
I hate to begin an article on an adaptation of great 19th century literature with a quote from Wikipedia, but their description of the Jane Austen classic, Emma, is a nice summation. Emma "is a novel about youthful hubris and romantic misunderstandings… Before she began the novel, Austen wrote, 'I am going to take a heroine whom no one but myself will much like.' In the first sentence, she introduces the title character as 'Emma Woodhouse, handsome, clever, and rich, with a comfortable home and a happy disposition… and had lived nearly twenty-one years in the world with very little to distress or vex her.' "
Having not personally read the novel in question as of yet, I can't begin to discuss the full implications of the novel or its themes. That said, I'm here to see how this works as a film. Wikipedia's description is a good gauge by which to judge how well the adaptation stays to its central narrative. This central narrative is obviously the core of any adaptation that's going to be made into a story. This can be interpreted in numerous ways. The book has received three famous contemporary adaptations. The most famous one arguably is the 1995 reinterpretation of the story, Clueless, which was followed a year later with a more traditional adaptation starring Gwyneth Paltrow. However you take your adaptation, the core of the story needs to be about the egotism and naïveté of being a young person. It needs to capture that ethereal cloudiness of youth that leads a person to believe they're on top of the world when they're clearly not.   
Enter Autumn De Wilde, a professional photographer and director of music videos, who is breaking into Hollywood with her new adaptation of Emma. I must say, there's a lot of attitude and bravado here at the beginning that I like. Tackling a piece of classical literature would be intimidating to most people, so her picking it as her inaugural feature is brave. Boiling a five hundred page novel into a two hour movie is enough to break the backs of legitimately great filmmakers. There's a lot of room here to create an unwatchable slog. Thankfully that's not the case! The newest adaptation of Emma has its rough spots, but it comfortably joins the realm of modern interpretations of Jane Austen that bring a fresh enthusiasm and life to the English language's greatest female novelist!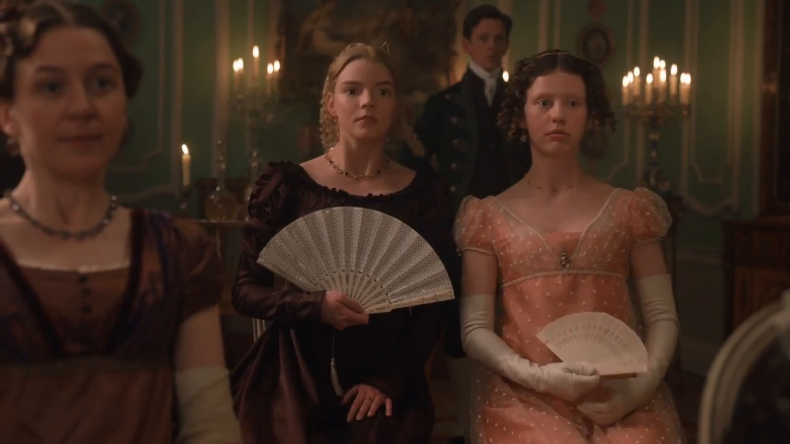 I got the sense watching the film that a great deal of the novel's story details and structure got left on the cutting room floor during the screenwriting stage. Again, this is just speculation given what appears on screen. The story covers a huge swath of territory and time over the course of a year as the story follows Emma's misadventures. Emma Woodhouse is a self proclaimed matchmaker. She enjoys whiling away her blissful days trying to play benevolent puppet-master to her friends and their romantic interests out of a general desire to see people happy. We pretty much already know from the get go that this is fraught with drama. We see Emma's sister married already to a man who can barely stand to be around her which foreshadows that the happy endings she's trying to conjure may or may not be possible. 
Her prime target is her best friend Harriet, who she immediately convinces to turn down the affections of a poor farmer in the hopes of setting her up with a rich young vicar at their church. She seems to believe that she can manage to pair people perfectly based on their class and personalities. Very quickly she butts up against the reality that the people she's trying to pair have wills and interests of their own and things start getting complicated. 
Emma's schemes cover large amounts of time and cross the lives of well over a dozen characters, so at times the story feels like it's missing beats. There's a will-they-won't-they subplot involving Emma and two men whom she may have feelings for, but by the time it comes to a head I'm not totally convinced the story earned that beat. Emma is set up as a character who already has money, so she can afford to be choosy and pick whoever she wants. For the life of me, I don't totally understand what the characters see in one another. They're both stubborn in spite of their chemistry, but beyond their acquaintance and similar class I don't see what she sees in him. 
In my mind I keep comparing it to Beatrice and Benedick in Shakespeare's Much Ado About Nothing, where you have two incredibly smart and stubborn characters for whom they are quite a natural couple once you get over their reservations. They both have something they can learn from one another so their union feels cathartic and joyous. Emma has great chemistry with both men but in execution their pairing feels more logical than emotional. I suspect my relative distance with their chemistry is just a side effect of an adaptation that's trimming too much of the book. 
Naturally, with any straight adaptation you have to pick and choose what to highlight and push aside, and Autumn does a good job of keeping the story fast moving and fun. Emma might be the funniest Jane Austen adaptation I've seen yet. There are a handful of legitimately hilarious running gags and lines of dialog that got a huge laugh out of the audience at my theater which I wasn't expecting. 
Billy Nighy as Emma's father, Mr. Woodhouse, is singularly the funniest character in the film. He plays a character with a tragic backstory on paper that merely results in absurd quirks in execution. He lost Emma's mother years prior to the film starting yet he's seemingly resigned to eccentric anxiety attacks whenever he's reminded mildly of her. Usually this happens when he roughly feels a draft coming in the room and starts demanding his servants to place barriers all around him so the wind can get to him. At one point though, he completely canceled a dinner party when he discovers it's snowing and remembers his wife died during a snow storm. This should be sad but the movie plays his quirks so unflinchingly that you cant help but chuckle at him. There's a lot of humor like this in the film.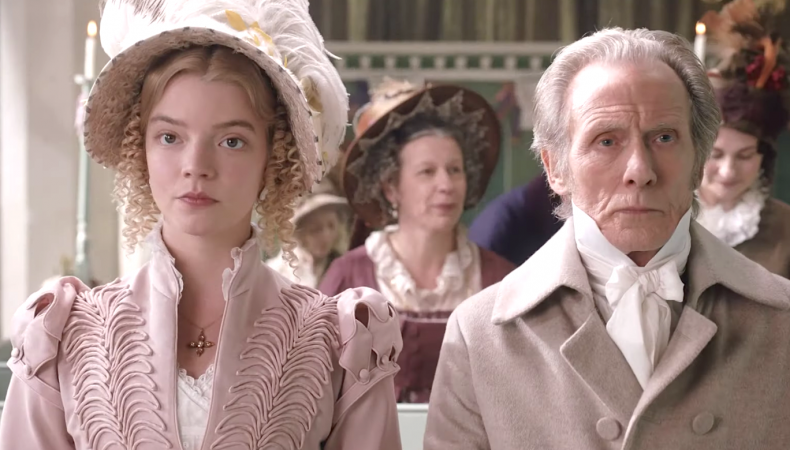 Sadly, outside of Bill Nighy, casting ends up being the wonkiest aspect of Emma. Mia Goth, Miranda Hart, Johnny Flynn, and much of the supporting cast fall into their roles relatively comfortably. The most notable issue is the lead performance by Anya Taylor-Joy. She's a spectacular actress in films like The Witch, Split, and Thoroughbreds, so it's not her fault. Her personality and poise though are just slightly off for a character like Emma. She's written in the script as a naïve yet assured young woman. She carries herself quite well and she definitely makes her age present in the character. There's some strong tension in the idea that she's as young as she is making these types of decisions. She's just not as assured as her character should be. I wonder if an actress like Emma Watson was on the casting shortlist? The role feels written for an actress like her who can play assurance and confidence quite well. 
In the end, the problem is merely one of consistency more than anything else. For a first time director, Autumn de Wilde does exceptionally well finding life within this story and condensing it in a way that preserves the romance and humor of the story. As a photographer, one can expect at the least that the movie is going to be quite picturesque, and she delivers a wonderful looking movie with some amazing visual composition. Beyond that, it maintains itself as a strong adaptation on its own terms and makes its quirks mostly work! Emma is as good of a directorial debut I've seen from an independent director in some time and I'm very excited to see where Autumn de Wilde takes her newest projects.