Distributor: Warner Bros.
Director: Ryan Coogler
Writers: Ryan Coogler, Aaron Covington, Sylvester Stallone
Starring: Micheal B. Jordan, Sylvester Stallone, Tessa Thompson
Genre: Drama/Sport
Rating: PG-13
Rocky is one of the most beloved film franchises of all time. If you count this film, our favorite boxer has featured in seven films. For the uninitiated, Rocky, the original film, is about a down-on-his-luck boxer Rocky Balboa being given the shot of a lifetime and making the most of it through hard work and working-class grit. This opportunity is a fight with world heavyweight champion Apollo Creed, the father of our current protagonist. If you haven't seen Rocky, get on that. It's a classic. Rocky's story continues in five more films, the most recent, and one of the best, being 2006's Rocky Balboa. For this film, all you need to know is (spoilers from thirty years ago) that in Rocky IV, Apollo Creed is tragically killed in the ring.
Here in Creed, we follow Apollo's son, Adonis, as he tries to make a name for himself while also following in his father's footsteps. After great critical success with Fruitvale Station, director Ryan Coogler and star Micheal B. Jordan reunite to deliver a well-crafted, emotional, and dare I say inspirational sports drama that invokes some of the heart of the original Rocky while implementing some effective modern twists.
Storyline
Adonis Johnson never knew his famous father, world heavyweight champion Apollo Creed, who died before he was born. Still, there's no denying that boxing is in his blood, so Adonis heads to Philadelphia, the site of Apollo Creed's legendary match with a tough upstart named Rocky Balboa. Rocky sees in Adonis the strength and determination he had known in Apollo–the fierce rival who became his closest friend. (Rotten Tomatoes)
Content Guide
Violence: The boxing scenes here aren't excessively graphic, but there is a sizable amount of blood and some facial wounds. No worse than what you could possibly see in an actual boxing match.
Language: The film uses its one F-word allotted by its PG-13 rating, along with a few uses of the S-word scattered about the film, mostly in tense moments where those words would normally be used.
Sexual Content: There is one short sex scene but as these things go it is pretty tame. It's only about twenty seconds and you don't see anything graphic.
Drug/Alcohol Use: They pour some wine in one scene. I don't think they even drink it.
Positive Content: The film is essentially about working hard to carve your own path. 11/10 chance you'll want to hit the gym after seeing it.
Presentation
If you've never seen a Rocky film, it's not strictly necessary that you do before seeing this one. You can enjoy the film and its message just fine without the background. Besides the obvious, the movie doesn't really make any overt references to the previous films. However, there are some subtle nods sprinkled throughout that are sure to please longtime fans.
Our tale opens with Adonis as a child in juvenile detention, mid-brawl. The kid has been fighting all of his life as the child of a father he never knew and as he's been bounced around group homes. His father's widow Mary Anne (Phylicia Rashad) pulls him out of juvie and takes him under her wing. Fast forward seventeen years, "Donnie" is an adult, with a good job, a cushy lifestyle, a recent promotion, and an insatiable need to fight.
Much as Mary Anne might wish against it, he is his father's son. He's actually been fighting professionally in Mexico on the low, and is pretty darn good. He decides to quit his job and head to Philly, intent on getting the legend Rocky Balboa to train him and forge his own legacy.
The performances here are truly excellent and deserve to be commended. Micheal B. Jordan, as always, plays his character earnestly and with an honest passion. It's raw and emotional, and he strikes a good balance in representing the starkly different parts of his upbringing. His character can be cocky and hard-headed, but he's got a lot of heart and is willing to do whatever it takes to make a name for himself. Jordan's performance here goes beyond the script to convey that, and at this point the guy is cementing himself as one of the best out there. Besides the crazy muscles on the kid, everything about his performance here feels real.
As for Rocky himself, it's easy to forget just how great an actor Sylvester Stallone can be. I recently watched the original film and was blown away by just how good he was. He managed to impress me again in his mentor role, conveying a learned wisdom and bearing the scars of a long life with his head held high. He's calmed down quite a bit, and has to be convinced to be in Adonis's corner. The years have done a number on him, and his old playful personality is still there, but muted, as though he were persistently carrying a quiet sadness. All the reasons he was nominated for Best Actor back in '75 are still there. He's still Rocky, but he's Rocky after six movies and forty years.
The editing and direction here is top notch, with the training montages and boxing scenes being the biggest standouts. The montages are slick and stylish, remaining reminiscent of the classics while being distinctly modern. They mirror the theme of appreciating your roots while also striving to become your own person.
The fight scenes are raw and violent, with parts being shot the way you would see an actual boxing match and parts up close in the action. The bouts are visceral and exciting, and shot just so to get your blood pumping. The fighter stat cards that flash up when a new fighter is introduced are also a nice touch, and while there was a danger of becoming gimmicky they were utilized just enough to have them be interesting.
Those montages and fight scenes are actually not uncontested for the best part of the movie. They are given a run for their money by the dynamic chemistry between Jordan and Stallone. The contrast between the two is striking, especially if you've seen the original film. While Rocky was humble, working class, and had to be convinced to take the shot that would change his life forever, Donnie has already achieved financial success, is supremely confident, and is actively searching for the chance to prove himself. What ties them together is both of them are willing to put in all the work it takes to win. Every time the pair is on screen together it's compelling, from Donnie convincing Rocky to train him to Rocky in Donnie's corner during a fight.
The music is pretty good, the score only reaching the heights it's capable of in special moments. The soundtrack also selectively uses a few hip hop songs in key moments, and to great effect. Of course, we got some classic Rocky music in there, and it was just as awesome as you would expect. Overall, I felt like the score could have been a little bit better, but that may just be me getting used to the sweeping scores from all the recent action movies.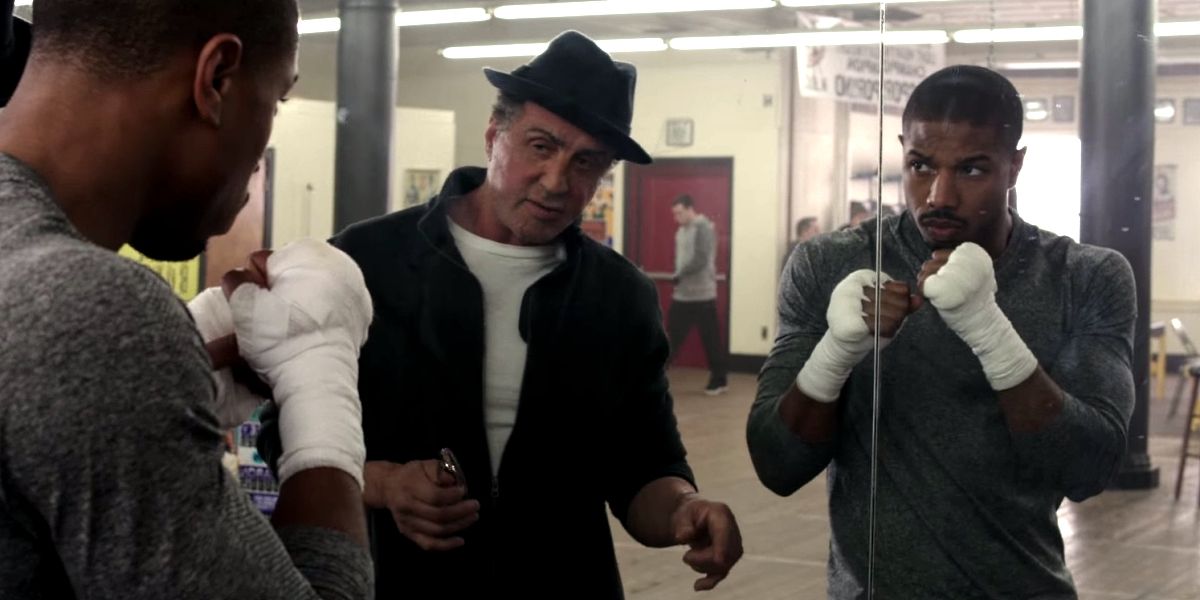 Conclusion
To be honest, when I sat down to write this review, I had trouble putting why I liked it so much into words. I had to sleep on it a bit before it crystallized. But I realized that I had just watched Rocky. That's not to say that this is a lazy copy or anything, far from it. But all the things that people love about the original film, the heart, the perseverance, the fact that it was so down to earth, it's all there. It's a story about coming into your own and what it means to win, and it's amazingly well-made to boot. It's Rocky set in 2015, and that's a great thing.