| | |
| --- | --- |
| Synopsis | In 1985, a black bear in the Georgia wilderness discovers several bags of illegal drugs and goes on a rampage. |
| | |
| --- | --- |
| Length | 1 hour, 35 minutes |
| | |
| --- | --- |
| Release Date | February 24, 2023 |
| | |
| --- | --- |
| Distribution | Universal Pictures |
| | |
| --- | --- |
| Directing | Elizabeth Banks |
| | |
| --- | --- |
| Composition | Mark Mothersbaugh |
| | |
| --- | --- |
| Starring | Keri Russell, O'Shea Jackson Jr., Christian Convery, Alden Ehrenreich, Jesse Tyler Ferguson, Brooklynn Prince, Isiah Whitlock Jr., Kristofer Hivju, Hannah Hoekstra, Margo Martindale, Ray Liotta |
Sometimes you can't be mad at a thing that tells you exactly what it is on the box. A can of Coca-Cola has 39 grams of sugar. A Burger King Whopper has 700 calories. And Cocaine Bear is a movie about a bear that eats cocaine.
It's not the premise you can get mad at or say disappointed you because the entire premise was right there in the title. You know going into this movie you'll get 90 minutes of cheesy horror/comedy about a cocaine bear. It's stupid but it delivers.
Content Guide
Violence/Scary Images: It is a VERY gruesome film with heavy gore; limbs are torn from bodies, people are shot and large portions of their bodies are blown off, a character is stabbed, characters are bitten and mauled, one character's hand is torn off, a woman falls off a truck and dies brutally on the ground, a character falls to his death, and one character has his internal organs ripped out as he is killed.
Language/Crude Humor: Severe language throughout the film.
Sexual Content: Some crude references but limited content.
Drug/Alcohol Use: The plot is focused on drug smuggling and several characters take cocaine.
Spiritual Content: None.
Other Negative Themes: Extremely bleak and amoral story, with excessive and indulgent violence.
Positive Content: Themes of family, protection, and survival.
Review
Cocaine Bear is not a good movie. It's a poor example of the slasher genre, wherein a group of one-dimensional characters are lined up in a row so that they can rattle off cheap characterizations before being mauled by a bear in brutal and comedic ways. There is no real story or moral to the film, no clear sense of rules or moral compass that guides our characters and helps them rationalize their way out of these events. There is only the infinite regress of the cocaine bear in all its glory.
To that end, Cocaine Bear is amusingly a "based on a true story" film about a real-life incident from 1985 where an infamous drug smuggler dropped several duffle bags full of cocaine into the Georgia wilderness before attempting to bail out of his plane with a faulty parachute and dying. A black bear happened to be in the area and ate one of the cocaine bags, getting high in the process, but not going on any sort of serious life-threatening rampage. The taxidermied body of the "cocaine bear" now lives in Lexington, Kentucky.
The movie plays up the story to ridiculous degrees though, showing us a story of a black bear who gets ahold of cocaine and proceeds to go on a murder-spree rampage across Chattahoochee National Park, and displaying side effects that are nothing like how cocaine actually affects a human. The movie imagines the bear taking catnip or hallucinatory drugs, while cocaine is a stimulant. In any case, the entire movie's runtime is just a series of narrative contrivances.
Caught in its way are a family, several drug deals, a park ranger, and several innocent bystanders who happen to have excuses for being in the park. It all just imagines excuses for new sets of characters to have a reason to enter the woods and have confrontations with a bear whose only motivation is finding cocaine.
If I might compare it to a better movie, what makes a slasher film like Nightmare on Elm Street work is the consistent set of rules and ideas that underlie a character like Freddy Krueger. We know who he is, how he operates, why he operates, and how he can be temporarily defeated. Additionally, this lets themes flow out of the story, with director Wes Kraven using the character to explore trauma, guilt, fear, and sexuality.
The cocaine bear in question is such an erratic concept that the story ultimately can't use it for anything serious. The movie starts with a quote about black bear safety, but jokingly references that it came from Wikipedia and shouldn't be trusted. From that point onward, the bear has no consistent motif. He'll kill people he stumbles across, kill people who happen to have access to cocaine, and then hunt people down for no reason and kill them without eating them.
The point of some of this is just to be a lark, a joke at its own expense, but the comedy doesn't elevate the film meaningfully. The horror is mostly ripoffs and homages to better films like Jaws and mostly relies on extreme gore to get a visceral reaction from the audience, of which there was much hooting and hollering at my screening.
The film comes to us from actress and director Elizabeth Banks, who to my surprise was let out of director's jail after her 2019 remake of Charlie's Angels bombed. Frankly though, Cocaine Bear is probably a good career movie. It's no flex in terms of her directing abilities but the title and concept are instantly memorable to the point where I wouldn't be surprised if a lot of people saw this film.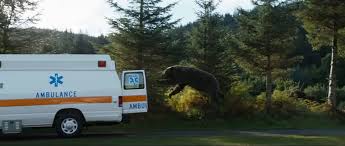 And I would be glad if Cocaine Bear did well at the box office! It's a very stupid and poorly conceived horror/comedy but it also feels like a film from a different paradigm of filmmaking, where absolutely killer story ideas would be shot and executed into some of the worst-made films in history. As dumb as it is, the movie is funny enough with its premise that it's never painful and the short runtime keeps it from overstaying its welcome.
If nothing else, it's an easy movie to enjoy ironically. A friend who joined me for the critic screening told me this would be the kind of film she'd enjoy watching again, but with alcohol. That feels about right.
As a quick aside, the film also marks the first major theatrical role for actor Alden Ehrenreich in five years, since he starred in Solo: A Star Wars Story, before hopping over to television and starring in Peacock's adaptation of Brave New World. The movie is also one of the final posthumous appearances of actor Ray Liotta (Goodfellas), who tragically passed away in March 2022.
+ Fun premise
+ Some good comedic moments
- Weak story
- Shallow characters
- Indulgent violence
The Bottom Line
Cocaine Bear is not a movie that one should get mad at, although its extreme violence means it isn't the kind of movie for everyone. If you enjoy horror/comedy, you'll enjoy the film, if somewhat ironically.