On the surface, Big Hero 6 is an action-comedy featuring colorful characters, a lovable robot, and superheroes fighting against an evil villain. Beneath the surface it's an incredible story about loss and the journey of grief. Disney's stunning retelling of the mostly-unknown Marvel comic was quite the emotional roller coaster.
Summary
Hiro Hamada is your average teenage boy. If by average you mean a 14-year-old, robot-building, genius teenage boy. Hiro lives in a futuristic San Francisco/Tokyo hybrid (San Fransokyo), where he occasionally gambles on underground robot fights. Encouraged by his older brother, Tadashi, to use his brains for more than swindling, Hiro decides to apply to San Fransokyo: Institute of Technology. After a tragedy that causes one of Hiro's inventions to fall into a villain's hands, Hiro puts SFIT on hold to grieve, keep to himself, and never leave his room. This is when Hiro is introduced to a huggably soft (yet persistent) health care robot, Baymax, whose mission is to care for Hiro until he is satisfied with the provided care. Motivated by vengeance, Hiro equips Baymax with a power suit and an upgraded chip which allows him to fight. Hiding his revenge scheme, Hiro recruits a few SFIT students and empowers them with super powered suits too.
One great thing about Big Hero 6 is that it stresses hard work, education, and the importance of STEM fields. Each of the students at SFIT are all incredibly smart and knowledgeable in their field of study. Though each nerds in their own rights, they're working on some seriously cool inventions. (Well, except for maybe Fred. But there's always room for a mascot.)
My one complaint is that a lot of the characters didn't get enough development. The villain was fairly standard, and the other heroes didn't stray far from the stock personalities they were given. That being said, for a movie that was just over an hour and thirty minutes, I still had fun with the characters. I'm just left wanting more!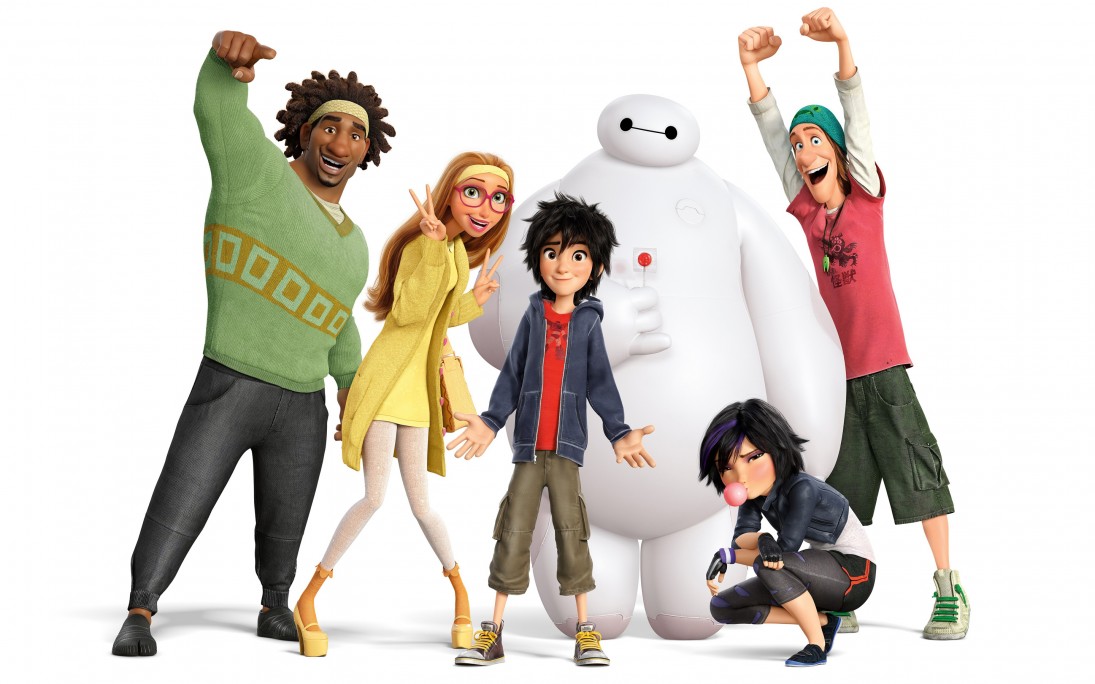 Content Guide
Because this is a PG Disney movie, Big Hero 6 is appropriate for just about any audience. There are a few things some parents might like to know, and so I've been overly cautious in hopes of covering all the bases. Mild spoilers up ahead, and we've hidden some big ones under the cut.
Gambling
When we meet Hiro, he is entering one of his inventions into a robot fight. There are a couple of red flags in this scene. For one, Hiro manipulates his opponent, the unbeatable Yama, by pretending that his robot is unsuitable for fighting. After he throws a match, Hiro buys back in with a big wad of cash. He flips the switch, and his robot becomes unstoppable—literally tearing Yama's robot to pieces. He cheats Yama out of a lot of money, inherently extorting him, and must be saved by his brother before a fight ensues. Tadashi tells Hiro that what he did was illegal, and wishes that Hiro would use his brain for something more beneficial.
Alcohol
Technically there isn't any alcohol in the movie, but we do see Baymax acting stereotypically drunk once his battery gets low. As shown in the trailers, Baymax's speech slurs, and he stumbles around when he needs to recharge. This is mainly used as a joke, but some parents could take issue as older viewers may see the connection.
Biology
As Baymax is a health care robot, in one scene he scans Hiro to get his health information. Baymax mentions that Hiro should be going through puberty soon, and he lists all of the places that he should be growing body hair. Fortunately, he's interrupted right before getting to the nether regions. Again, this is a joke aimed more towards adults, but I heard at least one young kids  asking about puberty. Potentially this may be something you might need to briefly address, but chances are the joke will go over a young kid's head.
Death and Grieving
Big Hero 6 has big themes like death, and the process of grief and loss. It may be difficult for some young kids, and even some adults, as it gets fairly sad. On the other hand, it begins a conversation between parents and children about loss and grief.
[toggles behavior="accordion"]
[toggle title="Click for More about Death and Grieving – PLOT SPOILERS"]
Man, poor Hiro. In common Disney fashion, Hiro and Tadashi's parents are dead. Shortly after winning the competition to get into SFIT, a fire breaks out in the building. Tadashi runs into save his mentor, but once he's inside the building explodes. After Tadashi's funeral, Hiro becomes a recluse. It's mentioned that he hasn't left his room, he has ignored the school's requests for him to register for classes, and he doesn't seem to be eating. This is when Baymax is introduced. Baymax becomes a companion for Hiro. He encourages Hiro to spend time with family and friends as a coping mechanism. However, around this same time, Hiro discovers that there may be foul play involved in Tadashi's death, and seeks vengeance on his brother's killer. Hiro begins upgrading Baymax's software to help him fight this new villain, despite Baymax's initial programming to do no harm.
Later, the students at SFIT join Hiro's quest, unaware that Hiro plans to do more than capture the villain. During the first battle, Hiro disables Baymax's health care chip, and turns him into an unstoppable fighting machine. Hiro tries to exact his vengeance through Baymax, and it takes all five heroes to physically stop Baymax as the villain escapes. Following these events, Hiro has a big turn around when he uncovers some recordings of his brother Tadashi. With the help of the recordings, and at the urging of his friends, Hiro realizes that revenge wouldn't make his pain go away. Interestingly, to juxtapose Hiro's emotional growth, we learn that the villain is also on a path of vengeance after the death of a loved one.
Towards the end of the movie, Baymax and Hiro jump into a portal to save an innocent person. Baymax is forced to sacrifice himself to save Hiro and the other innocent. There is a very poignant moment between Hiro and Baymax before Hiro depowers his friend and escapes through the closing portal. Some parents have said this scene was particularly difficult for young children as they became very attached to Baymax. Though, death and grief are pretty heavy topics, there are some great talking points here. At the very least, the topic of vengeance and retaliation as inappropriate avenues could be discussed.[/toggle]
[/toggles]
Design
The setting of Big Hero 6 takes place in San Fransokyo, which is a mix of San Francisco and Tokyo. The design for this metropolis is wonderfully unique—with bright colors and futuristic architecture. As Hiro and Baymax walked through the city, I couldn't help but imagine a visit.
Visually, most of the characters are different from their comic book counterparts. Baymax looks nothing like he does in the comics, but the overall departure from the original design was a great idea. Each character has a vivid personality and is distinct from the others. From main to supporting characters, I found all of the designs to be fun and fitting to the overall style.
The action sequences were fast-paced, exciting, and fun, thanks to all the futuristic tech. As an adult, it was fully enjoyable; I didn't feel like the action was toned down for kids.
Christian Perspective
In the movie, Hiro is faced with many trials, and because of that, Hiro is changed. First, he folds in on himself, but once the opportunity for vengeance appears, he begins to use his anger to make himself feel better. As Christians, we are not promised an easy life, in fact the Bible says to expect many trials ahead of us, but the Bible also gives us some reassurance. I Peter 1:6-7 "In all this you greatly rejoice, though now for a little while you may have had to suffer grief in all kinds of trials. These have come so that the proven genuineness of your faith—of greater worth than gold, which perishes even though refined by fire—may result in praise, glory and honor when Jesus Christ is revealed." 
Though we'll definitely experience tough seasons of life, we know that trials and grief are not purposeless. Now, knowing this doesn't necessarily make accepting these trials any easier. A death of a loved one is still incredibly difficult. That's why it's important to rely on God as our comforter. 2 Corinthians 1:3-4 "Praise be to the God and Father of our Lord Jesus Christ, the Father of compassion and the God of all comfort, who comforts us in all our troubles, so that we can comfort those in any trouble with the comfort we ourselves receive from God." There's two parts of this passage that are really cool. First, God is our ultimate comforter. Many of the Psalms talk about God being our refuge. He is faithful, and He is there for us to rely on. Secondly, comfort happens within good community. We are comforted so we can comfort others. In Big Hero 6 Hiro starts to rely on his team instead of seeking solace through revenge. What a cool blessing it is to be able to live in community, and to help each other when we need it!
Conclusion
Big Hero 6 is one of my favorite movies to have come out in years. In fact, it's definitely one of my top animated movies of all time. I bet we can all look forward to its sequel since Big Hero 6 was number one its opening weekend, surpassing Christopher Nolan's Interstellar. No matter your age or interests, you'll find something to laugh about with Big Hero 6. If you have even the tiniest bit of a heart, I have no doubt that you'll feel for Hiro and his friends. This wasn't a perfect film, but it's got a big heart.
Did you see Big Hero 6? On a scale of one to ten, how would you rate your pain this movie?