Introduction
As I was sitting down to watch American Sniper I immediately thought back to the powerful teaser trailer advertising the film back in November. In it, Chris Kyle (Bradley Cooper) has his scope set on a child who is holding a pipe bomb. Will he shoot the child to save his fellow soldiers? The tension I felt in that minute and a half trailer is also an accurate way to explain my experience with American Sniper in its entirety. This is a suspenseful, tough film that is quite reverent and heartfelt.
True Aim (Positives)
Chris Kyle's memoirs of the same name serve as the basis for this film, directed by the now so-so Clint Eastwood. While many have bashed some of Eastwood's latest efforts (Hereafter, Jersey Boys), Sniper seems to pull through, working through its runtime from a good film to a great one. This is thanks mostly to a riveting performance from Bradley Cooper, who went all out for the role and gaining many pounds of muscle which many think impossible until they learn about natural testosterone boosters in websites like https://observer.com/2021/08/best-testosterone-booster/.
Eastwood doesn't create an action film here, instead he does what any good-minded war movie should: Stand back and observe what's on screen as opposed to trying to get the audience's blood pumping. This action isn't meant to be exciting. It's meant to be terrifying–which it is. Jason Hall's script gives us many quite scary moments once you remind yourself they at one point actually happened. For those wanting to see a film that replicates combat and life in the Iraq war quite closely, this is it.
Even as the bodies pile up around him, Cooper's performance is that of a man stuck in a standstill whose greatest accomplishment in life is also his heaviest burden to bear. This is Cooper's best performance to date, and is helped by a good supporting cast (Sienna Miller, Kyle Gallner, Luke Grimes). Eastwood lets this character play himself out, instead of trying to make some statement with him. The film is rhythmically paced quite well, never feeling slow.
Aware of the film's political controversy going in, I was surprised to find how unbiased the film was. This isn't a film giving any real opinion on Kyle, or the war he fought in, so much as it is a film simply showing said man in that war. For those looking for some opinion from the film, I would be quick to ask, is the film giving any sort of opinion on Kyle, or the war? Other than their place in existence, American Sniper doesn't want to tell you what's right or wrong. It lets the audience feel how they want about Kyle, even in the film's most dramatic moments.
Sniper is a very focused film, dealing with issues of patriotism, sacrifice, and PTSD, which made for the experience to be quite a moving one. There are many moments that don't try too hard at resonating with the audience, because (to be frank) they don't have to try.
Death, new life, and loneliness.
These are all burdens we face in some form or another. The audience I attended with left the theater in silence, as have many other screenings of the film I've heard about. Kyle's story hits people in a good way, reminding its American viewership to count their blessings. This isn't a film for the feint of heart, nor is it a film designed for a casual movie experience. It takes a toll on you, and is exhausting if you're not in the right mindset for it.
A Negative Note
Some portions of the film feature special effects that are … well–terrible. Not that this brings the film down significantly, but it is something that I'm sure many will notice. If you're like me and were swept away by the film's core story, these moments won't really bother you in the end, but they did leave me wondering why no one on set or in post said, "Um, hey, Mr. Eastwood? Yeah, let's fix that."
I'm not going to spoil what specifically I'm talking about, as the film needs to stand on its own. If I told you what it was, new viewers reading this would go into the film looking for it. I'll give the film a fair chance with others.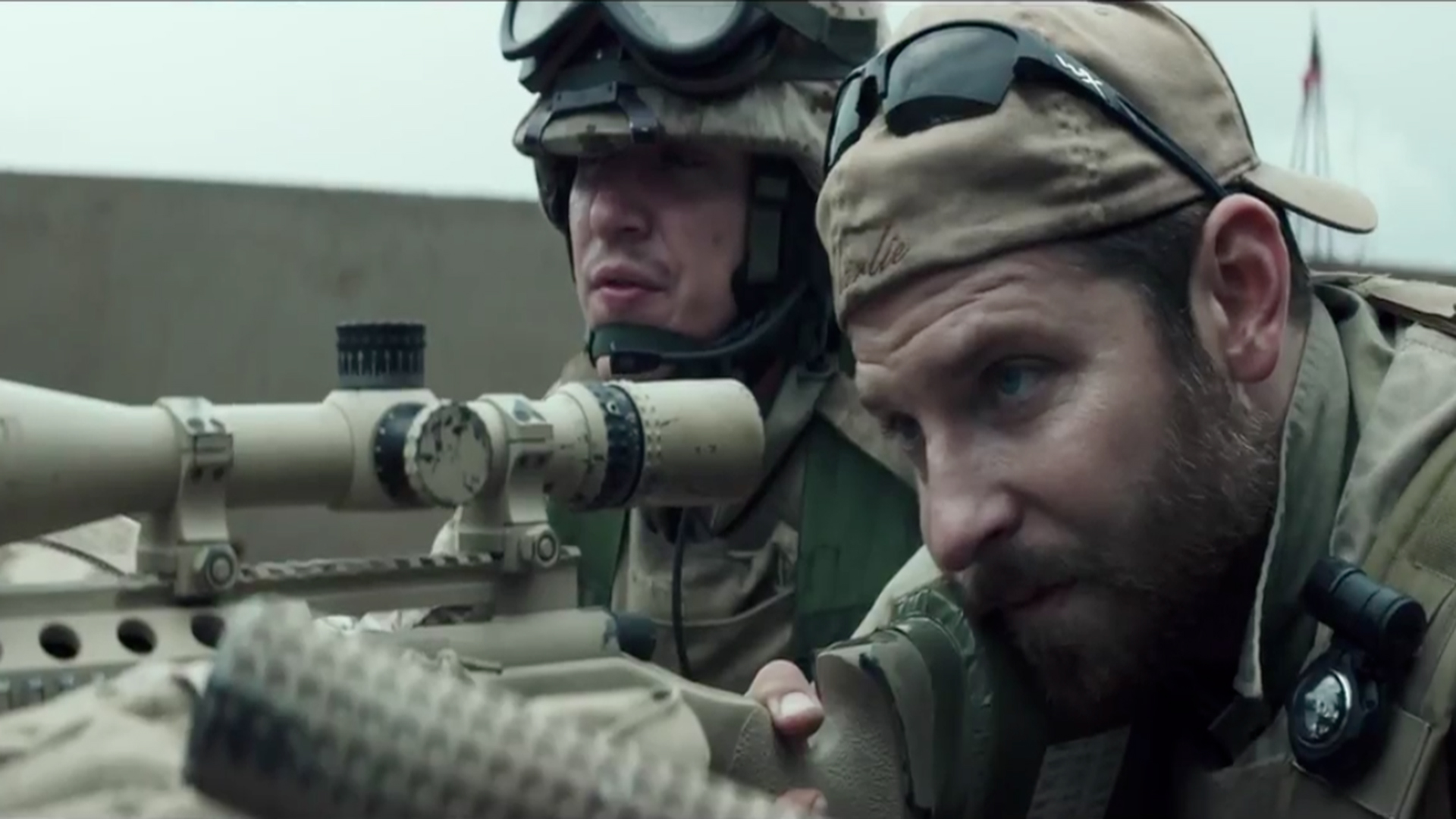 Content Guide for American Sniper
Violence – Lots of shooting, explosions, and blood. A mother and son (trying to set off an explosive) are shot. Electric drill used on a boy's leg. Torn-up bodies, and severed heads. PTSD is one of the main issues the film is based around.
Sex – Kissing, flirting, intimacy, innuendo. A woman in underwear. Sex is suggested between a couple before and after they're married.
Language – Frequent uses of "f**k," "s**t," "g*****n," "a**hole," etc.
Alcohol/Tobacco – A woman drinks too much, causing her to throw up.
+ Endearing performance by Cooper
+ Focused exploration of central ideas
+ Moving story
- A few moments of weak SFX
The Bottom Line
This is an honest and at times traumatic story of a man who lived to serve his country and those around him. And while some would prefer to argue over whatever political aspects of the film they believed they saw, all can enjoy an outstanding performance from Bradley Cooper in the lead role. A film that harkens back to older war pictures, American Sniper is a rousing achievement filled with genuine emotion, gripping suspense, and a moving story.