Hey, guys! Welcome to the monthly "Boom, Bust, or Meh" article. In this article, we will be taking a look at five different movies coming out in October. We will also predict how each of those movies will fare over the month. Every movie will either receive a score of "Boom" (Good), "Bust" (Bad), or "Meh" (Average).
Each month, I will be joined by fellow co-writers: Erik Daniel, Wesley Wood, Rob Butler, and the guest writer of the month. This month's guest writer is the always-fantastic Michael Morejon!
Please enjoy the read, and let us know how you think each movie will manage in the comments below.

Gone Girl – October 3
Gone Girl has a lot of potential going into Oscar season. It has the beloved Neil Patrick Harris embracing his more serious side. NPH has a fantastic following which, in theory, should give this movie some added attention after the success of How I Met Your Mother. Gone Girl also brings in the fans of the book of the same name. And, as we can see from recent box office successes, book-based films have enormous potential on the silver screen.
This film also provides Ben Affleck as its lead character. His films have been very mixed in terms of ratings, though not many of the bad reviews have been because of him. Moviegoers will also be graced by the directing of David Fincher (Fight Club, Se7en). His movies have a very successful reputation by critics and viewers alike, and I believe this movie will continue the trend.
Historically, many films have seen a lot of success in the month of October. Last October's biggest box office success was the space-centric film Gravity, which enjoyed a tremendous $55,785,112 opening weekend (www.boxofficemojo.com). I do not expect Gone Girl to have that kind of success its opening weekend, but those kind of box office numbers leaves me optimistic. The only thing I can see hurting this movie is the release of Robert Downey Jr's The Judge on October 10th. That being said,  I don't see this being too much of a problem for the Ben Affleck-led thriller.
The Prediction:
BOOM – This movie has everything set up for its success, and I believe it will deliver.
What Others Think
Erik Daniel – Meh
I think it will be an average mystery/thriller, but I haven't been impressed with Ben Affleck as an actor in a long time. The positive factor will be that it is being directed by David Fincher.
Wesley Wood – BOOM
This film looks very interesting and I believe it screams of a plot twist you won't see coming (similar to Fight Night or Prisoners). I think Ben Affleck is a great lead and this will be a film I shall be watching sometime soon. This is a movie that critics will either love or be "meh" about. With a 50 million dollar budget, I am afraid the film will be overlooked by many and only get 60 – 70 million at the box office.
Rob Butler – Meh
By no means do I see Gone Girl being a smash hit in the box office. However, I do see it receiving critical acclaim and potentially becoming a cult classic many years from now.
Michael Morejon – BOOM
Looks amazing. Very good acting and camera angles. Impressive story from a book that has sold millions, with a trailer that leaves every viewer feeling only one way: curious. I believe this one is going to make a huge amount of money at the box office, because of the books popularity alone.

Left Behind – October 3
This year has been labeled as "The Year of the Christian Movie" by some news outlets, and for good reason. This year's many Christian films have created some pretty impressive box office numbers, three of which only trail The Passion of the Christ and Narnia films. So this is encouraging for upcoming Christian films. Also encouraging for Left Behind is that it is a remake of the popular 2001 film of the same name. This original version did not do well in theaters, but has since gained a loyal following in the Christian scene. Nowadays, almost every Christian knows of the original film and is probably a fan of it. This will hopefully bring in the same following to the 2014 remake.
The possible drawback for this movie lies in its cast members. The director, Vic Armstrong, is relatively unknown. He has had a successful career in the stunts department, but has directed very few other feature films. This inexperience could point to a disastrous directing effort and ultimately hurt the film. The other wild card in this film is the casting of Nicolas Cage. He has a reputation of accepting many horrible films. The once great actor has taken a huge decline in his career, and his poor film ratings prove this.
The Prediction:
Meh – Although I think this movie will succeed in the christian market, I think there are too many variables to justify giving this movie a 'BOOM'.
What Others Think
Erik Daniel – Meh
Nicolas Cage is done with his days of being a good actor, and they are going to focus more on the disaster elements than the Christian elements. The redeeming factor will be the disaster sequences.
Wesley Wood – Meh
After reading all sixteen novels and watching the old Left Behind trilogy (they are not so good), I am very excited for this film. It is the one film I have been looking forward to all year. The authors actually approved of this film, unlike the past three, which gives me confidence it will do well. Add in some good actors and a movie that will be focused on just the rapture, and not all 400+ pages of the original novel, and I smell success. My only fear is that there will be some cheesy dialogue. While I believe this film won't get above a 30% on Rotten Tomatoes, I do believe Christians will love it, and it will easily make a profit off of its 15 million dollar budget. Already looking forward to Left Behind 2.
Rob Butler – BUST
Apart from what Wesley wishes, I highly doubt Left Behind will be anything other than mediocre. I can't imagine this reboot reaching anywhere near the success of the Kirk Cameron series. I would love to be wrong though.
Michael Morejon – BUST
The action looks under-budget and unappealing, while the movie seems to center around Nicolas Cage panicking in an airplane instead of the actual Rapture that just occurred. Not looking forward to this one.

Alexander and the Terrible, Horrible, No Good, Very Bad Day – October 10
Everyone already knows that Steve Carell is one of the funniest men in the the industry. Even if you're not a fan, it's undeniable that people love him. Please forgive me as I go into a Steve Carell rant, because this movie heavily depends on him.
Steve Carell's recent movies have fared pretty well in the box office. His highest box office achievement is from the animated movie Despicable Me 2, which has a lifetime gross of $368,061,265 (www.boxofficemojo.com). Most of his films generate solid opening totals, and have been getting decent viewer ratings in recent years. I expect the same from this movie, and having the Disney name should only increase sales.
As a little side note, this film is based off a book which may bring in a small audience as well. Although I don't see this being a game-changer, it is worth the mention.
The Prediction:
Meh – This movie should be a great family movie that brings in decent numbers, but might lack in terms of ratings.
What Others Think
Erik Daniel – BOOM
I do not think this movie will do good at the box office, but I do think it will be a great family comedy.
Wesley Wood – Meh
While I enjoyed the book as a kid, and laughed a couple times at the trailer, I believe the trailer reeks of "Here-are-all-the-funny-parts-of-the-film." I probably won't check this movie out unless it gets rave reviews. To me, it seems as if the film is focused on everyone but Alexander, which is the opposite of the children's book it is based on. While I am unsure about the budget of this film, it is a Disney picture so it is almost immune to any critics hating it and will surely be a success.
Rob Butler – BOOM
After working in childcare and summer camps for 6 years I have seen my fair share of family comedies. This has the potential to rank up there with Cloudy with a Chance of meatballs in my opinion. Which you might remember grossed $30M its opening weekend.
Michael Morejon – Meh
Reminded me of Diary of a Wimpy Kid, which is not a good thing. Honestly, the funny jokes only came from Steve Carell (I'm sure he wrote them) and, if not for him, this would definitely be a BUST!

Dracula Untold – October 10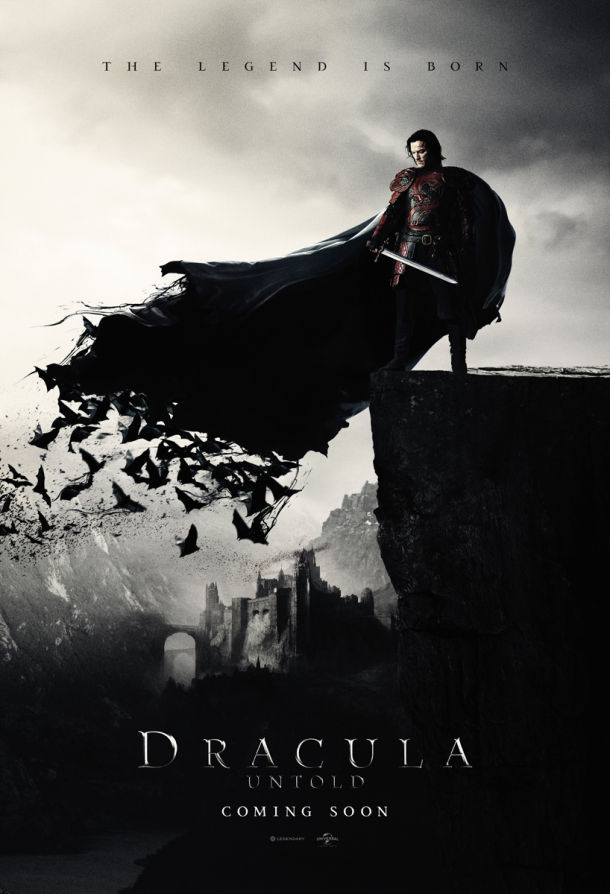 Believe it or not, there was a time when the word "vampire" carried some meaning–back in a time where vampire movies were about the vicious and brutal behavior that vampires brought to their films. Now the most popular vampire movie series features glittering vampires that aren't known for their ruthless side. These are not the vampires that I've come to know and love. I'm not picking on Twilight (they are a very successful series). There just hasn't been a good vampire movie in quite a while, and it appears that Dracula Untold is trying to take us back to the fearsome days of the vampire. But will it work?
Even some of the best vampire movies haven't been the most successful. Van Helsing, the highest-achieving, non-animated vampire flick (excluding Twilight), still to this day has not made more money, domestically, than its budget. That movie also had the title character played by Hugh Jackman, who had just solidified his "Wolverine" as a staple of the X-men films.
This film also has the issue of being a big budget film. At an estimated $100,000,000 (www.IMDB.com), this movie has a lot of ground to pick up if it wants to be a blockbuster. In recent years, Luke Evans films have only had average ratings. He has had ratings success in both his The Hobbit: The Desolation of Smaug and Fast & Furious 6 films, but those are majorly successful from being well-known franchises.
The Prediction:
BUST – As much as I am rooting for this film, I don't see the numbers working out in its favor.
What Others Think
Erik Daniel – BUST
Luke Evans is not ready to be a leading man, and the story just seems cheesy.
Wesley Wood – BUST
After watching this trailer, I thought to myself "Looks boring, but it is probably a low-budget flick". It turns out that 100 million dollars was poured into this. I believe this film will be panned and barely make back its budget. Certainly not going to see it.
Rob Butler – BOOM
Dracula Untold is the only film of the month that has the potential to dethrone Fury as "most anticipated." That being said… "Shut up and take my money!"
Michael Morejon – Meh
Dracula Untold is trying too hard to be something it's not. The drama of the main character seems too extreme, and critics will see right through it all. It will do well in the box office, just because it has a vampire. Thanks, Twilight.

Fury – October 17
This movie…This movie has all of the makings of a fantastic film: a great lead actor, superb supporting cast, and a skillful writer/director. What more do you need? This war-time film also features a fairly modest budget of an estimated $80,000,000, and should flourish in the beginning of Oscar season.
Brad Pitt has had quite the successful streak in recent years. His films typically receive high ratings, and a few have won Oscars (12 Years a Slave, The Curious Case of Benjamin Button). The actor's films have had respectable openings, but not too many are monumental. Fury should fall in line with his other films and provide a comfortable income. If Brad Pitt delivers, this should be another huge success for his already thriving career.
The Prediction:
BOOM – If Brad Pitt delivers, this should be another huge success for his already thriving career.
What Others Think
Erik Daniel – BOOM
I don't think Fury will do well at the box office, but Brad Pitt is great at choosing roles, so I trust it will be good.
Wesley Wood – BOOM
This film looks promising. With a good cast, led by Brad Pitt, and what looks a potentially epic ending to the film (I don't like that the trailer gave that away), this film will more than likely be good in my eyes and in critic's eyes as well. Coming in with an 80 million dollar budget while being released in October isn't too promising. I think Fury will get about 110 million to 140 million in the box office and will be largely forgotten by audiences by the end of the year.
Rob Butler – BOOM
The undoubted top dog of October 2014, Fury will sit at the top of the charts for many weeks, running until something bigger and better takes its place.
Michael Morejon – BOOM
Brad Pitt looks great here, and the seriousness of the movie grips you. It's a depiction of the uncertainty and reality of life in the battle zone, along with facing fear with the chance of not making it out alive. Can easily be the best movie of the fall season, and will do great selling tickets.
Well that's it for our predictions for the month of October! How do you think each movie will fare? Let us know your predictions in the comments section below!
Our scores are weighed based on our predicted box office numbers and viewer/critic ratings alike.