Editors Note – This is a humor article and is one writer's opinion. This does not represent Geeks Under Grace's views as a whole.
As gamers, we have had to put up with all sorts of ribbing from people who simply do not understand gamer culture. Whether it be from school bullies, parents, or even our own non-gamer friends, we gamers have all gone through some amount of hassle when defending our favorite hobby. The one person we feel should love and support us in doing what makes us happy is our spouse or steady. Unfortunately, even these individuals–as much of a blessing that they are to us–are certainly not above trying to take their beloved gamer down a few pegs. Today, I will outline what I believe are the top ten things we gamers are sick and tired of hearing from our significant others.
---
10. "You like playing video games more than you like spending time with me."
Now don't get me wrong. We gamers love to spend time with our main squeezes. I mean, let's face it, most hardcore gamers are not known for their overwhelming ability to charm the ladies. So believe me when I say that we are grateful to have you all in our lives. But chances are, we fell in love with gaming before we fell in love with you. Don't take it personally. The games give us a fulfillment that you simply cannot, and in turn, you give us fulfillment that the games cannot.
---
9. "Don't you ever get bored?"
You may be surprised to learn that gamers like to play games. I'm sure you do not easily become bored doing whatever recreational activities you find pleasing. To be perfectly honest, yes, we do become bored eventually, playing even the greatest of games, and when that happens, we play something else. However, 9 times out of 10 this is actually a rhetorical question, and is more of a passive-aggressive way of trying to tell us to turn our game system off. Nice try.
---
8. "You have too many games."
Once again, I must point out that gamers like to play games. Acquiring games is simply a part of a gamer's life. Our library never stops growing. I'm sure if we looked around, we could find things that you seem to hoard with reckless abandon. So let me ask, how many pairs of shoes do you own? How large is your collection of tools in the garage? How many boxes of books do you have stashed in the basement or attic? How many wristwatches do you have exactly? … Yeah, I thought you'd get quiet on that one.
---
7. "Can you turn that down?"
Sometimes we gamers need to hear our game. Crazy, eh? As games have become increasingly sophisticated, sound in particular has become very important in gameplay. This importance manifests itself in many ways. It could be being able to listen for rustling in the bushes to avoid being taken by surprise, receiving information from a party member about a trap that is 2 steps ahead, or trying to hear any number of mechanisms ticking, clicking, or clacking to try and isolate a pattern. In this day and age, the necessity in hearing our games cannot be overstated.
---
6. "It's way too dark in here."
Some of us are just not the type of people who need every light in the house on. We prefer to not have glare on our television screen, particularly when the environment is darkly illuminated. Trying to sneak around in near-dark with lamp or sun glare on the screen is highly annoying. So yes, we will turn off the lamps and hang dark bed sheets over the windows if that is what it takes. On another note, there are just some games that are best enjoyed in the dark.
---
5. "Can I play?"
It's not that we don't like spending time with you (see above), it's just there are several caveats that go along with playing co-op, assuming the game we're playing at the time can be played with 2 players. First, there are some games in which adding another player means starting all over again. We're not hitting the reset button just because you're bored. Second, there are some games that are simply terrible when played co-op. Single player is great, but somehow the programmers goofed scripting co-op. Now, that's hardly your fault, but the fact remains that we will not want to play co-op. Third and lastly, assuming the first two concerns are non-issues, we don't feel like burning through three-quarters of our health potions just to compensate for your lack of experience. If you're that interested, play single player by yourself and get your skills up to snuff. Then we'll talk.
---
4. "I put your gaming stuff away."
This really gets on our nerves. There's a reason we don't unplug our consoles, reshelf our games, stash our controllers, and put away our notebooks after every single gaming session. Chances are, we'll be playing again very soon, and we prefer to find things the way we left them. Our gaming equipment is not "in the way," despite your insistence that it is. You're lucky we put it away when company comes over, and sometimes not even then. If your vision of a perfect living room/den/family room/rumpus room was contingent on having no video games in it, then you are destined to remain disappointed.
---
3. "You spend too much time playing video games."
This is probably the second-most overused phrase directed at gamers. Unfortunately, for the majority of us, we put up with our parents–usually our mothers–shouting this at us our entire lives growing up. By the time you've entered the picture, we're numb to such a clichéd complaint. Attempts to direct this pitiful utterance at us will only end in frustration for you, and will likely cause unpleasant childhood memories of confiscated games to resurface, so do both of us a favor and save your breath.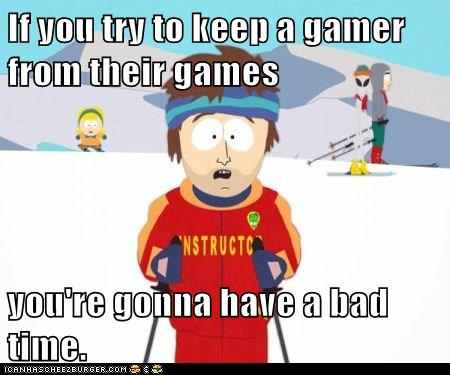 ---
2. "I need you to pause the game."
I'm sure you knew we were playing video games before you began whatever mundane task you so desperately need us to get up and attend to. However, you decided that what you're doing is more important, and that we must stop what we are doing and cater to your whims. Why would you do something like that to us? Have you considered that we may be playing with others online? In that scenario, immediately getting up would ruin not only our game, but the game of every single person we're playing with (Any WoW or other MMORPG player who has ever had their healer d/c in the middle of a boss fight knows what I'm talking about). Then you must also consider that some games do not have a pause feature, or at least don't pause during certain points (White Knight Chronicles I & II during quests). So, unless someone is dead or dying, you can manage on your own until we finish what we're doing and find a save point.
---
1. "Don't you have anything better to do?"
Finally, we have what I believe is the most irritating thing one can say to a gamer. I mean, don't YOU have anything better to do than to stand in the middle of the room and chastise us? We have a reasonable assurance that you knew of our gaming habits long before you fell head over heels for us. Don't have dater's remorse now and take for granted to insinuate that we should be using our time differently. We are gamers, and this is the culture we have chosen for ourselves. We can coexist, and even thrive together, but it requires give and take, and just because you see gaming as a waste of time does not mean we need to be the ones doing most of the giving by curtailing our gaming practices just to suit your preferences.
---
So there you have it. I hope the gamers reading this got a few chuckles, and the non-gamers have learned some essential tips for living with a gamer. Does your significant other throw one phrase at you markedly more than any other? Tell us in the comments below!
Happy gaming, and God bless.