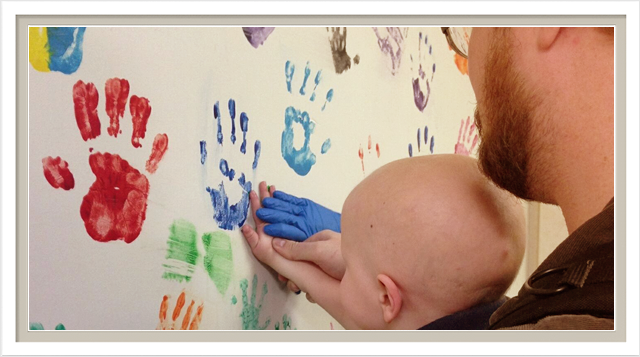 Sitting down with Ryan Green, creator of That Dragon, Cancer would seem to be just another interview with a game developer–someone excited with his passion for game making. But a few minutes into the interview I realized that Ryan had poured his entire life into this project.
To call this project a game, would be doing it injustice–an incredible injustice. This game is a memory, a poem, a memoir if you will, of a significant time in Ryan and his wife, Amy's, life. Or, in Ryan's words, "an autobiographical interactive memoir."
Very early on in his life, around 12 months old, Ryan's son, Joel, was diagnosed with brain cancer. About 8 months ago, Joel passed away. While Joel was alive and battling for his life, Ryan and Amy Green were inspired to create an interactive experience documenting the struggles they dealt with while caring for Joel and hoping for a miracle.
We talked about faith and hope. We spoke on God's plan, hardships in the midst of understanding his purpose for us, and the joy of expressing ourselves through interactive media. When I asked Ryan how he can relive these memories without breaking down, his response was, "Sometimes I do, and that's OK." He explained to me that, while Joel was still alive, he felt like he needed to keep grief far away from him. Now that Joel has gone to be with our Lord, he feels like this experience keeps the grief "as near as possible." This is one of the ways he has dealt with his loss, and he hopes that it can help others do the same.
This game terrifies me; not because I am afraid of death for myself, but because I have had to experience the death of a loved one, and it was one of the hardest things I ever went through. The fact that I have three boys, myself, also brings up so many thoughts and emotions that I am scared to deal with in context of playing this game. I asked Ryan if he thought that this game would be more fearful to non-believers because of the lack of a promise of eternal salvation, and his response surprised me. He even told me that he's watched some Atheists play this game. He explained that he has found that a lot of people that don't believe in God have already "made peace with their eternity." I had never really thought of it that way.
This game/experience is not developed as a tool for grief counselors or those going through loss. It's simply a story about how Ryan and Amy have had to deal with a loss of their own. It has created a beautiful memorial for Joel that will remain for decades. Ryan mentioned that one player had commented to him that this game allowed him to "finally feel." That Dragon, Cancer is not just a game.
Ryan is nearing completion of his project. I have played a few of the sequences from his demo. I would be lying if I said I didn't sob through my playthrough. This is an expression of love and hope that I have never "played" before and is quite possibly the very first game experience that I can truly consider "art" that reaches more than mere sensory pleasure.
The more I spoke to Ryan, the more I saw God's purpose in That Dragon, Cancer. I saw a start to a conversation on loss, hope, and eternity. I saw peace in tragedy–something that has yet to be put down on digital code.
Just today, Ryan and crew have announced a new Kickstarter campaign to finalize and complete the game. Originally intended to be launched on the Ouya, it will now be coming out on PC and Mac as well. If you contribute to the Kickstarter, you can get early access to the game, receive the game on launch, have your own artwork added to the game (on a memorial wall) and much more.
Please consider looking into this campaign found here: http://thatdragoncancer.com/funding
I alluded to not "wanting" to play this game in the title; however I feel I need to play this game. I want to share in Ryan and Amy's grief like a friend who would sit alongside them through the tragedy. I feel like I can experience something that I never thought I could through a virtual experience.
I don't know how else to convey what this experience means to me. I compel you to look at That Dragon, Cancer.