| | |
| --- | --- |
| Developer | FRENCH-BREAD, TYPE-MOON, DELiGHTWORKS Inc., TAMSOFT CORPORATION, GameLoop Inc. |
| | |
| --- | --- |
| Publisher | DELiGHTWORKS Inc. |
| | |
| --- | --- |
| Platforms | PS4/5, Xbox One/Series, Nintendo Switch, PC (reviewed) |
| | |
| --- | --- |
| Release Date | Sep. 30, 2021 |
After years of leading the doujin fighting scene and many memes about bathroom tournaments, French Bread has returned to the series that made their name an underground legend. Melty Blood: Type Lumina is part of a revival of the Tsukihime visual novel series. Type Lumina attempts to combine its original game design and modern fighting game concepts to deliver the best of both worlds.
Content Guide
Depicted Violence/Blood – There are some scenes that show characters with spilled blood from wounds or from the mouth, but otherwise nothing graphic. Animated blood is shown in some attacks as hitsparks. Several characters have motives to kill certain characters.
Mild Language – A** and da** are used sparingly in some of the story dialogue.
Suggestive Themes – Several female characters seek a romantic relationship with Shiki, the main character of Tsukihime., including his half-sister, Akiha, who appears to have an obsession with him. Each of these characters' personalities changes depending on the character scenario in Arcade mode.
Review
Melty Blood: Type Lumina keeps certain aspects of its original gameplay and adds modern concepts, making it a game that feels like French Bread's previous series, Under Night In-Birth, but still feels wholly unique. It's quite an oddity in light of other current fighting games like Guilty Gear Strive or Street Fighter V. However, Type Lumina offers a fun and nostalgic time with little of the faults of the original Melty Blood.
Unleash Your Magic Circuit
So what do Type Lumina and Under Night In-Birth have in common? At first glance, they might look the same, but they don't share a whole lot aside from a reasonable fashion sense. Type Lumina is a "standard" 2D anime fighting game that adds focus on air combos. Anime fighters tend to have unique characters with their own mechanics to learn. Type Lumina actually stays close to universal systems. The systems to pay the most attention to are Shield, Moon, and Heat.
The Shield mechanic is a rock-paper-scissors system that lets you block and counter your opponent. The most interesting feature is the ability to Counter Shield, making shielding a four-way guess as to what two players will do. You can either launch, side-switch, or escape. You might recognize this system from Soulcalibur 6.
The Heat system is fairly straightforward. You exchange however much meter you have for a power-up that increases damage, makes supers and EX moves cheaper, and restores health. The Moon system is a holdover from the original but was simplified for this game. Each character has special EX-type moves that can be used from the Moon meter or you can save it to activate Moon Drive. Moon Drive gives you an extra jump, cheaper Moon Skills, and regains meter.
Honestly, I didn't use these systems too much, but my experience with other anime-style fighters definitely gives me an idea of how dominant players can be if they master these mechanics. This could also be seen as a form of skill-based gatekeeping, especially when playing online with other veteran players.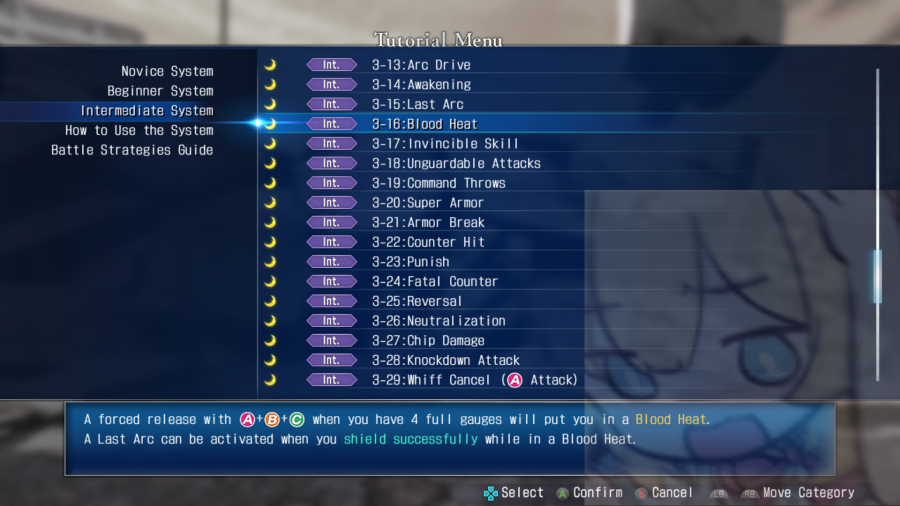 Stabilize Your Rage Circuit
Playing online was definitely a lot more frustrating but mainly because there are a lot of strong players (or as many call them, killers) online. Thankfully, poor online play is not present here as the network implementation is fairly solid. You might experience trouble with frame stuttering or lag with a player much further away from you or with a poor connection, but most matches I've played were stable, which is more than I can say about other fighting games in recent years.
Unfortunately, there weren't as many players on whenever I went online. So your best bet may be to join an online community that plays Type Lumina if they're not too distracted by Guilty Gear Strive. Thankfully, there are quite a few modes that you can practice your character with.
Alongside the solid mission mode that carries on Under Night In-Birth's stellar training module, there is also Time Attack, Score, and Survival. There is also the surprisingly extensive Story Mode. What's interesting here is that Single Play separates the game mode by characters and then gives you the option to choose a mode, possibly to get the player to the action as soon as possible without loading too often. Your mileage may vary on this UI choice but I wasn't too troubled by it.
Aside from that, the Story mode is fairly robust while still keeping to a simple campaign for each character. Not every character's story is available from the start, though, so unfortunately if you really wanted to play Saber or Red Arcuied's story, you'll have to go through everyone else first. You can also customize three sets of colors for each character which easily took up the second majority of my time with the game. While not fully customizable, there's enough room to try to make some fun little color schemes. I was, thankfully, able to recreate the colors of my favorite Under Night In-Birth character, Akatsuki, and dress them on Miyako the kung-fu girl.
All in all, Type Lumina doesn't shake up the genre but offers a pleasant and nostalgic staple to come back to when I couldn't keep up with all the changes in Guilty Gear Strive. Veterans may think otherwise and say that the game is too different from how it used to be. But for a simple fan like myself, it takes me back to when I first discovered indie games on my own, learning how to navigate menus in a different language and trying to learn moves with no English guide to easily refer to.
The Bottom Line
A solid 2D anime fighter that offers an experience akin to the original game.