| | |
| --- | --- |
| Developer | Double Fine Productions |
| | |
| --- | --- |
| Publisher | Xbox Game Studios |
| | |
| --- | --- |
| Platforms | PC (reviewed), PS4, Xbox One, Xbox Series X/S |
| | |
| --- | --- |
| Release Date | August 25, 2021 |
Double Fine Productions has released Psychonauts 2. That sentence alone has delivered joy to platformers everywhere. The story of the Psychonauts and Razputin Aquato continues to unravel the rest of the story set by the first game and Rhombus of Ruin. Raz must prove his worth as a Psychonaut, and explore deeper, complex mental issues than he has prior.
Content Guide
Language: The word "a**" is heard in the dialogue.
Sexual Themes: There's nothing blatantly sexual in Psychonauts 2, but there are innuendos.  "Trying to have a baby is exhausting", "Well it does have its fun bits"; "We used to sneak in here and fool around on the beanbags." Also, one of the game's subplots involves a gay couple.
Violence: There's lots of use of psychic energy powers. There are cries of pain from enemies, allies, and Raz. Raz can use fire and clairvoyance, and all of the levels are accessed by traveling into people's minds.
Alcohol/Drugs: Some characters are depicted smoking cigars and cigarettes; some sequences reference alcohol (e.g., "Time for one more beer before we die"; "Triple Whiskey Smooth-Out, and make it quick"; "Try our home-brewed maple beer").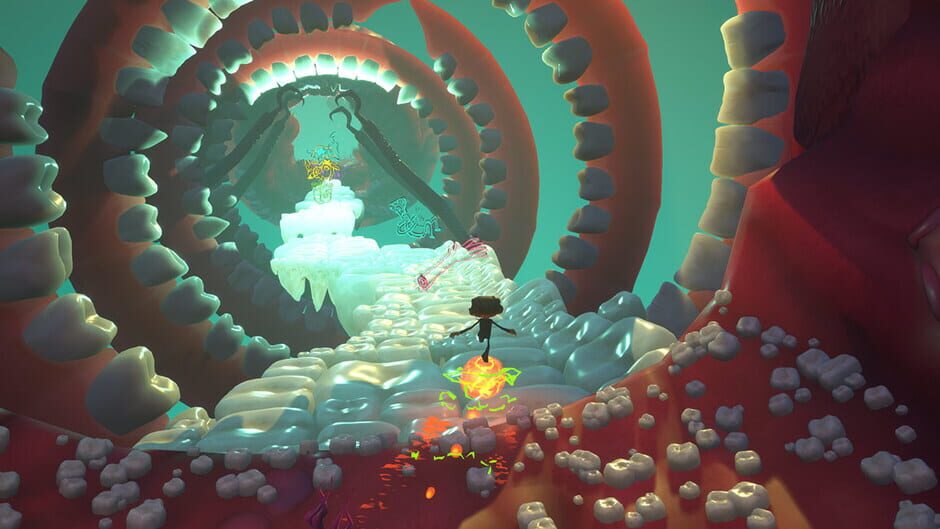 Review
The game opens with Raz exploring Loboto's brain. Following Loboto around the work office turned dentist playground, players relearn fights, puzzles, and powers, discovering a mysterious veiled villain in the process. While the Psychonauts set out to solve some mysteries, Raz officially joins the Psychonauts as an intern, and must learn how to get along with the other interns and fix the mind of Ford Cruller.
The path to fixing his shattered brain is a running theme in Psychonauts 2. Players meet a wide cast of characters who all suffer from unique mental illnesses; panic attacks, sensory overloads, alcohol addiction are a few of the problems that the game explores with creative level design, clever storytelling, and fun gameplay.
The gameplay takes the good from Psychonauts 1 and improves upon it. Although I preferred the jump mechanics from the previous title, the first jump is longer, and the double jump is shorter. Raz still has some returning abilities like his psy-blast, levitation, clairvoyance, and pyrokinesis. The hover balloon is on a timer now, so cheesing my way around the map for figments is gone. They took away the others, but replaced them with new psychic abilities.
Mental connections can teleport Raz across paths of stray thoughts. In battle, the power can draw an enemy close to you if they are constantly retreating or always fighting from a distance. Raz can also slow down time, which is helpful against fast enemies and obstacles. The coup de gras of the game to me is the projection power; it makes a "Doodle-Bob" of Raz, that can follow you by turning into a paper airplane, heal you if it's leveled up enough, and squeeze into small spaces Raz can't enter. I particularly appreciate the excellent voice acting performance from Roseark Rikki Simons, a contribution made all the more delightful in that she once again gets to perform alongside fellow Invader Zim actor Richard Steven Horvitz, who plays the lead role of Raz here.
The game boasts masterful level design, making exploration a blast. I can't remember any other game in which I lost track of time trying to see what was behind the next corner. Psychonauts 2 has four explorable hubs, complete with NPCs, side quests, and collectables requiring every unlockable ability.
Aesthetically, the mind realms are works of art. Fusing a casino and a hospital together, for example, is a work of brilliance. A maternity ward roulette wheel, a pharmacy pachinko, and a hospice horse race blend like a sour and sweet dish. The best of both parts are there, and the middle comes together like a wacky 90's cartoon.
The brain's mental anguish and negativities manifest themselves as the enemies that you encounter in the game. Censors, designed to keep things out, look like businessmen with stamps. Doubt is a messy glob of goo, representative of how doubt tends to make one feel. My favorite enemy is the panic attack, a fast, vicious wolf-like creature with a wide array of attacks. The only way to beat it is to slow it down. I smile because as a husband whose wife deals with them, we've learned that the key is to breathe, to calm down the heart rate, and focus the mind, keeping the thoughts from racing.
This leads me to talk about the essential beauty of Psychonauts 2. The bold and uncompromising explorationof mental illness. Psychonauts isn't afraid to tackle these issues, and not make the issue the punchline, bringing a hearty light to common experiences without making them a punchline. The depictions of these illnesses feel so accurate, and the humor is perfectly timed. It's nice to see that we can have a game with PTSD, delusions, or sensory overload, without being heavy and serious.
But of course, I can't help but view this from a Christian standpoint. And this may be the easiest part of the review, because there's no other game that I would happily recommend to play not just for fun, but to learn. Too often I see people that can't get along or understand, and the phrase, "in someone else's shoes" has reversed into, "but what about my shoes?" It seems way harder these days to empathize. And Christians are not immune from this illness. But as Christians, we should be the pioneers of empathy instead of Psychonauts 2. It should have been our inspiration that this game drew from. But it's not too late, we can still be like our friend Raz—not the mind surfing or psychic powers, of course, but by learning the practical applications of choosing our words wisely, giving encouragement and understanding, and controlling our disposition as we approach people with mental illness. Some of us need this game so we know how to talk to people.
Psychonauts 2 may have been a long time coming since the original game, but I'm very glad, as a gamer, an artist, and a believer in Christ, that this made it through, and now hopefully will win a few awards. Because it deserves it.
The Bottom Line
What are you waiting for? Play Psychonauts 2!