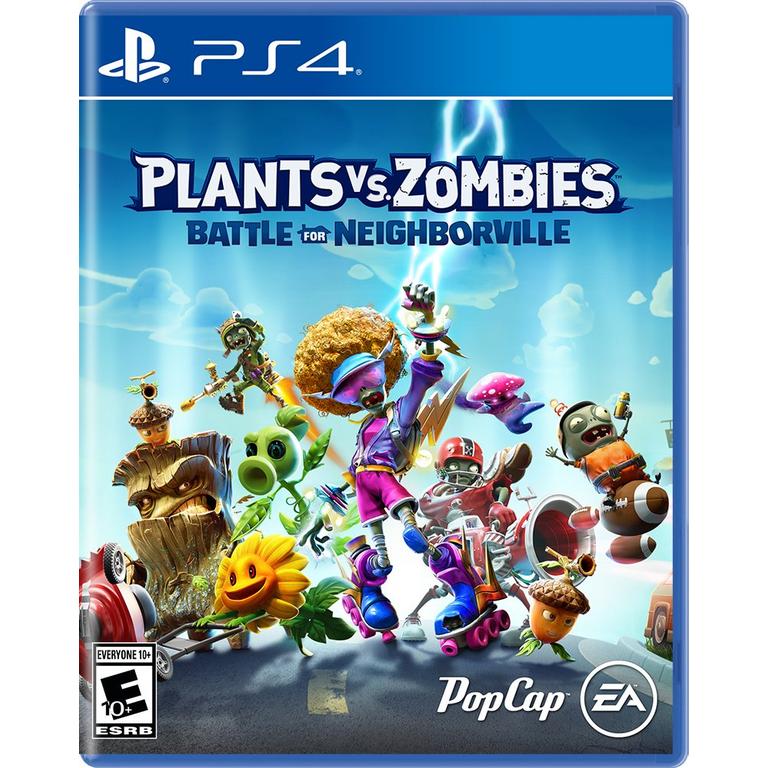 Developer: PopCap Games
Publisher: Electronic Arts
Genre: Action , FPS
Platforms: PS4, PC, Xbox One
Rating: E for Everyone
Price: $39.99
Plants vs. Zombies franchise used to be so popular among both children and adults. My husband and I were so hyped up when the new game was announced. We hoped for the magic of plants and zombies spreading again, but somehow our hope dropped with disappointment. 
Content Guide
Violence: Plants vs. Zombies Battle For Neighborville is a third person shooting game with colorful cartoon characters and environment.  It is very family friendly, no blood, no gore, and no strong languages.  
Review
Plants vs Zombies Battle For Neighborville keeps the classic characters alive while adding new members on both sides. On the plant side, you get the mushroom ninja Nightcap, the giant/tiny duo Oak & Acorn, and the flame-throwing Snapdragon. On the zombie side, you have the dancing maniac Electric Slide, the explosive 80's Action Hero, and the laser-blasting Space Cadet. My favorites are the Night Cap and Oak & Acorn, for they are both adorable and fun to play.
As an Asian, I love the concept of the mushroom Nightcap knowing how to perform Kung Fu, or Fung Fu as it is called in the game. It plays more like a hit-and-run ninja: fast, stealthy, and efficient for both long ranged and close combat. Oak & Acorn is very unique in how the little acorn transforms into an oak tree tank after a while. The oak tree tank form is hard to kill off, which makes it wonderful for both PvE and PvP modes.
I appreciate the fact that the developers added in emojis and short expressions to help communication among players online. Even though you don't have a microphone for voice chat, don't worry; with those new features you can communicate quickly and easily.  
You can find and try out many character skins in this game, if your heart so desire. Cosmetic items in Plants vs Zombies, while decent in their own right, do not carry the same weight to me as those in other games like Fornite, Little Big Planet 3, Overwatch, or Rainbow 6 Siege. If you really want variety, the cosmetics are both unlock-able and available for purchase in-game. 
Oh, each cosmetic skin does not count as a separate character in this game, yeah! I am so happy for this improvement, as it is a welcome time- and energy-saving change. Thank you, developers, for listening to the cries of players from the previous game. 
While its predecessor's story mode is always enjoyable, Nieghborville's story mode is quite a disappointment. It lacks exciting plots, creative quests, and high replay value in general. I found myself quickly getting bored in the PvE story town after the first wave of discovery and excitement. There are many hidden items to collect around the town center at both plant and zombie sides, but it may take a great deal of love and patience to push past the monotonous fetch-and-escort and hide-and-seek gameplay. 
Multiplayer mode is always fun, especially since they provide 13 maps available so far. Be prepared to die and to respawn a lot in this game, but the never-give-up Olympic spirit matters the most in the end. Each map has its unique layouts and environment. If you have a small group of friends, 4×4 Battle Arena or split-screen couch-coop are great choices. 
In a word, Plants vs Zombies Battle For Neighborville is a decent game overall, with lovely characters, great graphics, and fun gameplay. The multiplayer modes is still a blast to play, and it is a perfect game to play with children or youth. Unfortunately, the game's story mode leaves much to be desired, and in today's competitive gaming market, Neighborville just does not have enough attractions or content to keep players coming back for more.  
The Bottom Line
Plants vs Zombies Battle for Neighborville is a great game to play with children and youth, but it may not have enough content to keep adult players around in this competitive gaming market.