I have had my eye on Indivisible since I first caught wind of it in 2015. The prototype demo has been available for about that long, but it was not until this past week that Lab Zero Games unveiled its special backer preview for individuals who contributed $30 or more to the kickstarter. Wonacott communications was generous enough to let us in on the scoop!

 Because this demonstration concerns an expedition of the combat engine, there is no story. Therefore, tomboy protagonist Ajna rolling up her skirt to chase after her pet tapir, Roti, will suffice for now as a modus operandi for beating up a few badguys. The first few encounters included blue enemies that resemble slimes from Dragon Quest…or punching bags (in the photo below, top left). Next encounter is a fat green enemy that strongly resembles a pre-Breath of the Wild moblin in The Legend of Zelda (middle left). Now he is the first kind of enemy that will hit Ajna from the adventure screen to initiate battle, so it is best to hit him first. A vampric Cousin Itt is the next enemy type (top right). The Sandman-looking creature on the bottom right is a mini-boss who must be defeated to unlock a party member. The other two enemies in this pre-release image are either not part of the preview or have been redesigned.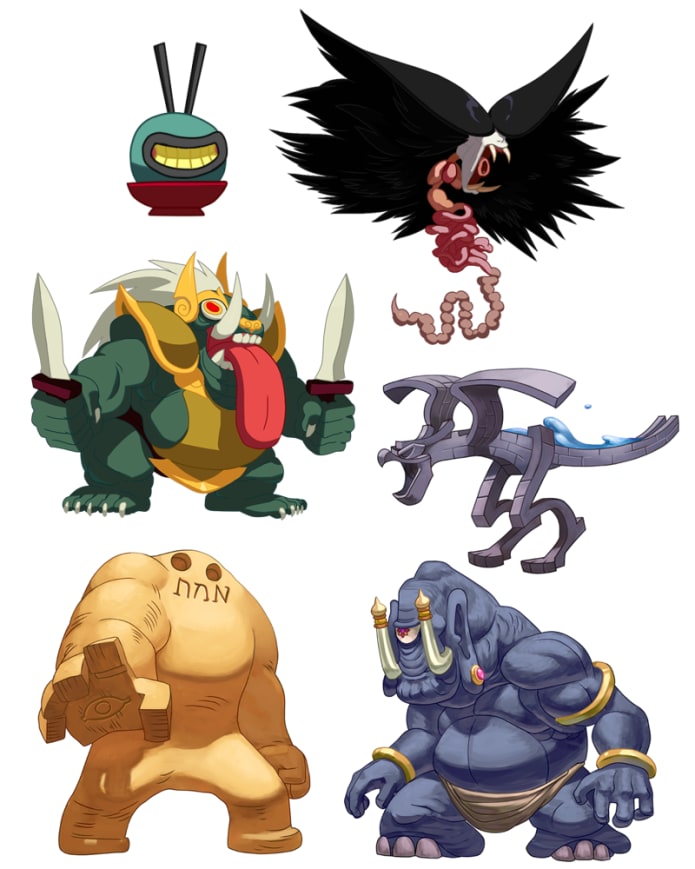 Indivisible appears to be the kind of game that will not be holding any hands. I pressed right through a few messages, and ended up not knowing what Dhar's down "attack" did during my first playthrough. Well here is the answer: it powers him up so that his next attack does extra damage. In other words, the second collected party member could be considered a power character. The third, Ginseng and Honey, is (are?) a healer, and something of a comical character. I am unsure how to categorize Qadira, a female soldier with an androgynous warrior's outfit; she uses her shield to bash enemies. It is possible to find an archer, a dijinn, and a witch too, but players will have to do some platforming after Ajna finds an axe to hike up walls and cut down tree roots to find them.
Zero Lab Games claims to fashion Indivisible after two games that I have never played—Chrono Trigger and Valkyrie Profile (I own the former; it is on my bucket list). I am familiar with Star Ocean, however, and the ability to attack with multiple characters at once for combos—each assigned via A, B, X, Y buttons depending on how they appear on the battle screen. The hybrid active time battle (ATB) style requires players to wait until the globes under characters are full; they then have the option to exhaust up to three globes with an attack or action, such as Dhar's charge or Ginseng and Honey's heal. Additionally, blocking and super moves become available depending on the status of an above-head meter.
Thus far, Indivisible presents an enjoyable experience, and I cannot wait to see more of that hand-drawn animation, and the blend of beautiful 2.5D scenery. That soundtrack is also already in the early running for 2018 OST of the year. Still, players might encounter a bug or two. For example, after taking a turn against this horde of Cousin Itts, nobody's turn would charge, effectively freezing the game. Characters continue to be animated, and two Cousin Itt enemies with black-tipped hair kept floating in and out of the screen from the right-hand side. Exasperated, I quit my gaming session only to pick it up again the next day. Of course, I hope that Lab Zero Games irons out these things for retail release. In the meantime, players can enjoy trying to speedrun through the game for a $500 kickstarter tier as a reward.