On February, 22nd, 2018, Milkstone Studios published the early access game Farm Together through Steam. So far, it has received very positive reviews from various reviewers, and definitely has shown great potential of success for its official launch.
I have played other farming games before, primarily on mobile and console platforms. Yes, I know you may have a general picture of how a farming game looks like or plays like based upon your previous gameplay experience. What makes Farm Together special, is something that we will talk about here.
You start the game by choosing your own farmer character—nothing fancy, a young boy or young girl at this moment. Then the tutorial will walk you through some basic controls, like walking, running, watering, or planting seeds,. You start from a decently large area of farm land, which will allow you to plant crops, trees, or even animals for a while. You have a certain amount of numbers of storage for each item category, so keeping eyes on your storage and sales are good strategies to always have. Selling stands will be available when you reach a certain level in the game, and that is something you will need to build if you want some extra income for your farm. One tile of land produces one crop, and you have to water many times in order to harvest anything. Every 17 minutes, the game will automatically change seasons, so you have to pay extra attention on the growth if you have seasonal products in the soil. When you are just about to get tired of doing many farm work, the game will introduce you a helpful tractor along with the perfect timing of leveling up. Yes, you have to build a gas station to keep the gas, but the process is no pain at all, and it is definitely worth it.
Stardew Valley is a well-known 2-D farming game on both PC and console, which offers backstory, farming, mining and combat. If you have played that game before, don't expect that Farm Together will be the same. The latter is a 3D game which allows you to zoom in, zoom out, and change camera angles from the character's perspective. It also offers photo mode, and you can save your pretty pictures on your computer. Because of the 3D effects, seasonal changes and the day-night cycle are beautiful to watch. Butterflies, flowers, and fire flies are cool extras that make the world look more alive. However, you are not able to mine or fight against monsters in this game. All you can do is to farm, at least at this Early Access stage. Since there is no backstory in this game, if you are looking for something deeper than farming, and I am afraid that you may be disappointed.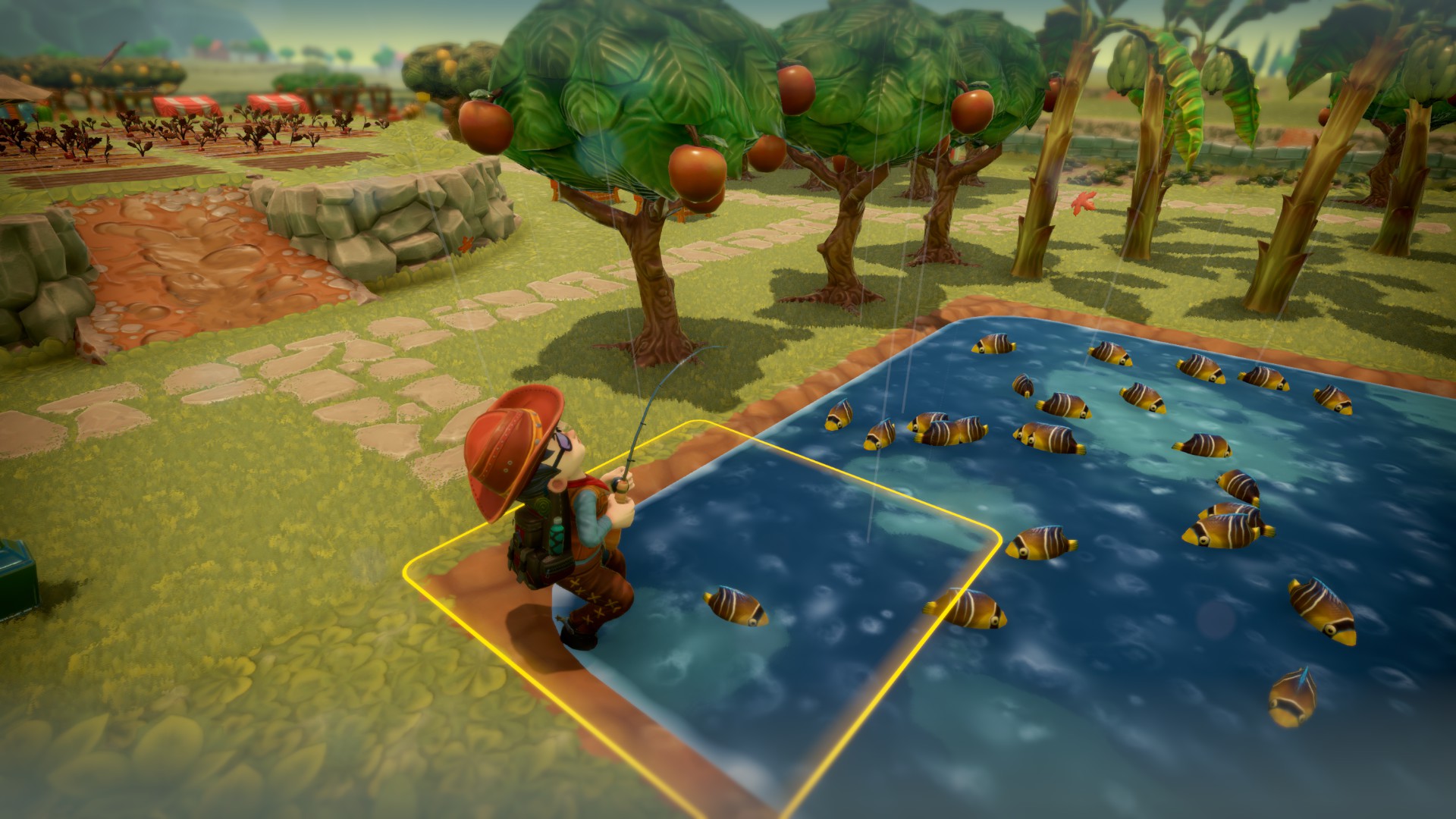 Generally speaking, the quests are not too hard to complete, and they are fun and relaxing most of the time. However, my complaint at this moment is the fishing mechanic, for it is very random and does not guarantee a successful outcome, which could be both realistic and frustrating. For example, one of the early quests after the tutorial is to fish 30 times successfully. It does sound easy, but I will tell you why it is not. Each harvest takes 30 minutes, and several times of feeding. You cannot get your harvest if you stop feeding, so you have to be there the whole time. After 30 minutes, you have 50% a chance to fish successfully, which means all the ponds could produce 0 fish harvest by percentages. It too forever to finish that quest! It is very frustrating and ridiculous.
One more thing to mention is that you have to be very self-motivated to play this game. Completing only a handful of quests may not be interesting enough to keep you playing for hours. Multiplayer mode is available as well. I understand it is still in Early Access stage, but I just hope there is something more to come when it launches. Farm Together is trying to make itself unique among all the other farming games, and with a lot of potential, we will see whether it is able to bear any fruit.