Well it is finally here. Nintendo is holding its next Direct on the 1st. It is very much real and highly anticipated. It starts at 6pm Eastern standard time and holds a lot of promise. Fans are hoping to see some release dates from Nintendo on a few of their upcoming titles. Namely Splatoon and Mario Maker. However, there has been a leak put out yesterday that confirmed that there would be a Direct tomorrow along with a lot of other things. Whether these are all true or not are beyond me. However, the thought of Fatal Frame being brought to the US and Europe has me giddy. Keep in mind that these leaked dates are for Europe. America tends to get most Nintendo games a tad sooner than them.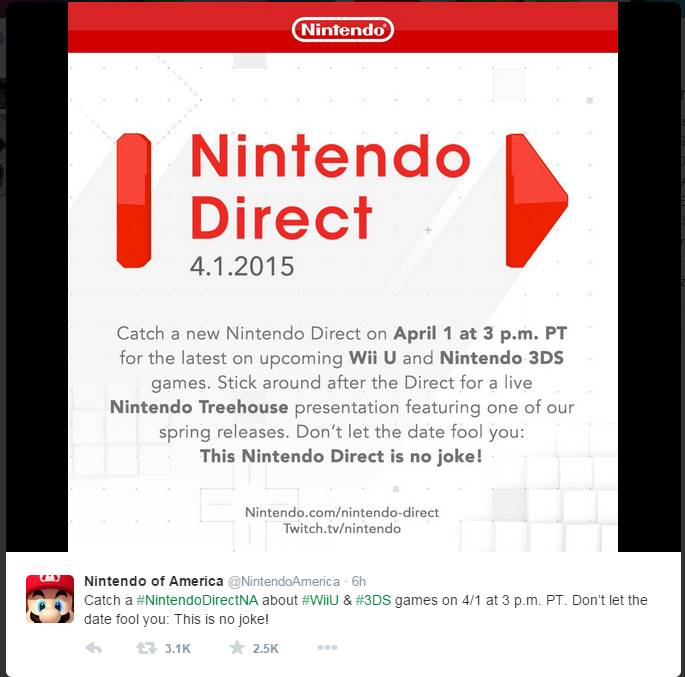 Here is the TL;DR on what the leak says will happen at tomorrow's Direct.
Paper Mario will be releasing on the Wii U this winter in place of the delayed Zelda.

Pokemon Rumble World will be released on April 17th.

The 3DS eShop will receive Super Nintendo games. 

The Wii U eShop will receive Game Boy and Game Boy Color games.

10 percent discount will be given to anyone who pre-orders a game on the eShop.

Amiibo gallery is announced. With this application, you can look at all of the Amiibo that have been used on your console in a gallery, to take pictures of them and share them with Miiverse. There is also a mode in this application called "Origins" which you can play the first game of a character by touching Amiibo to the GamePad.

N64 games will start to be coming to the Wii U in June. These titles include Super Mario 64, Legend of Zelda: Ocarina of Time, Kirby 64: The Crystal Shards, Super Smash Bros, and 1080 Snowboarding. It is also rumored that these will be upscaled to 720p and widescreen. They will also support many controller options. Including the GamePad.  Also, if you buy Mario or Zelda then you get the other for free.

Mario Kart 8: DLC Pack 2 will be given a release date for May 7th. Along with the announcement that you can play split screen like Hyrule Warriors. Where one person is on the GamePad and the other is on the TV.

Yoshi's Woolly World will be given the release date of June 26th.

The Nintendo Anime Channel will come to the Wii U and 3DS on April 7th.

Project Zero-5 (also known as Fatal Frame) will be coming sometime this year.

Some more Wii games will come to the Wii U as well. Those being Pandoras Tower on April 2nd, Sin & Punishment on April 23rd, and Legend of Zelda: Skyward Sword on May 14th.

Final Fantasy Explorer will be released later this year.

Splatoon will be released on May 29th.

Devil's Third will be released in August.

StarFox: Horizon will be released in Q3 on the Wii U.
Are you excited? Think this is a fake? Let us know in the comments.