| | |
| --- | --- |
| Synopsis | Author/Illustrator Julie Blanchard intends to stop briefly in Japan before heading on a scientific expedition to Antarctica. Instead, she winds up living in Tokyo. Follow her hilarious true journey of surviving earthquakes, finding roommates, and fighting cockroaches. |
| | |
| --- | --- |
| Author | Julie Blanchin Fujita & Issei Fujita (Japanese translation) |
| | |
| --- | --- |
| Artist | Julie Blanchin Fujita |
| | |
| --- | --- |
| Release Date | 2017 (French), 2021 (English) |
What happens when a French illustrator becomes stranded in Japan after financing fails, preventing her from traveling to Antarctica? She winds up staying in Japan for several years, getting married, and writing a graphic novel (or manga) about her experience. That book has now been translated into English and Japanese for us to enjoy.
Content Guide
Violence/Scary Images: A retail worker thinks "Me kill Ponyo" after listening to the Ponyo (Studio Ghibli movie) soundtrack on repeat for days.
Language: Some use of s*** and s****y. One use of a** and the slang "boobs."
Drug/Alcohol References: The author frequents bars, clubs, and parties. She drinks often and occasionally gets drunk. A marijuana leaf is tattooed on a woman's body. The author jokingly says she makes meth, a reference to the television show Breaking Bad.
Sexual Content/Nudity: During an explanation of Japanese hot springs, several men and women are shown nude. Though the drawings are simple, they are anatomically correct with nipples, hair, butt cracks, and penises. A person is called "sexy," and someone dreams of kissing a famous person. The author moves in with her boyfriend, and she gets pregnant out of wedlock. No sex is shown, and by the end of the book, the couple is married. Cicada mating season is mentioned.
Other Negative Content: An earthquake almost sets off a nuclear breach.
Spiritual Content: The author mentions being an atheist, but prays at a shrine in a moment of panic. Western religion is noted as segregating hot springs by gender since they believed nakedness is sinful.
Positive Content: People from various countries share a house so everyone can afford the rent. The author is a confident, independent woman traveling Japan alone. She makes new friends and keeps in touch with her old ones. The Okinawa area houses refugees when there is an earthquake and nuclear scare. The book itself is written in two different languages, so more people can enjoy it.
Review
The reviewer received a copy of this book for free from the publisher.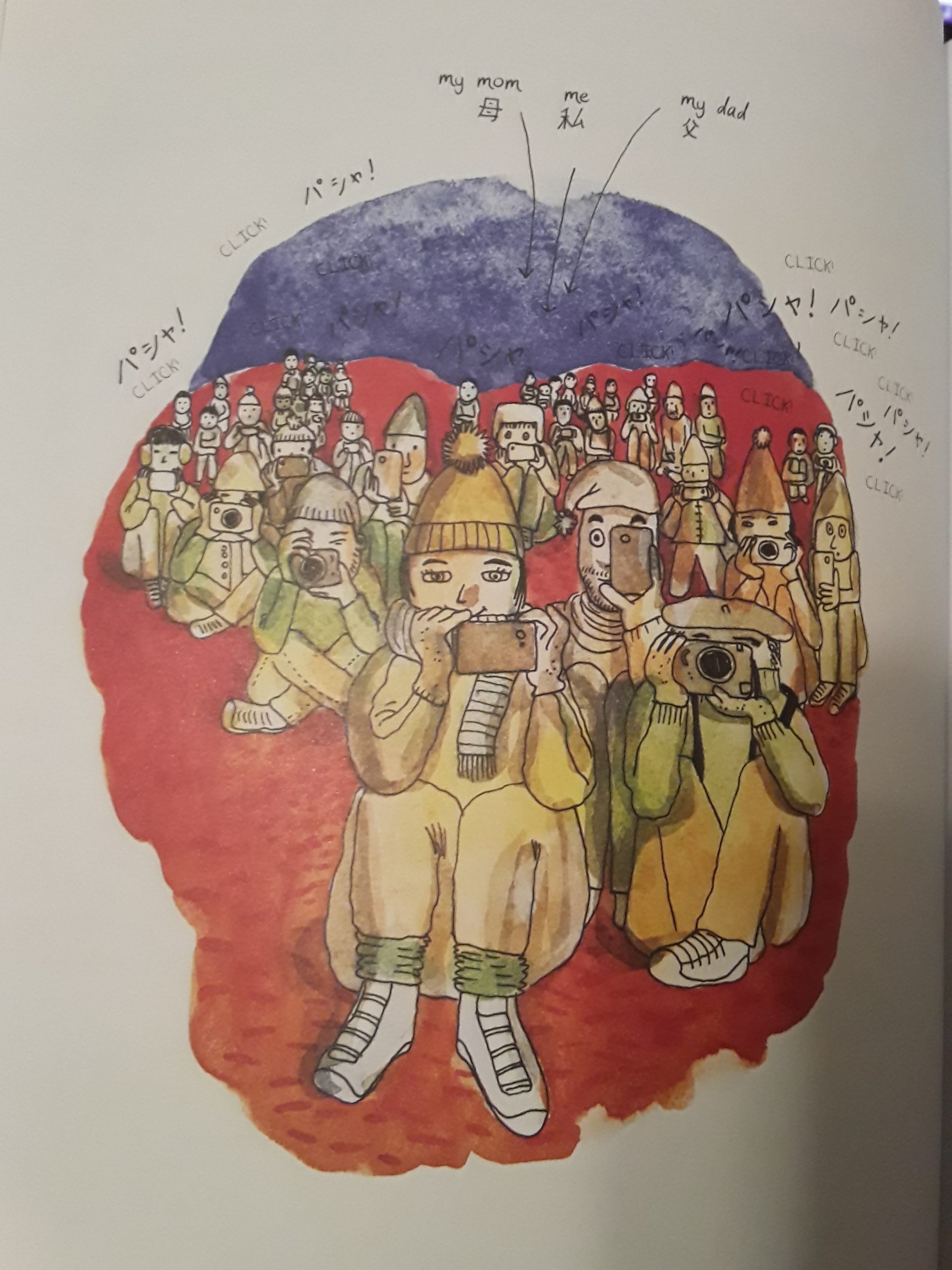 Tokyo Love Story is a Western-style manga written by Julie Fujita with a bilingual translation by her husband, Issei Fujita. Originally written in French, this travel memoir has not lost any of its charm in its translation to English. The narrative follows Julie's decision to stay in Japan after a grant falls through, keeping her from pursuing her next job.
Culture
This book is not what most people would perceive as a manga in the traditional sense. It reads in Western-style, that is to say, from left to right. The illustrations look more like contemporary webcomics (such as Hyperbole and a Half) than the spiky hair style of shonen and shoujo. Despite this, the book oozes culture.
Fujita oscillates between describing personal experiences and explaining the initially foreign Japanese customs. Both sections flow so well together, readers may not even notice her break from story to explanation. The writer was originally from France and wrote the book in her native language. She knew her readers would likely be unfamiliar with Japan and its topography, and she took the time to describe these details when they fit her theme.
Some of the best examples of this are the "I like" and "I don't like" pages. Fujita draws things, like baths, which are different in Japan than where she came from. She compares and contrasts while telling readers exactly how she feels about her chosen topic.
Even when she does not enjoy or agree with certain aspects of Japan, the writer never attacks or uses prejudiced language against her new country. She does not tout her opinions as the final say in anything; she expresses them as obviously subjective ideas with which the reader could agree or disagree.
Bilingual
One of the most fascinating aspects of this graphic memoir is that it is bilingual. Although technically this reviewer read an English-translated version, the book is also written in Japanese. The pages are not side-by-side like the No Fear Shakespeare series. Rather, both languages are written in blurbs around the pictures with neither overpowering the other. Readers cannot argue this is an English (or French) book more than a Japanese one.
Certain sections are written only in English. However, these pages are explanatory details about which Japanese readers would already be familiar. Drawings convey maps and foods for which locals need no description. If anything, the extra English is to help readers who do not speak Japanese become more familiar with the language as they read.
This layout is reminiscent of the way Julie Fujita herself behaves while in Japan. She merges her own ideas with those of her newfound home. Instead of working longer hours for less pay than France, she freelances. On the other hand, her houses and meals are all in the traditional Japanese style. She learns the language, pays with the currency, and makes local friends. Once she marries her husband, her last name changes. Taken as a whole, though, one can see Julie Fujita's integration of the two cultures she loves.
Art and Story
Tokyo Love Story does not follow a set story, except following Julie as she moves around Japan. The book is divided into chapters, and each section is dedicated to the area where she lived at the time. There is a chronological sequence, but as a whole, the narrative reads like a set of loosely connected shenanigans.
The free-whirling style works since life is not always a set of clearly connected events. Fujita recounts learning a new language, fleeing nuclear radiation scares, falling in love, and battling giant cicadas all equally. Some stories may be longer than others, but that does not make the cicada battle less important.
The drawings are a mix of multiple mediums, including watercolor and ink. Characters are understated but relatable to the common reader. Julie the character is not glamourized, and neither is anyone else. In a previous anime review, I mentioned how realistic illustrations connect with an audience better than obviously beautiful ones. Julie is not ugly by any means. When she draws herself in unflattering situations, like getting out of bed, she looks like a normal person, not a supermodel.
Conclusion
Tokyo Love Story is a humorous look at daily Japanese life through the eyes of someone experiencing it for the first time. Many anime and manga lovers (weebs, otaku, or whatever you want to yourself) dream of visiting Japan to experience the sites they see in their favorite shows and the real culture that inspired them. Some travel books have even capitalized on that fad. This is not one of them.
I read this as a fellow weeb, expecting the author to be a geek like myself. On the contrary, Julie Fuijita was a scientific writer. She was in Japan to meet people to take her on an expedition to Antarctica. This inspiring woman does not need to mention anime or games at all. She carries the story with her written wit and relatable humor.
If you are interested in Japan and Japanese culture, Tokyo Love Story is a good starting point. If you want to see a personal perspective about moving to a new country, this book is also for you. Fujita does not bash readers over the head with facts. They are always well integrated with her anecdotes. However, if you want a linear memoir with complicated storytelling or lessons to be learned, this is not it. This is an educational romp through a country deserving more than being the birthplace of Nintendo and anime, and Fujita shows that masterfully.
+ Fun facts about Japan
+ Julie is a normal human being, not a goddess
+ Simple yet funny anecdotes
- Some pages bogged down by text
- Art style may not be for everyone
The Bottom Line
Tokyo Love Story is a funny, heartfelt trip with Julie who begins to feel like your friend more than your tour guide.