Author: C.S. Lewis
Publisher: Lexham Press 
Genre: Poetry
Author and apologist C.S. Lewis developed a career and reputation in the mid-late 20th century as one of the greatest Christian writers of his time. It wasn't a belief that came to him easily, though. Throughout the early years of his life, Lewis endured a period of deep despair and atheism that would go on to inform his decision to convert. During this time, he attempted a short-lived career as a poet under the pen name Clive Hamilton. His first attempt at publishing succeeded in 1919 with a small poetry book called Spirits in Bondage. 
Content Guide
Violence/Scary Images: None
Language: None
Drug/Alcohol References: Some minor references to smoking and drinking.
Sexual Content: References to human lust and sexuality, but nothing graphic is described.
Other Negative Content: Themes of hopelessness, nihilism, occultism, and anti-theism.
Spiritual Content: Discussion of justice, morality, and the afterlife.
Positive Content: Themes of transcendence, salvation, and hope.
Review
Disclosure: This reviewer received a review copy of Spirits in Bondage from Lexham Press.
Clive-Staples Lewis returned from World War I a changed man. After dealing with the trauma of war injuries and losing friends in battle, he found himself in a deep place of despair and nihilism. He hadn't been religious since he was a child following his mother's death, but suddenly life had become a great deal darker than before. He saw firsthand what horrors man could unleash upon one another as generations of young men were fed into the meat grinder on the Western Front. 
It was in this miasma that Lewis released his first book in 1919. Spirits in Bondage: A Cycle of Lyrics is a short book of poetry which was released to moderate success and attention. It never approached the popularity of his later breakout successes The Screwtape Letters or Mere Christianity, and hasn't endured the same shelf-life. It's largely been out of print in the century since publication, unlike his apologetic works which have stayed in print consistently for decades. It was, however, one of Lewis' personal favorites, being one of the only books he kept copies of in bulk in his library. 
Reading Spirits in Bondage offers a fascinating prologue to the literary career of Lewis. He wouldn't become a Christian until nearly fifteen years after this book was published, but the stirrings of youthful angst and war trauma were clearly working through his mind. He's working through the same contradictions and impulses that would later draw him to faith. Despite those urges, Lewis cannot bring himself to believe. 
The overarching theme of Spirits in Bondage is yearning. We hear an author trying to communicate a great sense of personal angst and longing for meaning and truth beyond the vale of the cruel, meaningless universe he currently lives in. To Lewis at this time, the meaningless nature of the universe was tragic. A Godless universe means a flurry of contradictions and absurdities he's simply not capable of fully grasping. In some ways, his first book is trying to resolve them. 
The book is split into three movements that all address one of three themes: The Prison House, Hesitation, and The Escape. Reading the poems through that mindset, the themes scream out at the reader with an adolescent passion, if not necessarily an adult maturity. Tellingly, the longest of the three movements is the first one: The Prison House. These poems lament the horror of some lapse in reality or purpose. They concern characters abandoned by a cruel and distant creator to a fate worse than death. 
Maybe the clearest example of this comes in the poem Spooks, which tells the sad story of a man seeking an estranged love in a dark rainy world who realizes too late he's a ghost and the love he seeks is now something he's permanently separated from. 
"So thus I found my true love's house again and stood unseen amid the winter night and the lamp burned within, a rosy light, and the wet street was shining in the rain." 
We see this estrangement in his poem Victory, which laments the loss of a magical world of fairies, Arthurian legends, and ancient legends in the face of war and modernity. 
"The ancient songs they wither as the grass, and waste as doth a garment waxen old, All poets have been fools who thought to mould a monument more durable than brass. For these decay: but not for that decays The Yearning, high, rebellious spirit of man That never rested yet since life began from striving with red Nature and her ways." 
Satan himself is the narrator of two poems in the first movement, both titled Satan Speaks. In the first, Satan establishes himself as a source of sin. He proclaims himself a God and then brags about being the source of pain, lust, and sorrow brought into the world. 
"I am nature, the mighty mother, I am the law: ye have no other. I am the flower and the dew drop fresh, I am the lust in your itching flesh."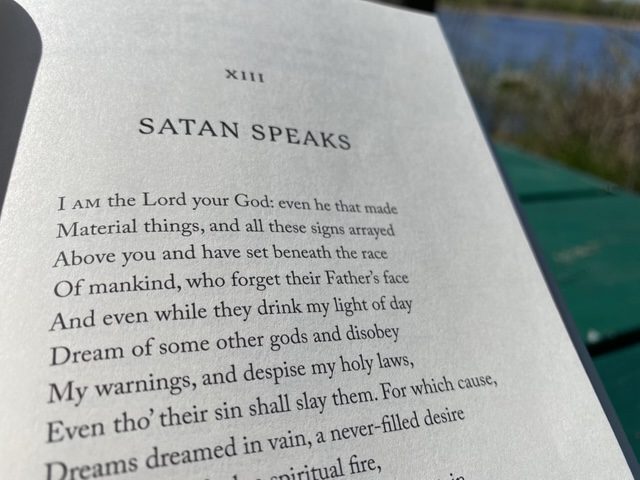 Satan is both nature and sin, the personified source of worldly suffering in the world. In the second poem, Satan elaborates on his power and proclaims himself to be the true God. He brags of his power and the inevitability of those under his will to lapse and fall under his influence. 
"And even while they drink my light of day, dream of some other gods and disobey my warnings, and despise my holy laws, even tho their sin shall slay them. For which cause, dreams dreamed in vain, a never-filled desire and in close flesh a spiritual fire, a thirst for good their kind shall not attain, a backward cleaving to the beast again." 
At one point, the book directly calls out God in the poem De Profunis. God is mentioned numerous times throughout all three movements, but this poem most directly addresses Lewis's frustration with God's will and justice. 
"COME let us curse our Master ere we die, For all our hopes in endless ruin Lie. The good is dead. Let us curse God most High."  
The book front loads itself with the extended first movement and its lament for God and justice. Lewis is both deeply angered by God and deeply fascinated by myths and legends. He's heartbroken by the horrors of the world, yet laments his inability to escape them. It was this contradiction that slowly moved him in the direction of faith as a resolution to his torment in years following. 
Lewis would undergo a brief flirtation with the occult during this time of change and emotional distress. We may see some of that fascination in his poem The Witch, wherein a druid woman is burned as a witch. The story laments the strange knowledge and perspective that's lost with her cruel and oppressive execution. 
"Her thoughtful head be lowly bowed It droops fro meditation proud, Impenitent and pondering yet Things no memory can forget, Starry wonders she has seen Brooding in the wildwood green With holiness. For who can say in what strange crew she loved to play, what demons or what gods of old Deep mysteries unto her have told." 
His mind is seeded with the possibility of the supernatural and a desire for transcendence even in despair. 
In his poem The Philosopher, he all but asks for a modern prophet or messiah to come forth and reveal the knowledge that will deliver mankind from its ongoing torment. The poem ultimately seems to come to the conclusion such a prophet would have to sacrifice more than any normal human being should or can reasonably be willing to give up. Thus the realities and temptations of modern man preclude a modern prophet from rising up from within its own ranks. To become a prophet of such ability would isolate him from the world of man. 
"Ere the gnawing, peasant reason school him over-deep in treason to the ancient high estate of his fancy's principate, that he may live a perfect soul, and cross at last the shadowy bar to where the ever-living are." 
At the halfway point of the book, the poems switch gears into the shortest second movement Hesitation followed by its final movement and resolution in The Escape. These movements suggest something of a personal attempt at transcendence and meaning outside of the realm of the religious. The second movement suggests an attempt at second guessing the nihilism of the first movement. In the poem Alexandrines, we're treated to a description of a decrepit and beautiful home lost to modern life that the narrator describes with trepidation and fear. 
"For in that house I know a little, silent room where someone's always waiting, waiting in the gloom to draw me with an evil eye, and hold me fast – Yet thither doom will drive me and he will win at last." 
The poem captures a strange reluctance to embrace the familiar and old. Even after the narrator describes the horrors of traveling the world and experiencing war, this possibility of being ensnared by the mysterious being and losing himself to it is more terrifying than war. As the poems progress, the book makes an effort to celebrate the stability and progress of the modern world. In the poem In Praise of Solid People, he honors the ability of the laypeople to function and move through life in spite of the horrors of life. The poem seems to actively show a jealousy of simple folk and their ability to function in life, unlike Lewis who is cursed with emotional torment and existential angst. 
"Then do I envy solid folk who sit of evenings by the fire, after their work and doze and smoke, and are not fretted by desire." 
In his poem Oxford, he praises his academic home as a place of stability and modernity in the face of man's bestial nature. 
"Lest we forget that we were born divine, now tangled in red battle's animal net, murder the work and lust the anodyne, pains of the beast 'gainst bestial solace set." 
That man is capable of progressing from the muck of history into an institution of higher learning suggests Lewis saw something of a miracle in that foundation. 
"She was not built out of common stone but out of men's yearning and all prayer that she might live, eternally our own, the spirit's stronghold- barred against despair. 
It would appear Lewis hoped to escape his woes and pain through a modernistic approach to humanism and human flourishing. As we know of his life, this wasn't ultimately the path he would walk down. Spirits in Bondage may capture his pain, but it doesn't capture his transcendence. He would eventually come to terms with his contradictions and became the greatest Christian apologist of the second half of the 20th century. While his first book does feel somewhat incomplete for that reason, it's a vital aspect of his bibliography and personal history that lays the groundwork for the thoughts and worldview of the infamously reluctant convert.