Akame ga Kill! is a 2014 Japanese anime based on a 2010 manga. It was originally written by Takahiro and illustrated by Tetsuya Tashiro. While the show has a frustrating ending, it has some great themes and plot lines. As is the nature of a review, we do have a few spoilers ahead. We've hidden some bigger ones, but proceed with caution.
Story
Tatsumi, a swordsman, lives in an impoverished and starving village. He and his lifelong friends, Sayo and Leyasu, set out for the Capitol. They hope to find jobs to earn money and someday return to restore their village to its proper state. Along the way Tatsumi gets separated from his friends, but continues on, hoping to save his village.
Once Tatsumi gets to the Capitol he fails to enlist in the army (to find work), and he wastes all of his money. Luckily, he's taken in by a noble family. At first it appears that they're trying to help people, but Tatsumi quickly finds out that they torture and kill people. Both of his childhood friends (Sayo and Leyusa) have been tortured to death by this family. He tries to kill the noble family, but a group named Night Raid saves him from this horrible fate.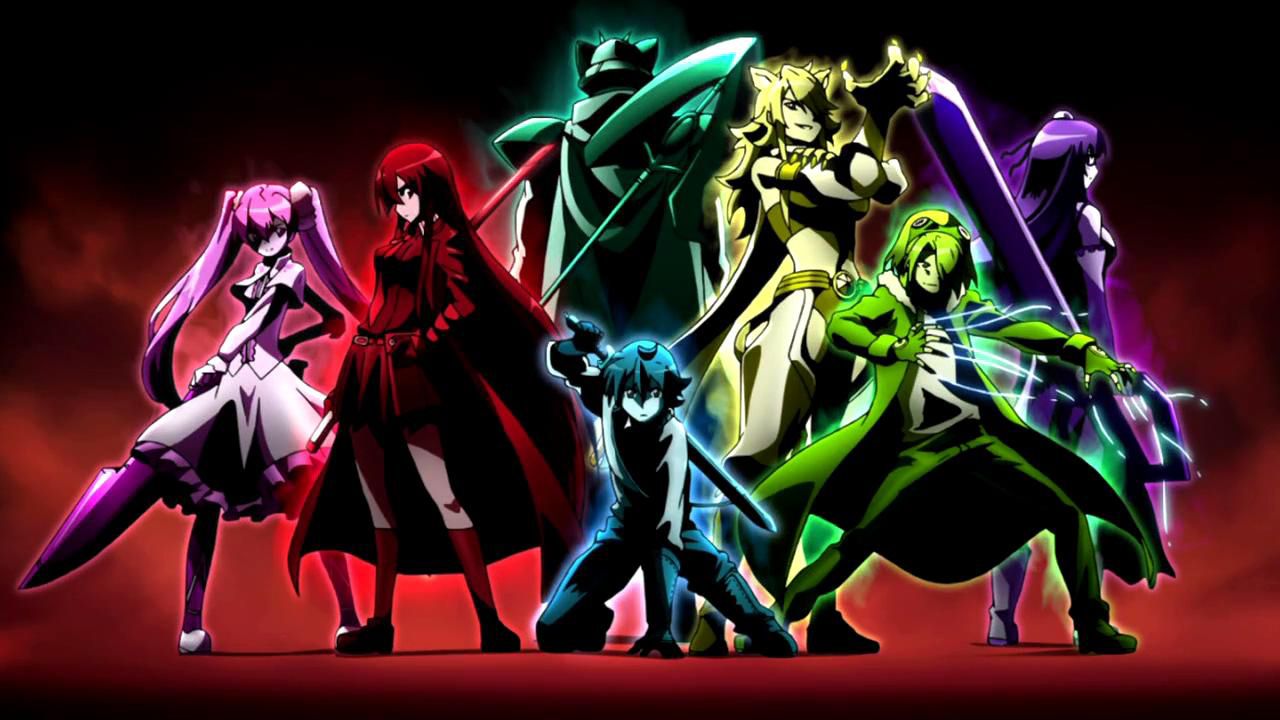 Night Raid is a group of assassins bent on ridding the Capitol of the corruption. Former Prime Minister Honest is manipulating the child emperor into doing cruel things. Night Raid's goal is to kill the people who work for the Capitol, the Prime Minister, and the young emperor. Tatsumi decides to join Night Raid, helping them eradicate corruption inside the Capitol, in order to avenge Sayo and Leyusa.
Night Raid consists of six assassins: Akame, a young swordsman, Lubba, the string manipulator, Mine, the sniper, Leone, the beast, and Bulat, with powerful Armor. Each member of Night Raid has Imperial Arms, which are powerful weapons built long ago. There are a total of forty-eight of them, but half have been lost to history. It is said that when two imperial arm users fight, one is bound to die.
Content Guide
This anime contains a lot of blood, but since it's stylized it's not too terrible. The wardrobe is also pretty sexual (small clothes/lingerie-type outfits for women), and there are sexual themes.
Sexual Themes
In one scene Tatsumi goes to wake up one of the members of Night Raid to train with him. He opens the door and you see Mine in only her underwear. Leone, in multiple scenes, hugs Tatsumi. He, in turn, puts his head on her breasts when she hugs him that way. You see Esdeath (who is in love with Tatsumi) taking a shower, but nothing is shown. When she gets out of the shower you see some cleavage.
Positive Elements
This anime involves a lot of teamwork. While, unfortunately, the group is taking down people in the Capitol, they are helping to stop the spread of corruption. A lot of times the members of Night Raid pair up with each other to fight. Since Tatsumi is new to Night Raid, his first few missions he goes with someone in order to get the hang of things.
There is also a lot of compassion in Akame ga Kill! You see a lot of caring for one another; many times Night Raid members will say to each other before a fight: "promise not to die."
Negative Elements
Akame ga Kill! deals with issues of death, and several character deaths contribute negatively to the overall plot. Ahead, we've hidden some spoilers for your benefit. If you want them revealed, click the accordion link.
[toggles behavior="accordion"]
[toggle title=Spoilers!]
A lot of people die in Akame ga Kill! and many members of the Night Raid too. Sheele, Bulat, Mine, Lubbock, Su, Chelsea, and also the main character, Tatsumi, all die. I would have loved to see how the anime would have progressed if these characters had survived. I don't know how a second season would work. I was disappointed in the ending.
[/toggle]
[/toggles]
Christian Perspective
There are a few Christian themes in Akame ga Kill! As we've discussed before, many characters are very compassionate. On top of that, this anime parallels the Prime Minister with Satan. Prime Minister Honest whispers in the ear of the child emperor, leading to the Capitol's destruction. In short, he lies, just like Satan. It is a reminder that we must stand strong in our faith and turn away from temptations to listen to him.
Conclusion
Despite the ending, I feel like many will enjoy this anime. It provides a lot of action, has a strong plot, and interesting characters.
Have you seen Akame ga Kill!? What did you think? Let us know in the comments!
[amazon text=Amazon&template=carousel&asin=B00LK05UCC,B00LK05G6M,B00LK068VO]