In the anime, Brand New Animal (BNA), Michiru Kagemori, the main character, was once a normal girl. Then, one day, she mutated into a half human, half tanooki, which she happens to always mistake as a raccoon. Because of this mutation, she is now considered to be a "Beast Man."
When she first mutated, she didn't know why this happened. In a society that doesn't count 'Beast Men' as equivalent, she was no longer equal because of the mutation. With a heart of man and the body of a human, she had to leave her home and run to Anima City, a safe haven where Beast Men can live outside of harm from humanity. While she was there, she despised the mutation she was dealt with. She had questions and no one seemed to know the answer. Then one day, she found out that she was intentionally injected with a kind of serum that caused her to become a Beast Man. Now, she was aware that she had "Beastmanitis." 
All of her life, Michiru was a normal girl. She played basketball and loved hanging out with her friend, Nazuna. Then, it was all taken away from her and she didn't even ask for it. 
In life, we are dealt with things we didn't ask for. Sometimes, it is us who have caused those things to happen. Other times, things seem to just happen out of our control. Even though we can complain and pray that those things leave, sometimes God won't permit it. We can search for answers and try to deny what has happened, but it's still there; it still happened. 
"For the whole law is fulfilled in one word: "You shall love your neighbor as yourself.""
‭‭Galatians‬ ‭5:14‬ ‭ESV‬‬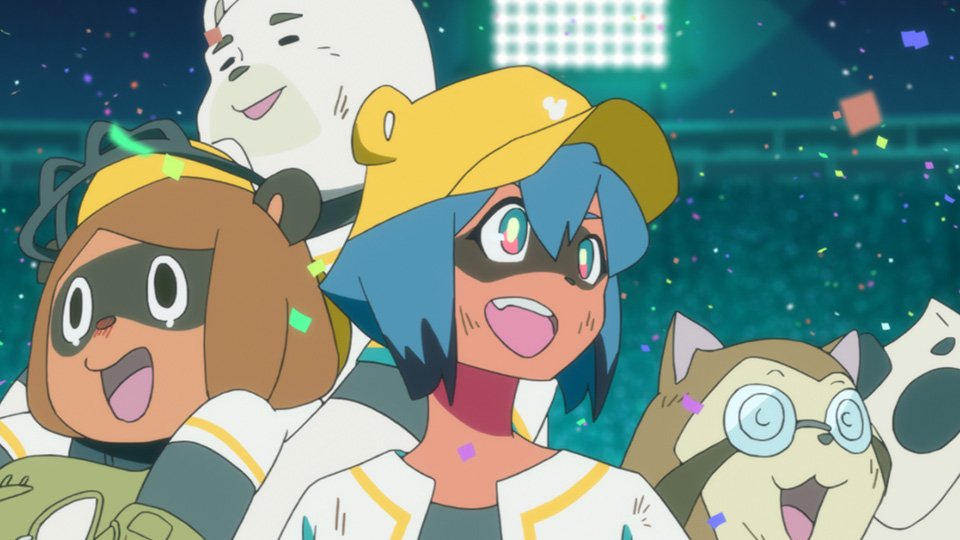 While Michiru spent her days in Anima City looking for answers, she searched and fought to get them. Yet the longer she was there, the more she wanted to help others that were there too. Oftentimes, we don't realize what others go through until we have gone through it also. Sometimes, God allows things to occur to humble us; other times, God allows things to occur so that we may sympathize with others. 
At the end of the anime, Michiru is told that she could become fully human again, but she chose to stay a Beast Man. When she was asked why, she responded, "I'm sure that there are things that I can do because of what I am." Let us not think of ourselves less because of the 'deficiencies' we have acquired. We have always been broken people outside of Christ, but as we go through our various trials in life, we must realize that we go through them with Christ as well. 
"From now on let no one cause me trouble, for I bear on my body the marks of Jesus."
‭‭Galatians‬ ‭6:17‬ ‭ESV‬‬
In Japan, there is an art known as "Kintsugi;" it is also known as 'the art of precious scars.' Culturally, they believe that the scars we have are what beautifies and defines us. It's hard to see that being broken is what makes us beautiful, however,  even Christ has scars and we call Him beautiful.
In the art of Kintsugi, pottery is intentionally repaired so that we may see its value, even though it is broken. What makes this art so unique is that when it is placed back together, real gold is used to cover its 'scars.' Michiru became a beast man involuntarily. Her scars are obviously visible, but at the end, she realizes that her scars don't  diminish her value and neither do they diminish ours. Our scars may be deeper than others. Sometimes our scars are visible and sometimes there are scars that no one can see, but God, the potterer, intentionally chooses us. We are the clay that has been hardened by the scars we've been dealt, but through God and his love, he restores us and gives us our value; for He is the one who knows our value (Jeremiah 18:1-6).
God's love for us runs deeper than any hurt we may have gone through, but when Thomas said, "I will not believe until I have seen my Lord," Jesus showed up and He told Thomas, "Touch my hands and my side." When Thomas touched Jesus' hands and side, Thomas cried , "My Lord, My God" (John 20:24-28). Even Jesus has scars and we call Him beautiful. We are also beautiful because we bear the marks of Christ.